When you shop through retailer links on our site, we may earn affiliate commissions. 100% of the fees we collect are used to support our nonprofit mission.
Learn more.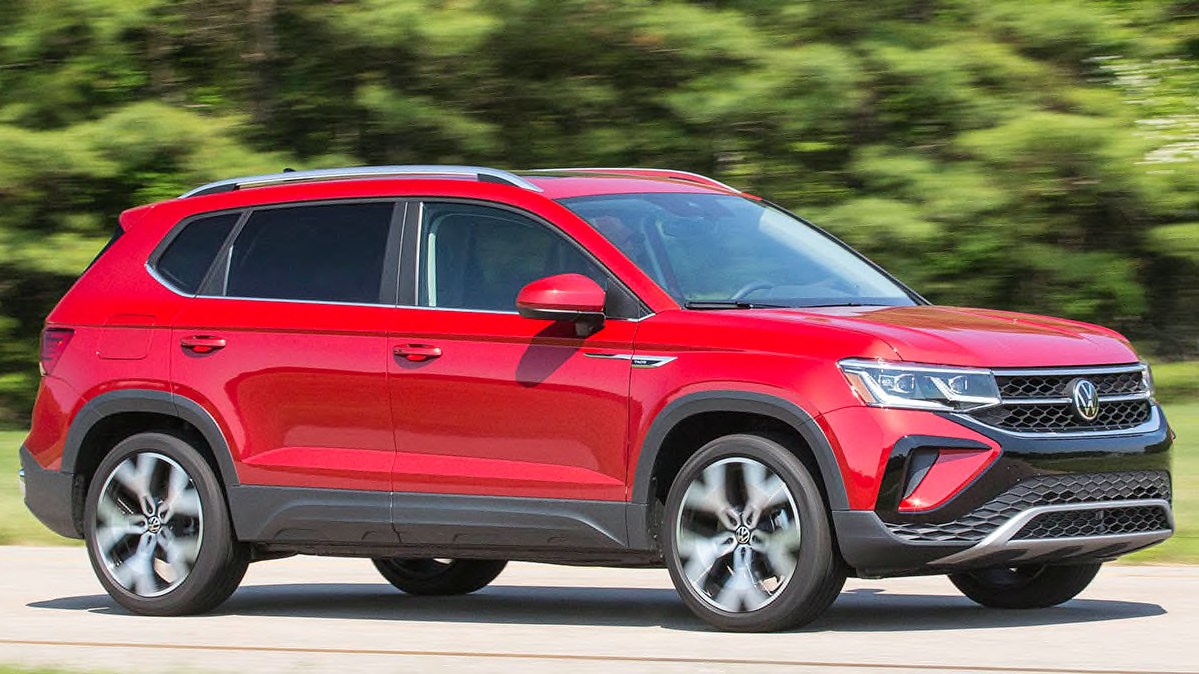 Named for a small town in New Mexico's high desert, the 2022 Taos (pronounced like "house") is the latest model in Volkswagen's expanding SUV portfolio.
It slots beneath the Tiguan, where it competes in the growing subcompact SUV class. While the 2022 Volkswagen Taos gives buyers a surprisingly roomy cabin and plenty of high-tech features—including a standard configurable digital instrument cluster—its powertrain has some drivability hiccups.
We're also extremely disappointed that important active safety features such as forward collision warning, automatic emergency braking, blind spot warning, and rear cross traffic warning don't come standard on the base model.
This will ultimately hurt its Overall Score when we buy our own Taos to test.
All versions of the Taos come with a 158-hp, 1.5-liter turbocharged four-cylinder engine. Front-wheel-drive models get a conventional eight-speed automatic transmission, and those with all-wheel drive are fitted with a seven-speed dual-clutch automatic.
The size of the Taos gives buyers a rather unique choice. It's larger than tiny subcompacts such as the Ford EcoSport, Hyundai Kona, and Mazda CX-30 but smaller than popular compact models like the Honda CR-V and Toyota RAV4. It's about the same size as the Audi Q3 and Subaru Crosstrek.
Taos pricing ranges from $22,995 for the base S with front-wheel drive up to $34,240 for the SEL 4Motion (VW's term for all-wheel drive), plus a $1,195 destination charge on all models. We rented both front- and all-wheel-drive SEL models from Volkswagen for this First Drive evaluation.
If you're a Consumer Reports member, our initial expert assessment of the Taos is available to you below.
We'll purchase a Taos AWD for the CR test program soon, after which we'll put it through more than 50 tests at the CR Auto Test Center, including those that evaluate acceleration, braking, fuel economy, handling, car-seat fit, and controls. CR members will get access to the full road-test results as soon as they're available.
If you haven't signed up yet, click below and become a member to access this full article and all our exclusive ratings and reviews for each vehicle we buy and test. Joining also gives you full access to exclusive ratings for the other products our experts evaluate in several categories, including electronics and home appliances.
Sign up for CR's Cars email newsletter to be notified when we post our latest road-test results.
What we rented: 2022 Volkswagen Taos 1.5T SEL FWD
Powertrain: 158-hp, 1.5-liter turbocharged four-cylinder engine; 8-speed automatic transmission; front-wheel drive
MSRP: $31,490
Options: Pure Gray exterior paint, $395
Total options: $395
Destination fee: $1,195
Total cost: $33,080
What we rented: 2022 Volkswagen Taos 1.5T SEL 4Motion
Powertrain: 158-hp, 1.5-liter turbocharged four-cylinder engine; 7-speed dual-clutch automatic transmission; all-wheel drive
MSRP: $33,045
Options: Panoramic sunroof, $1,200; King's Red metallic exterior paint, $395
Total options: $1,595
Destination fee: $1,195
Total cost: $35,835
CR's Take
On paper the new Taos makes sense, because it provides consumers with a less expensive model than the Tiguan SUV at a time when buyers are moving away from the small hatchbacks and wagons that long defined the VW brand.
And despite that it's about 9 inches shorter than the Tiguan, the Taos loses only 1.6 cubic feet of passenger volume in the process, according to VW. Those merits, along with the expected excellent fuel economy, should help it appeal to city dwellers who need a small, easy-to-park package with a space-efficient cabin.
But while VW did a good job with the Taos in terms of its SUV functionality and entertaining handling demeanor, the obstreperous powertrain—especially the AWD version with its dual-clutch transmission—and overly firm ride should make buyers think twice. Plus, it doesn't help the Taos' value proposition that its pricing sits so close to the larger Tiguan's.
What We Like
Spacious and comfortable cabin: For an SUV that measures only 176 inches overall, the space inside the Taos is remarkable; even the cargo area is quite commodious for such a small vehicle. There's lots of headroom up front, and the comfortable seats in the SEL models we drove have bountiful side bolsters to hold occupants in place. Hop into the rear seat and it's almost shocking how much space is back there, with good headroom, plenty of knee room, and ample foot space under the front seats. It's comfortable, too, thanks to supportive cushion contouring and a natural rake to the seatback.
Agile handling: Quick, responsive steering helps the Taos turn into corners with verve. The taut suspension keeps body roll to a minimum during normal driving, and the chassis is responsive to driver inputs. It really came alive around our road-course test track, proving a willing companion when pushed hard through turns. AWD models come with a more sophisticated multilink rear suspension, compared with the twist-beam found in FWD versions, but we found the differences in handling to be minuscule.
User-friendly controls: VW typically produces vehicles with easy-to-decipher controls that are simple to use, and for the most part that continues here with the Taos. There are lots of features packed into the instrument cluster and infotainment touch screen, especially considering that this is VW's entry SUV. The fully digital instrument cluster—standard on all trims—can be configured with several different views, and we like that you can choose the instrument cluster's content via the infotainment screen, which is easier than using the steering-wheel controls. The climate controls are also easy to use, and the Taos has a traditional gear selector instead of an electronic version.
Quiet cabin: We found the Taos to be a mostly quiet cruiser, with well-controlled wind noise on the highway. The little four-cylinder engine has a pretty subdued, cultured note during normal driving, but be aware that its rather limited power output means that it needs to be pushed hard when you want some real acceleration. We also noticed a fair amount of impact boom from the AWD model's 19-inch tires over bigger bumps.
Good outward visibility: The driver benefits from airy views around most of the cabin, a relative rarity these days. The windshield pillars are slim, the side windows are long, and there's even a helpfully large third side window to combat the rear three-quarter blind spots caused by the thick rearmost roof pillars.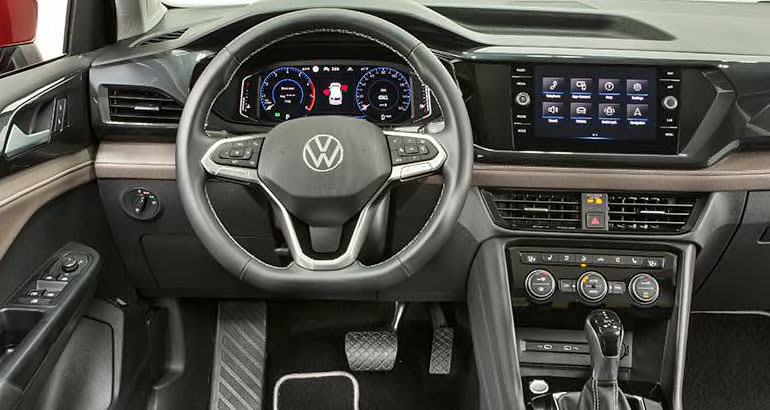 What We Don't Like
Unrefined powertrain: Whether you choose front- or all-wheel drive, the Taos comes with a 158-hp, 1.5-liter turbocharged four-cylinder that's based on the 1.4-liter version from the Jetta sedan. But while FWD models come with a conventional eight-speed automatic transmission, AWD models have a seven-speed dual-clutch automatic. Why? VW officials told CR that the dual-clutch system was chosen for the AWD version due to the "sportier demeanor" associated with such a transmission. But we didn't notice any such benefits.
And, as we found out, the transmissions make a big difference in terms of power delivery. The AWD version we drove suffered from a big initial delay when trying to accelerate from a stop, followed by an abrupt burst of power as the vehicle got going. The near-inability to take off from a stop promptly and in a smooth fashion caused one of our drivers to quip, "this powertrain is absolutely demonic." The flat-footed nature can make you feel vulnerable, for instance, if you need to accelerate out onto a busy road. On the bright side, the dual-clutch transmission shifts smoothly.
We found the drivability to be significantly better in the FWD model. The terrible hesitation off the line is mostly absent, but the power still builds in a non-linear fashion, coming on unnaturally strong at times. One common situation of delayed reaction followed by a sudden burst of power is when you step back onto the gas pedal after turning off of one road and onto another. Our suggestion: If you don't need AWD for traction purposes, go with the front-driver.
Stiff ride: We were also unimpressed with the Taos' ride quality, which can feel like the little SUV is "crashing" over bumps on rougher roads. We think it has a lot to do with the 19-inch wheels that come on the top-trim SEL AWD we rented. Though the suspension feels fairly absorbent while traveling over mildly bumpy roads, the stiff tires make the ride feel brittle and unrefined when the surface gets rougher. The 18-inch wheel-and-tire combo on the front-drive SEL we drove softened up the ride experience a little, but it's still overly stiff compared with most competitors.
Plastic, plastic, plastic: Although the Taos seems put together well, with uniform panel fits, the cabin is literally filled with plastic pieces. For instance, the entire dashboard—including the upper and lower sections—is hard plastic, rather than utilizing any padded or soft-touch material. That's a surprising omission for an SUV that costs, as-driven, almost $36,000 for the SEL AWD. At least the door panels have a padded and stitched insert, and the front window sills are soft-touch (the rear window sills are hard). The glossy-black trim on the dash, center stack, and center console lend some nice style, though, and the perforated, two-tone seats have a high-quality appearance.
Active driving assistance system needs work: The Taos models we rented from VW included VW's Travel Assist system, which is optional on the S and SE, and standard on the SEL. This active driving assistance system combines adaptive cruise control (ACC) with lane keeping assistance (LKA) to assist the driver with vehicle acceleration, braking, and steering. Unfortunately, it doesn't work very well. Even if the driver adjusts the ACC to the closest following gap to the car ahead, we found it leaves too much space in between, which invites other cars to cut in often. The ACC is also lackadaisical to accelerate back up to speed after slowing for traffic ahead. The LKA aspect of the system attempts to keep the Taos centered within the lane, but it's only capable of doing so on straight stretches of road; curves cause it to turn itself off, so it essentially gives up on steering assist at any time without warning.
The price: The midlevel SE base price of $27,245 is almost identical to the price of the Tiguan SE ($27,395), which leaves us wondering why consumers shouldn't just buy the larger Tiguan, which also features a nicer cabin. Plus, it was hard for us not to gulp hard at the $33,080 and $35,835 prices for the front- and all-wheel-drive SEL models, respectively, that we rented from VW, especially in light of the powertrain's flaws. In a virtual meeting with CR, VW officials said the Tiguan will be getting an update soon that will put more of a luxury and price distance between it and the Taos.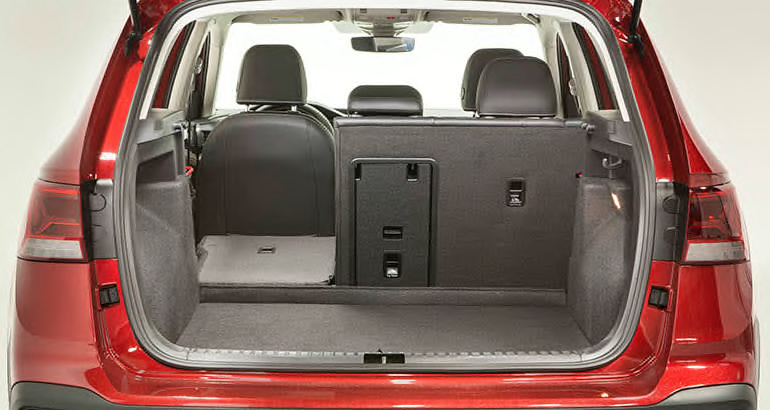 What We'll Keep Our Eyes On
The ride quality with smaller tires: We're going to buy an SE AWD for our test program, which comes with smaller 18-inch wheels and tires than the 19s that are found on the SEL AWD we sampled. SEL front-drive versions come with 18-inch wheels, and we did note slightly better impact absorption on that model, but we'll conduct a more thorough evaluation once we purchase our test vehicle.
Driving position: We like the plentiful headroom and nicely placed left footrest, but a few drivers noted some issues with the driving position. For example, the unpadded plastic center console is a constant intrusion with the driver's right knee; the door- and center armrests are on different planes, with the center one lower and too rearward; some drivers said they wished the seat's bottom cushion had more leading-edge tilt adjustability, and taller drivers felt awkwardly high vs. the center console. We'll give a more finalized assessment after we cycle more drivers of varying body types through the vehicle we purchase.
Fuel economy: The Taos AWD is rated at an excellent 28 mpg combined by the Environmental Protection Agency. If it achieves 28 mpg overall in our fuel-economy testing, that would put it smack in between the Subaru Crosstrek's 29 mpg overall and the Mazda CX-30's 27 mpg, and on a par with the larger Honda CR-V and Subaru Forester's 28 mpg overall.
Active Safety and Driver Assistance Systems
The base Taos S does not come standard with key active safety systems that have been proved to reduce crashes, a disappointing omission for a new vehicle. This means the Taos won't be awarded any extra points in its Overall Score when we test it. At least forward collision warning, automatic emergency braking, blind spot warning, and rear cross traffic warning come standard on the midlevel SE trim, which is expected to be the most popular version.