When you shop through retailer links on our site, we may earn affiliate commissions. 100% of the fees we collect are used to support our nonprofit mission.
Learn more.
Paint the walls in your foyer Lemon Pound Cake and the look is sunny and appetizing. Choose Marilyn's Dress for your walls and it sets the stage for a sophisticated entrance. The process of coming up with these names can be surprisingly rigorous, involving color specialists, marketing pros, and lawyers—always lawyers.
Choosing a color is where consumers often start when making their buying decisions, even if that color is white. Considering that sales of paint and coatings total an estimated $30 billion annually and that there are dozens of paint lines to choose from, you start to understand how competitive the industry is and why naming paint colors is serious business for manufacturers. How else can you explain the hundreds of whites available, including popular picks such as Silent White, Wedding White, Parchment White, and Frost?
In the past, all a name needed to do was describe a color—for example, Bright Red, says Janet Davidson, marketing manager at Ace Hardware. "Today, we want consumers to connect with colors," she explains. "So instead that color might be called Bold and Beautiful." What's more, the name can be a tie-breaker. "We have heard in research that when it comes down to consumers' last couple of colors, sometimes it's a name preference that ultimately decides it."
Can a name really have that much sway? Of course. "Color experts are bringing up color associations we all have to things in the world, which then trigger a mood, such as happy, calm, or erotic," says Leslie Harrington, a color researcher who has a Ph.D. in color strategy. The Behr paint team, for example, considers the emotions a color name might evoke or an identification people might make with it, such as feeling adventurous or comforted.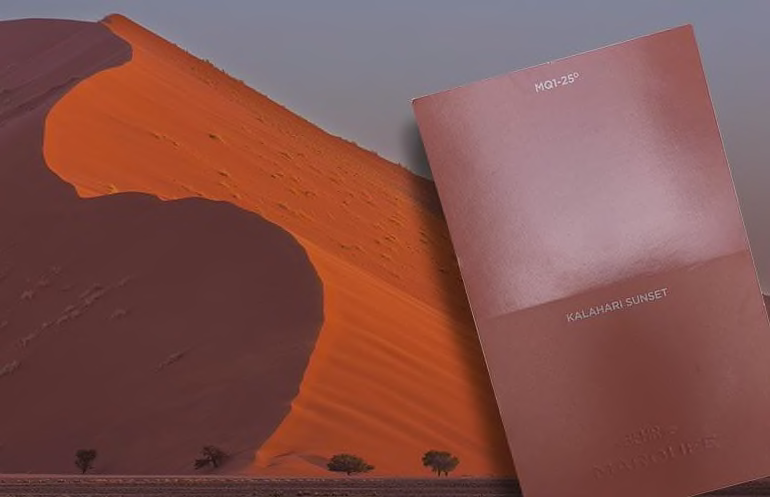 "Names can typically be sorted into four descriptive categories: visual, geographical, emotional, and experiential," says Diana Olvera, Behr's color marketing manager. Highly visual names include Coffee Beans and Wasabi (shown at top). Travel-inspired names such as Parisian Café and Kalahari Sunset (shown above) are meant to transport you to a dream scenario or conjure up a fond memory.
Inspiration for names can come from anywhere, including nature, fashion, and pop culture. "We have a lot of fun creating experiential names like Strike a Pose, LOL Yellow, or Almost Famous, which give an abstract sense of a certain attitude or trend," Olvera says.
Evocative names from Valspar include Coconut Cream, Field of Daisies, and Summer Splash. Text Me, a blue from Ace Hardware's Clark+Kensington line, is clearly aimed at younger consumers, who manufacturers know will be buying paint for decades. Have fun reading the names, but remember you can color-match from any brand and call it whatever you like.
As for Marilyn's Dress, we wouldn't blame you for thinking it's a nod to Miss Monroe and her billowy white dress in "The Seven Year Itch." But every once in a while, when a Benjmain Moore color isn't specific to a paint line or collection, the color team opens up the naming to all company employees, and then filters the results. Marilyn, it turns out, used to work there, giving this soft gray its name.

Editor's Note: This article also appeared in the May 2017 issue of Consumer Reports magazine.