Many People Avoided Hospitals During the Pandemic. The Effect Was Dire.
With all eyes on the coronavirus, chronic conditions worsened, emergencies escalated, and countless treatments were delayed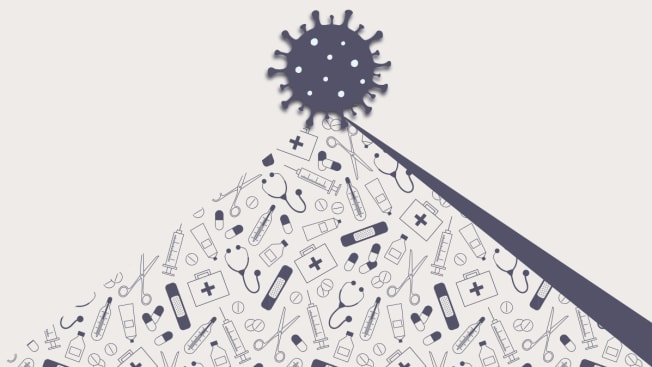 For weeks, Charley Bednarsh, 72, put off seeking care for persistent back pain and shortness of breath even when she could hardly stay standing. Living in Manhattan, cheering for healthcare workers every night during the peak of the COVID-19 pandemic, she assumed her pain was an aftereffect of what she thought could have been an early coronavirus infection months before.
"I felt I wasn't sick enough," she says. "I kept thinking, nope, nope, nope, there are sick people out there and I'm not one of them."
Worried about overwhelmed hospitals and the risk of coronavirus exposure, many patients like Bednarsh avoided going to hospitals and other medical centers for symptoms that would normally have brought them in, health experts believe.
The loss of work and employer-sponsored health insurance played a role, too. Almost half of adults in households who lost jobs or income because of the pandemic avoided seeking care because of concerns about cost or getting infected, according to new research by the Urban Institute, a think tank.
At the same time, while hospitals were urging people to still come in for genuine emergencies, they were also taking urgent action to try to keep beds open for COVID-19 patients and prevent the spread of coronavirus in the hospital. Across the country, many people indefinitely postponed routine visits, cancer screenings, vaccines, and scheduled ("elective") surgeries.
Ultimately, ER visits from March into April were 42 percent lower than they were at the same time the previous year, according to a report by the Centers for Disease Control and Prevention (CDC). Around the same time, deaths attributed to heart disease and other non-COVID causes were higher than normal, according to CDC data, which may indicate a combination of undiagnosed coronavirus and people who did not get the care they needed.

Beyond clear emergencies, there are other types of treatments that doctors have repeatedly emphasized should not be put off—even in the midst of a pandemic. That includes urgent surgeries like Bednarsh's, as well as many types of cancer and cardiac care.
But even for some very serious, time-sensitive illnesses, care did not continue as originally planned. For conditions like cancer, medical societies around the country issued guidelines on what procedures could be delayed, which could not, and which cases could potentially be treated with different therapies that required less close, in-person monitoring.
For example: "There were surgeries that could be delayed for a few weeks while patients were on interim hormonal therapy," says Luis Isola, M.D., director of cancer clinical programs at Mount Sinai Health System in New York. Other procedures could be postponed while a patient did chemotherapy, which can be very effective for certain cancers, according to Howard Burris, M.D., president of the American Society of Clinical Oncologists and a practicing oncologist at Sarah Cannon Research Institute in Nashville, Tenn.
The procedures that were delayed varied significantly by disease, according to Burris. Anything involving the lungs that might make someone more susceptible to COVID-19 was something experts thought about putting off, he says.
And around much of the U.S., anything that didn't need to happen right away, like a knee replacement or plastic surgery, was postponed.
"Non-urgent or non-emergent procedures stopped on a dime," says L. Scott Levin, M.D., an orthopaedic and plastic surgeon at Penn Medicine in Philadelphia and the vice-chair of the American College of Surgeons Board of Regents. "We prepared for the rise of COVID cases coming into our hospital."
Halting routine visits meant that screenings for many diseases, like colonoscopies and pap smears, were also put on hold.
But perhaps most concerning to many doctors is that so many people who probably needed care simply avoided getting it.
In the 10 weeks after COVID-19 was declared a national emergency on Jan. 31, visits to the ER for heart attacks dropped 23 percent, visits for strokes dropped 20 percent, and visits for uncontrolled high blood sugar dropped 10 percent, according to the CDC.
It's unlikely that incidence of these conditions actually declined during this time period, the CDC reports. More likely is that these visits help explain some of the excess deaths not directly caused by COVID-19 that occurred during this time period.
"People are staying home, and people are dying at home," Sasson says.
Is It Safe to Get Care Now?
The status of COVID-19 varies throughout the U.S. The percentage of people testing positive in some states continues to decline, while the percentage of people testing positive in other states is rising.
By early summer, medical procedures had begun to resume, either because there's less concern about hospital capacity or because there are now more safeguards in place to help protect patients from the coronavirus. In some states seeing rapid rises in case numbers, however, hospitals have again paused elective procedures and visits.
As the pandemic first started to peak in the U.S., close to 80 or 90 percent of visits became virtual telehealth appointments, says Sasson. Now about half of visits are virtual, with the rest doable in person, she says. "The pendulum is swinging back; it gives people options," she says.
Still, the shift to telehealth may mean that people without broadband have a harder time getting care, Jones says—though in some cases a regular phone call may be enough.
Many of the patients who needed major joint replacements are seniors and have other conditions that make them vulnerable to COVID-19, says Levin, the Philadelphia surgeon. Because of that, he and colleagues say they are taking extra precautions, and testing patients for the coronavirus before performing procedures.
"We're slowly opening the door to more and more patients, taking care of our backlog," he says.
To avoid ending up in the ICU unnecessarily, however, experts want to stress that it's important to come in for treatment before a condition gets too bad. "We took huge efforts to make coming to the hospital safe," says Isola. Patients are screened for symptoms before they come in for treatment, they're tested for COVID-19, and the health of hospital staff is carefully monitored.
Data don't yet show exactly how well U.S. hospitals have been able to prevent hospital-acquired COVID-19 infections, and hospital-acquired infections have proved to be a serious problem historically. In the U.K., for example, there were reports in May that 10 to 20 percent of coronavirus cases were acquired while being treated in the hospital for something else.
Still, experts stress that avoiding the hospital when you're experiencing a true emergency is not the right call. In a letter, the heads of eight major medical organizations emphasize the importance of going to a hospital for symptoms that could be an emergency—even in the middle of the pandemic. "The bottom line is the same as it's always been," the authors wrote. "When a medical emergency strikes, call 911. Get to a hospital."
In the aftermath of her surgery, Bednarsh has returned to the hospital several times for follow-up visits, and she says that every visit has felt safe.
It will be some time before we know the full impact of all of this delayed care, according to Burris, the oncologist at Sarah Cannon Research Institute.
In some cases, a very treatable stage one cancer may have migrated to a later stage cancer before it's caught. "There are likely patients that went from an operable patient to an inoperable patient," he says.
The same is true for other illnesses, including the cardiac condition that Bednarsh was treated for just in time. It's because of incidents like hers that the American Heart Association has launched its Don't Die of Doubt campaign, reminding people that they need to seek out immediate medical attention at any signs of a heart attack or stroke, Sasson says.
Even the delays of non-emergency but necessary procedures like joint replacements will cause some harm, according to a perspective published in the journal Annals of Surgery. A three-month backlog could translate to 5 million surgical cases, according to that letter, causing harm to the health, mobility, and quality of life of patients, and potentially increasing their health costs if their cases further deteriorate before they receive treatment.
The coronavirus pandemic is far from over, making it all the more urgent that people not ignore potentially serious symptoms.
"This could be going on for months," says Eunice Wang, M.D., chief of leukemia and the director of infusion services at Roswell Park Comprehensive Cancer Center in Buffalo, N.Y., on a press call.
"We can't sacrifice the care of patients with coronary artery disease or cancer because there still is coronavirus around," adds Isola, of Mount Sinai. "If in the next several months we see a wave of patients with advanced oncological conditions, untreated hypertension, coronary disease that should have been treated—that will confirm our worst fears."