Tech Firms Bet Apps Can Help Trace Coronavirus Cases. But the Apps Face an Uphill Climb.
Near-term, healthcare workers will still need to track new infections manually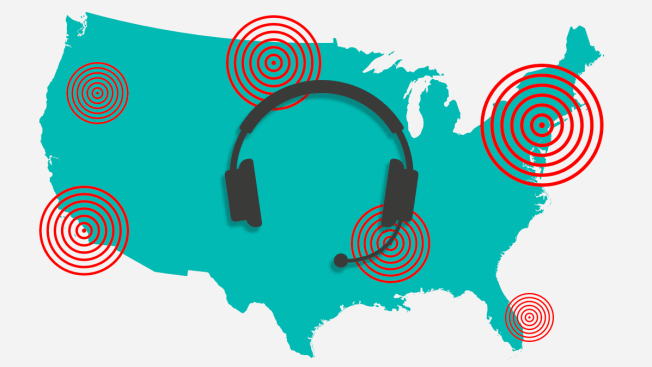 Health agencies across the U.S. are recruiting tens of thousands of people to make phone calls.
The hiring spree is part of an urgent push for contact tracing, the largely manual task of reaching people who may have had a brush with a coronavirus carrier so that they can isolate themselves and get tested. California is training 20,000 people to do this, and New York City plans to hire 2,500 in the coming weeks. Contact tracing is critical to disrupting the spread of the pandemic, and safely relaxing business and school closures, according to public health experts.
But Silicon Valley has promised a different future. Since the pandemic began, tech companies have proposed proximity-tracking apps that would automatically tell people if they'd come near someone who later reported having COVID-19.
Two Tracking Technologies
Contact tracing apps generally draw on two smartphone technologies: GPS and Bluetooth. But they both have weaknesses that could limit their effectiveness for this purpose.
The Apple-Google system relies solely on Bluetooth, the same short-distance signals that let your phone talk to your car's infotainment system or to wireless headphones. Apps that use this system keep an anonymous log of the other phones you came within range of, and hold on to the data for 14 days, in case the owner of one of those phones reports that they tested positive for COVID-19. The apps won't access GPS to record where you go, to help protect your privacy.
The apps in Utah and the Dakotas use Bluetooth to record which phones you are near—but they also keep a GPS log of where you go, which you can share with health officials if you test positive for COVID-19. The idea is that if you find out you're sick, a human contact tracer can more easily track down other people who crossed paths with you over the previous two weeks.
Experts say both technologies have accuracy issues. Two people using Bluetooth apps that are sitting on opposite sides of a wall or a window, for example, could mistakenly register a potentially dangerous encounter because Bluetooth signals travel through barriers that the coronavirus cannot. (Apple and Google say that their technology can be tweaked to ignore weaker signals and cut down on false positives, but we won't know how effective it is until the apps have been available to the public for some time.) And GPS can be spotty in cities and indoors.
Online reviews of Care19, the app being used in North and South Dakota, suggest that many users have run into accuracy problems. Several recent reviewers said the app, which is currently rated 2.9 out of 5 stars in the iOS App Store, marks incorrect locations and misses some movements. Some say the app stopped working altogether. "I'm trying to help in contact tracing and this is doing nothing," one wrote on May 4.
Brookins, Care19's developer, says the app has seen major improvement over recent weeks in response to users' feedback. But, he says, people should expect to edit the app's results because it will inevitably get some locations wrong.
Privacy advocates have warned against using GPS to track physical locations for contact tracing, preferring less invasive Bluetooth proximity tracking.
But a single-minded focus on technology would ignore some fundamental issues that won't be solved with better proximity tracking, critics say. No matter how effective these apps prove to be, they are just one cog in a pandemic response that also requires widely available testing, support for quarantine and isolation, and broadly observed social distancing measures.
The U.S. still doesn't have nearly enough coronavirus tests to go around, which makes contact tracing far less effective. A Harvard research group estimates the U.S. will need to test about 5 million people a day (PDF) this summer and later ramp that number up to 20 million a day; to date, only about 12.6 million people have been tested over the course of several months.
"Rather than pinning our hopes on an inferior tech solution, I'd prefer to see us invest public resources in deploying testing and employing people to perform manual contact tracing that can generate more reliable data about who is likely to have been exposed to the virus," says Justin Brookman, CR's director of consumer privacy and technology.
"We're capable of doing contact tracing without any of this technology," says Marcus Plesica, chief medical officer for the Association of State and Territorial Health Officials. "We just do it in the old fashioned way we've done for decades."