When you shop through retailer links on our site, we may earn affiliate commissions. 100% of the fees we collect are used to support our nonprofit mission.
Learn more.
When most people think of hybrids, they think of the Toyota Prius—and who can blame them? The Prius was the first hybrid car to go mainstream, and it consistently delivers exactly what it promises: Excellent fuel economy, envious reliability, and a futuristic look and feel. But while it delivers great gas mileage, it is completely devoid of driver engagement.
Toyota is promising to address those issues with the all-new Prius. The 2016 Toyota Prius model will be not only more fuel efficient but, Toyota says, also more emotional, with more aggressive styling and a more involving driving experience. We'll weigh in on that once we drive the new Prius.
Describing the 2016 Toyota Prius makes us feel like advertising execs from the 1950s: The new, sedan-like car is longer, lower, and wider, with more pronounced creases in the sheet metal and a representation of the "spindle" grille found on newer Toyota and Lexus designs. LED headlights give the new car a more purposeful look while lowering its profile to the wind, while the taillights have become downright funky. Overall, it is a radical departure from the shape that has become so familiar over the past two generations.

Toyota claims the wrap-around dash is designed to give the driver a sense of control. Again, a digital gauge cluster sits atop the center dash, leaving a distinct void behind the steering wheel. The center stack is less integrated than before, seeming like separate components piled up, whereas before, the stereo, climate controls, and shifter all flowed together. The automaker says the Prius' larger footprint will provide increased passenger and cargo space.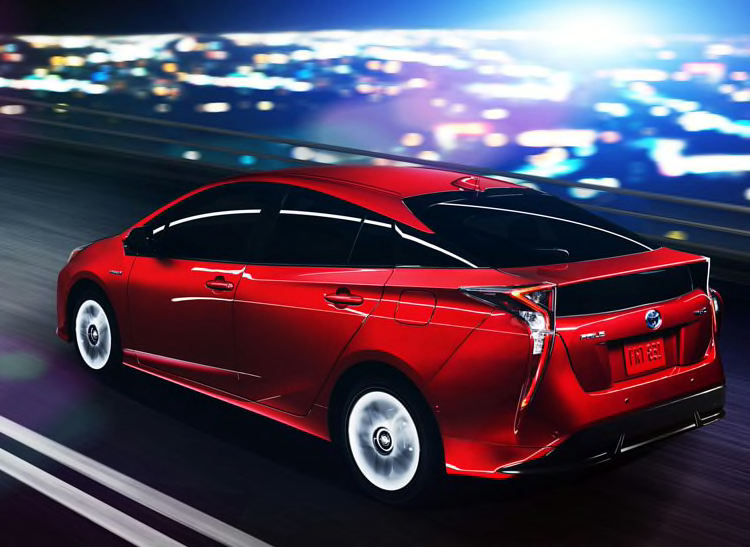 Our biggest complaint about the previous Toyota Prius has been the driving experience, which is only slightly less exciting than reading a dictionary. The upcoming Prius sits on a new platform and has an independent double-wishbone rear suspension, a step-up from the compact and inexpensive torsion beam used in the current car, though Toyota has said nothing about improving the Prius' feedback-free steering. That new platform is expected to underpin the next Toyota Camry and other models, suggesting generous development investment.
Naturally, Toyota has put considerable effort into improving the 2016 Prius' fuel efficiency. With an upgraded engine, lighter hybrid system components, and battery cells with a higher energy density, Toyota expects a 10 percent improvement over the current Prius' EPA ratings of 41 mpg city and 48 mpg highway. No details yet regarding engine size or battery chemistry. We recorded 44 mpg overall in the last Prius we tested, so if those numbers translate to real-world driving, we could see overall fuel economy approaching 50 mpg. Toyota has also announced a more fuel-efficient Eco version for determined hypermilers.

We're pleased to see the styling of the 2016 Toyota Prius has taken on more personality, and we like the idea of better fuel economy. The promise of more driver involvement is intriguing, but then again, Toyota's definition of fun-to-drive doesn't necessarily match ours. We're optimistic, but to find out whether the new Prius will address our most serious complaints—too much noise and not enough fun—we'll have to wait until we buy one for a full road test.
The all-new Prius will arrive at dealerships in early 2016.