When you shop through retailer links on our site, we may earn affiliate commissions. 100% of the fees we collect are used to support our nonprofit mission.
Learn more.
For the past few days we've been sampling a new 2016 Cadillac CTS-V, rented from GM, and we've enjoyed barnstorming the countryside and our own track in this $99,735 super sedan.
As a reminder, the V designation is to Cadillac what M is to BMW and AMG is to Mercedes-Benz: the in-house, high-performance engineering boutique used for building and marketing best-available power, speed, and exclusivity.
Following our stint with the smaller Cadillac ATS-V, we were expecting more of everything from the Cadillac CTS-V, but the real question is, did it put a bigger smile on our faces?
In short, not for all of us. Starting at $83,995, there is no question that the Cadillac CTS-V is one terrific, enormously capable super sedan that can give luxury-marque muscle sedans like the BMW M5 and Mercedes-Benz E63 AMG a run for their money. It's the real deal. But the enthusiasm wasn't unanimous. One test engineer said, "I know I'm supposed to love this car, but there's something missing for me here."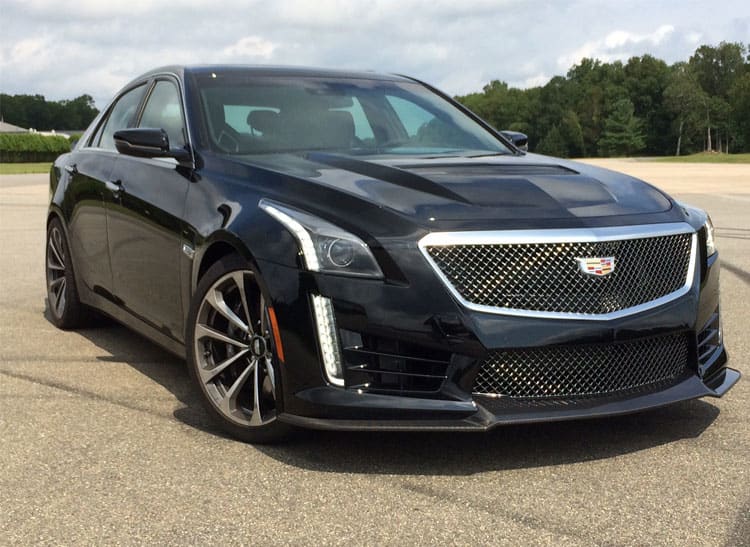 With a 640-horsepower, supercharged 6.2-liter V8 borrowed from the Chevrolet Corvette Z06, you'll not go begging for forward thrust when piloting the Cadillac CTS-V. GM claims a 0-60 mph sprint of 3.5 seconds; anywhere close to that is approaching orbital escape velocity.
Some may find the supercharger's whine a little annoying—yours truly thinks it takes away from the purity of the natural induction and exhaust sounds—but you're more apt to be subjected to that whine when driving gently in Tour mode than when tromping on the go pedal at a race track.
The eight-speed automatic is simply superb, orchestrating gear changes swiftly and appropriately. And when you find yourself blasting toward the end of a straightaway at triple-digit velocity, the Brembo brakes will bring you back down to earth in a heck of a hurry.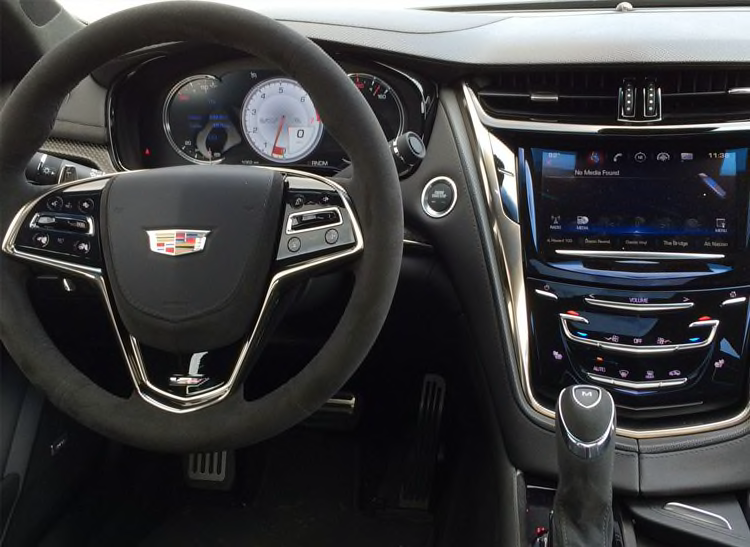 Low to the ground, the Cadillac CTS-V carves corners resolutely, remaining flat and unfazed, delivering sharp handling that has the tautness and agility of a true sports car. The fat Michelin Pilot Super Sport tires contribute to phenomenal cornering grip and impressive composure at the outer limits.
Turn-in response is immediate but somehow the steering is short on feedback, which takes away from the fun-to-drive quotient and that man-machine connection.
Driving modes include Tour, Sport, and Track. The Sport setting ups the ante mildly, while Track amplifies the exhaust and sharpens every response, including keeping the revs higher, using more aggressive shifts, and dialing back on the stability control.
Thankfully, despite all its super-car capability this Caddy doesn't beat you up. Ride comfort is fairly civilized, with reasonable absorption, suppressed body motions, and some semblance of luxury. The cabin stays quiet, at least when you're just loafing around in town or country, and the interior is beautifully furnished with suede, chrome, and touches of piano black. The sporty Recaro seats, a $2,300 option, hug tightly without overly constricting.
Like other Cadillacs, the Cadillac CTS-V has the frustrating Cue infotainment system, a glitzy showcase that might impress a stranger, but it is a pain to live with.
Maybe our reservations about the supercharger whine and steering fidelity could be seen as nitpicking, but the larger issue is whether a car like the CTS-V is the right car for someone who doesn't have a track in their back yard.
As a reality check, you need look no further than the next version down the CTS hierarchy, the CTS V-Sport.
The V-Sport may not let you brag that you got there the first with the mostest, but honestly, so what, who cares? Despite its 220 fewer horses and taking one second longer to pounce to 60 mph, the V-Sport makes for just as effective an executive express as the V, while carrying a price tag that's about $25,000 lighter—depending on equipment.
Read our complete Cadillac CTS road test.