When you shop through retailer links on our site, we may earn affiliate commissions. 100% of the fees we collect are used to support our nonprofit mission.
Learn more.
Automotive safety has made dramatic improvements over the past decades, with seatbelts, airbags, electronic stability control, and sophisticated body structures all demonstrably reducing injuries and deaths. Consumer Reports feels the next critical advance involves forward-collision warning with automatic emergency braking. This proven, life-saving technology would have such a positive impact on safety that Consumer Reports has called for it to be standard on all new cars. (Also read "Government Pushes Autonomous Braking Technology.")
That's why we're pleased with today's announcement by the Insurance Institute for Highway Safety (IIHS) and the National Highway Traffic Safety Administration (NHTSA). At the dedication of IIHS' expanded Vehicle Research Center in Ruckersville, Va., the safety organization and NHTSA jointly announced that 10 automakers have committed to making automatic emergency braking (AEB) standard: Audi, BMW, Ford, General Motors, Mazda, Mercedes-Benz, Tesla, Toyota, Volkswagen, and Volvo.
Automatic emergency braking systems could drastically reduce rear-end crashes—either in avoiding them altogether, or at least reducing the velocity of the collision. The price-per-car for a frontal-collision warning system is $250 to $400—a fraction of the typical charge for an ambulance ride.
The National Transportation Safety Board cites that, in recent years, almost half of all two-vehicle crashes involved a rear-end collision–claiming about 1,700 lives per year and causing 500,000 injuries. And the IIHS estimates as many as 1.9 million total crashes could be prevented or mitigated each year if all vehicles were equipped with forward-collision systems. Further, studies by the IIHS and others show that automatic emergency braking technology could reduce insurance injury claims by as much as 35 percent.
Automatic emergency braking systems have been available for years on luxury cars, and this advanced safety feature is beginning to trickle down to mainstream vehicles, often as part of pricey options packages. It's time for this technology to become a standard feature.
Consumer Reports has evaluated numerous automatic emergency braking systems through our vehicle test program, both on the track and in real-world situations.
"Forward-collision warning with automatic emergency braking is the biggest safety advancement since the introduction of stability control over two decades ago," says Jake Fisher, director of auto testing for Consumer Reports. "This is such an important safety feature that all other manufacturers should bring it to their vehicles as soon as possible."
"Consumer Reports and Consumers Union have long advocated for this system, and are very pleased to see today's announcement," said William Wallace, policy analyst for Consumers Union, the policy and advocacy arm of Consumer Reports. "We look forward to working with government, automakers, and safety groups on these and other advanced technologies, such as vehicle-to-vehicle communications and autonomous driving. These improvements could further transform auto safety."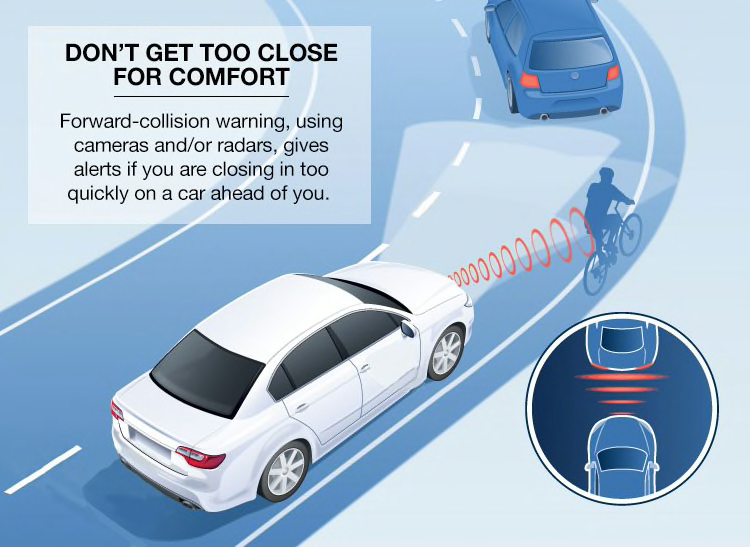 How the Systems Work
Forward-collision warning (FCW) uses cameras, radar, or laser (or some combination thereof) to scan the road ahead and to alert the driver if the distance to a vehicle ahead is closing too quickly.
The systems alert the driver with an audible, haptic (touch), and/or visual cue. More advanced systems include automatic emergency braking that can stop a car quickly enough to avoid a collision at modest speeds, or at the very least reduce the closing speed. At freeway speeds, the systems may not be able to completely stop the car in time, but they will still apply the brakes to reduce the force of the collision. Some system prepare the cabin's seat belts and airbags for impact. (Learn more about car safety features.)
Bottom Line
When shopping for your next new car, choose a model that performs well in Consumer Reports' dynamic tests, has better-than-average predicted reliability, and strong marks for safety in crash tests performed by the government and insurance industry.
To put safety odds further in your favor, consider investing in the latest advanced safety features, such as forward-collision warning with automatic emergency braking, blind-spot monitoring, rear-cross traffic alert, and lane-departure warning.