When you shop through retailer links on our site, we may earn affiliate commissions. 100% of the fees we collect are used to support our nonprofit mission.
Learn more.
In an over-caffeinated world, sometimes it's nice to slow down and smell the coffee. That's the attraction of the KitchenAid Siphon Coffee Brewer, a throwback to simpler times when brewing coffee was both an art and a science. If you've ever tasted coffee from a siphon coffeemaker, you may wonder why this brewing process fell out of favor. But machines like the $250 Siphon Coffee Brewer are reviving a process that, for die hard fans, never went away. Consumer Reports tested the KitchenAid and, yes, we get the appeal.
How It Works
KitchenAid calls the siphon brewing process "theatrical" and it does command your attention. The brewer has two sections connected by a siphon tube—an upper spherical chamber and a lower carafe. Ground coffee is added to the top section and evenly distributed over a washable cloth filter. Water is added to the bottom, which sits on a heating element. As for extra features, you don't get any—and you won't miss them.

Turn it on and the water in the carafe begins to heat. As it gets warmer, vapor builds forcing the heated water through the tube into the upper chamber where it mixes with the grounds. The circulating vapor swirls the water around in the grounds to the point where the coffee seems like it's boiling. It's not. Meanwhile, the heat below shuts off and as the water vapor cools it creates a vacuum that draws the coffee back down into the carafe. The whole process takes about eight minutes from start to finish for the maximum eight cups.

The KitchenAid Siphon Coffee Brewer doesn't fit neatly into any category of our tested coffeemakers—drip, pod, and electric French press. To compare its brew performance to other machines we measured the temperature range and how long the machine maintained optimal brewing temps, and it brewed close to industry standards. We weren't impressed with the carafe, which is heavy and can be difficult to fully empty. Cleaning the machine takes a little more time and a lot more water.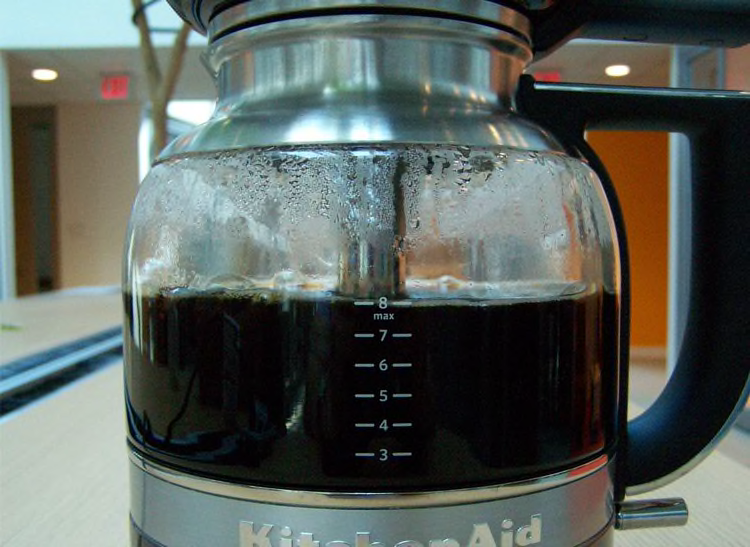 Need a New Coffeemaker?
If the price of the KitchenAid Siphon Coffee Brewer is too high and the brewing process too complicated, you'll find more than a dozen drip coffeemakers in our coffeemaker Ratings that meet the industry standard for optimal brewing. And this isn't the machine for you if you brew your coffee in a hurry. For that, opt for a single-serve pod machine or a to-go drip coffeemaker that fills a travel mug or two—see our Ratings of more than 25 single-serve pod machines and check our coffeemaker buying guide.