When you shop through retailer links on our site, we may earn affiliate commissions. 100% of the fees we collect are used to support our nonprofit mission.
Learn more.
To understand how Beth Baker, an independent, generally robust 87-year-old, got taken for $65,000 in less than one week last year, it's important to know about her grandson, Will. Baker, a retired second-grade teacher living in National City, Calif., beams when she speaks of the 24-year-old, the eldest of her five grandkids. As a high school football player and later a U.S. Coast Guard Academy graduate, Will made his grandmother terribly proud. When, late last year, Will's wife delivered Baker's first great-grandchild, Baker was overjoyed. "Will is precious to me," Baker says.
So when a man phoned one morning last December from an unfamiliar number, the news he delivered hit her like a sledgehammer.
"He said my grandson was in Peru and was in trouble there," Baker recalls. Then he put another man briefly on the line. Thinking it sounded like Will, Baker anxiously said into the phone, 'Will?' "
What Baker unwittingly did was provide the caller with her grandson's actual name, which was swiftly woven into a story. The caller said that Will had been a guest at a wedding in Peru. While driving, he had been involved in an accident that injured a 7-year-old pedestrian. Then a caller claiming to be Will's lawyer got on the line and said Will was in jail and needed money at once; there was no time to think or question. "And he said if I shared this story with anyone, there'd be trouble for my grandson," Baker recalls.
Baker hadn't seen Will for a while, but the tale seemed plausible to her.
So, shaken and scared, she followed the caller's instructions without verifying the story with anyone in her family. She hung up, drove to her bank, withdrew $5,000 from savings, and bought 10 $500 Green Dot MoneyPak cards at a CVS and a Ralphs supermarket. The contact called back as promised, and Baker scratched the card backs and read him the numbers beneath. That was all he needed to get an almost untraceable $5,000 payment, ostensibly for Will's legal fees.
The man called soon after to say the injured child had died. Will needed more money to avoid 10 to 20 years in prison. Again, the caller stressed urgency and secrecy. At his prompting, Baker withdrew $11,000, bought more MoneyPak cards, and waited for her phone to ring.
It did ring—again and again—each call detailing a new twist on Will's story and yet another demand. Over five days Baker purchased 101 MoneyPak cards and sent $65,000—almost all of her liquid savings.
Baker hardly slept. She was shaky and nervous. She skipped a visit to her husband, in nursing care at a home for veterans. She lied to her son, Jim—Will's father—about her activities. Once during a visit, Jim noticed that her thumbnail tip was black. He didn't ask why for fear of embarrassing her. In retrospect, he says, he realized that "it was from scratching off all those Green Dot cards."
When Baker applied at her local bank for a $14,000 loan against her paid-off home, she attracted the attention of a manager. With patient prompting, Baker finally confessed. The banker told her she was being scammed. They called Jim to confirm that Will was safe. "I was so relieved," Baker recalls.
Jim Baker reported the crime to the San Diego County district attorney's Elder Abuse Unit and fired off an angry letter to Green Dot. He remembers the incident with bitterness. "It made my mother question her own sanity and worth," he says. "At her age that's hard to get back."
(Have you, a friend, or a family member been the victim of an elder scam to steal money or property? Did you or the person you know fight back? Share the story with us on our Facebook page.)
More on Elder Abuse
A Crisis in the Making
Baker's story may sound unbelievable. You may tell yourself it could never happen to you or anyone in your family. But don't be so sure. Financial elder abuse—broadly defined as the illegal or improper use of the funds, property, or assets of people 60 and older by family, friends, neighbors, and strangers—is rising fast.
Estimates of the crime's frequency vary. A 2010 survey of seniors by the nonprofit Investor Protection Trust projected that 1 in 5 seniors had been taken advantage of financially. A study last year in the Journal of General Internal Medicine found that 4.7 percent of Americans—about 1 in 20—reported that they had been financially exploited in their later years. The study provided perspective: If a new disease struck that same percentage of older Americans, researchers wrote, "a public health crisis would likely be declared."
The Federal Trade Commission says that fraud complaints to its offices by individuals 60 and older rose at least 47 percent between 2012 and 2014. Seniors are the predominant victims of impostor schemes, in which criminals pose as government officials or other authority figures and claim that money is owed. They also are hit hard by gambits involving prizes, sweepstakes, and gifts.
Older people's vulnerabilities—including isolation, loneliness, generally trusting natures, relative wealth, and in some cases declining mental capabilities—make them ideal quarry for con artists. Even those whose cognition is intact can be swayed if they're stressed or depressed, or recently have lost a loved one.
The amount lost to swindlers, whether they are strangers or even relatives, is huge, with estimates ranging from almost $3 billion to more than $30 billion annually. And as baby boomers age, the pool of potential victims will expand, with assets ripe for the pickpocketing.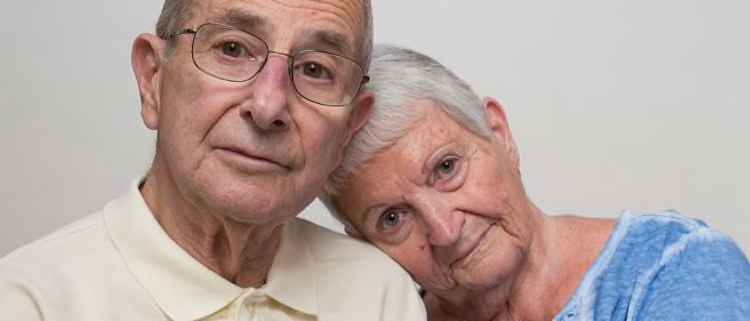 Mining for Marks
Among the factors that keep seniors from reporting scams are deep humiliation once they realize they've been had, and fear of reprisals from scammers who may have made threats to keep them silent. Many may be unaware that they've been scammed. A 2011 study conducted in New York state found that in one year, just 1 in 44 cases was actually reported.
"Victims are often deeply ashamed," says Elizabeth Loewy, former head of the Manhattan district attorney's Elder Abuse Unit and now general counsel at EverSafe, a fraud-monitoring service for seniors. "They worry that if they're viewed as vulnerable, they'll lose their independence."
In addition to the psychic trauma, the crime can affect seniors' health. A 2009 study of people 65 and older participating in the Chicago Health and Aging Project found that older people subjected to abuse or neglect, including financial exploitation, were hospitalized at a higher rate than those who weren't victims.
Many of the cons that seniors get taken by are no different from those used against younger people. But criminals take pains to identify older people. A clever scammer who gets a senior on the phone will quickly tease out personal information. "They might say they want to send the person free medical supplies or that they just want to verify their personal information," says Hazel Heckers, a victim advocate at the Colorado Bureau of Investigation. "Either way, their Social Security number is requested."
To create personal connections, they'll use "mirroring" techniques. "They'll say, 'You're a veteran? I'm a veteran!' " says Debbie Deem, an FBI victim specialist based in Los Angeles who works with victims of financial crimes, including seniors. The flattery and emotional grooming are similar to techniques she has seen used by sex traffickers luring young girls.
"It's low-risk occupation," says Jane Walsh, director of the Community Protection Division at the Boulder County district attorney's office in Colorado. "Why would someone rob a bank when they can sit at home with a phone and call a bunch of seniors.
An Emotional Appeal
Edna Schmeets, now 86, received a call in September 2011, the year after her husband died. A stranger claiming to be from an outfit called "American Cash Awards" announced to the Harvey, N.D., retired farm wife and homemaker that she had won a $19 million prize. All she had to do was wire $3,500 in advance fees and taxes to someone in Portage, Ohio. She shouldn't tell anyone, the caller said, or she would lose the prize. To Schmeets, who had dreamed of providing a substantial inheritance to her four remaining children, eight grandchildren, and six great-grandchildren, the promise of a vast sum seemed a godsend. She complied.
"They're good talkers," Schmeets says now, puzzling over how the scammers reeled her in over 10 months. "They can just about hypnotize you over the phone."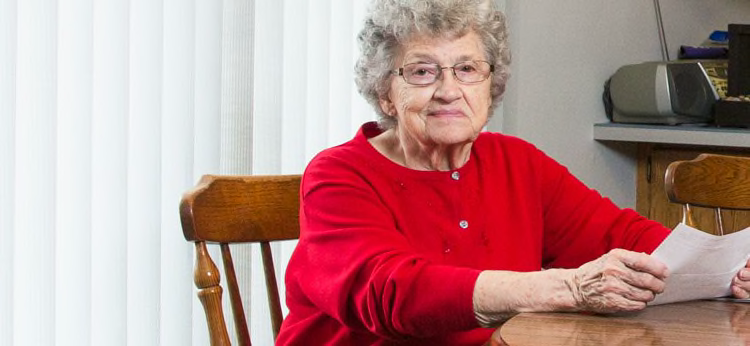 The caller, going by the alias Newton Bennett, then escalated his demands. Week by week, Schmeets eventually cashed in her investments and withdrew almost everything she had from savings. She borrowed against a life-insurance policy. She gave the scammers her credit-card number and personal identification number to provide more funds. She tried to get a loan on equipment from her family's 640-acre wheat and cattle farm. The local bank, now suspecting that fraud was afoot, refused.
Her daughter, Lisa, who lived about 2 hours away and visited her mom frequently, recalls that her mother was uncharacteristically secretive during that period. And ­Schmeets did something odd: She opened accounts in all three banks in her town and began shuttling money among them. Her children found out that the scammers had instructed Schmeets to receive and deposit checks from other victims, and send the money to a third party. Without her realizing it, Schmeets was being used by the scammers to launder money.
A banker in Harvey questioned Schmeets about her large transactions. "I don't remember what the heck I told him," Schmeets says, "but I didn't tell him the truth because I wasn't supposed to tell anybody."
The banker alerted Schmeets' son, Jeff, to his mother's strange behavior. Her children, who weren't named on their mother's account, immediately asked her to stop. Then they told the local police. The case was eventually forwarded to the FBI, and an agent began an investigation. By the time Schmeets stopped her folly, she'd lost $297,000.
"When the FBI got involved, it was like the spell broke," Lisa says of her mother's sudden awakening. "She was like, 'Oh my gosh.' And then she was really hard on herself. She'd really lost everything."
Video: The Scam That Scared a Grandmother Out of $9,000
Altered Reality
Experts say it's not unusual for some victims to get duped repeatedly, betrayed not just by clever scammers but also by their own cognitive decline or emotional need. Jolene T. of California watched helplessly as her father, a retired plumber, and mother, a retired nurse, drained their life savings of $200,000 and borrowed an additional $50,000 responding to multiple sweepstakes prize offers, including one for $2.5 million from "Global International Sweepstakes." Jolene consulted her father's doctor, hoping he would declare her father incompetent so that she could take over his finances, but the doctor didn't see signs of cognitive decline. Legally her father was able to carry on.
"I'd be at the house, and he'd get a call," Jolene says. "They'd tell him to wire the money right away. He'd run out the door to send it, and I'd run after him. I still could not stop him.
"He was so deeply invested in it that he didn't want to believe it was a lie," she adds. "It became a kind of addiction."
"The victims I deal with would not call these scammers strangers," says Deem, the FBI victim specialist. "To these people, they're their friends."
To get through to victims and encourage them to stop, Deem tries to reveal the scams' contradictions. But even when the hustlers are unmasked, some lonely victims appear not to care that they're being duped. "A woman with Alzheimer's said to me, 'If you take this away from me, what will I have to live for?' " Deem recalls. "Another one said, 'His voice is like a song to me.' "
A Violation of Trust
Whether hatched around the corner or halfway around the world, these schemes often depend on the establishment of trust. Phillip Deeb, a retired meat cutter in Bradenton, Fla., trusted Dennis Cline and thus lost his life savings.
In 2006, when Deeb was 68, he responded to a mailing promoting Medicare supplemental insurance. He was sent a list of local insurance agents and selected Cline to sell him the policy. Cline soon began courting Deeb, befriending him and inviting him to a holiday party. He persuaded the retiree to put his entire $186,000 lump-sum pension into an annuity and offered to prepare his taxes. "He seemed trustworthy," says Deeb, now 77. He admits he should have checked Cline's credentials.
In 2008 and 2009, the IRS sent Deeb notices for unpaid taxes. Cline said he would handle it. But in late 2011, the IRS put a lien on Deeb's accounts. Though Cline had asked Deeb and his wife, Mary Jane, to sign their tax forms, he hadn't filed the returns at all. Deeb owed the IRS $20,000.
Around the same time, Deeb received a collections notice for cable television service he'd never ordered. Deeb's daughter, Deneé, and son, J.P., decided to investigate and found that Cline had used Deeb's Social Security number to arrange for the service in his own home. Suspicious, they dug deeper. They discovered that Cline had opened two more annuities. Over time, he'd gutted all three accounts, impersonating his client to gradually withdraw the funds by phone. To escape detection, he'd arranged for statements and checks to be sent to his or his father's home. The value of the annuities had dropped to zero.
Deeb's children alerted police. In November 2012, Cline was arrested, and a month later he was charged with scheming to defraud $50,000 or more, a first-degree felony. Various delays caused the case to drag on for 14 months. The anxiety ate at the couple. Phil Deeb, recovering from surgery to his pancreas, had several panic attacks, and a few months after the case ended, he underwent open-heart surgery. "The doctor states it was due to the stress in his life," Deneé says.
Lisa Chittaro, the assistant state attorney who prosecuted the case, worried that the Deebs wouldn't live to see justice. "I've seen it happen," she says. "A defense attorney for this kind of case once told me, 'Delay is my friend.' "
The Fight for Justice
In search of help, families report to local police, financial institutions, and numerous government agencies and not-for-­profits. (Read "Where to Report Abuse," at the bottom of this page.) But investigations and prosecutions often fall short because of lack of training and coordination among various experts.
Investigators may be able to determine the origin of a phone call or the original IP address of an Internet operation, but by then the crooks have moved on. Paul Greenwood, San Diego deputy district attorney and head of the office's Elder Abuse Unit, notes that although Green Dot changed the loading process of its cards earlier this year to make it impossible for scammers to redeem loaded funds remotely, criminals are using other cards in their place.
And resources stretch only so far. "The feds are more interested in a global picture, with a criminal network, lots of defendants, and millions of dollars," Greenwood says. "If I brought them Beth Baker's case, for $65,000, they'd probably laugh at me."
Yet dogged investigators can succeed. While looking into some suspicious money transfers through the mail, Brian Horne, a postal inspector based in Miami, and Frank Gasper, the FBI special agent in Bismarck, N.D., who was probing Edna Schmeets' case, discovered that they were tracking the same person: Shannon O'Connor of Deerfield Beach, Fla., who was receiving large checks from Schmeets and at least three others.
Horne and Gasper teamed up and eventually paid O'Connor a visit. She was arrested and questioned. "Initially she told a couple of stories," Gasper recalls. "But after a 40-minute interview, she realized we knew what was happening."
O'Connor cooperated, and the investigators pieced together the workings of a network of middlemen in the U.S. collecting huge sums of cash, much of it from seniors, and wiring or flying the funds to Jamaica. Working with Jamaican law enforcement, Horne and Gasper identified 32 conspirators in the U.S. and Jamaica. They estimated that the conspiracy had collected a total of $5.5 million from at least 70 victims across the country.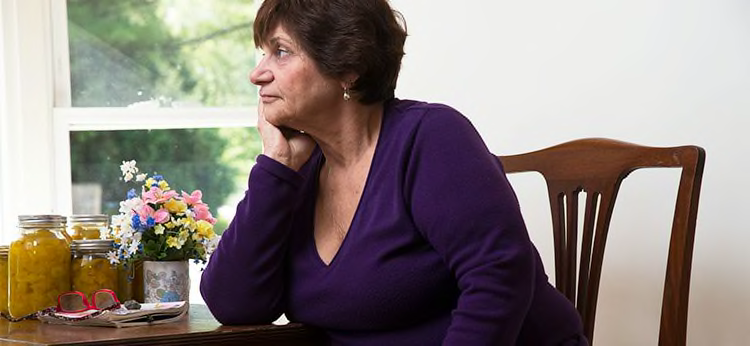 Progress on Many Fronts
As difficult as such probes can be, elder-abuse experts say they've seen some progress in how the crime is perceived and handled. Last September, for instance, the Department of Justice launched a website that includes a database of publicly filed documents used in elder-abuse, neglect, and exploitation cases so that prosecutors can share strategies.
The Senate Special Committee on Aging, led by chairman Susan Collins, (R-Maine), and ranking member Claire McCaskill, (D-Mo.), have helped shine the light on many of the scams mentioned in this story through hearings and investigations.
Most statutes related to elder financial exploitation are at the state level, and several states have recently acted to beef up those laws. Maine added financial exploitation to its definition of elder abuse. Ohio is considering a bill to require financial institutions and their employees observing suspected elder abuse be "mandated reporters" to law enforcement; almost all states offer immunity from liability to those who report the crime.
Missouri recently allowed stock brokerages suspecting elder fraud to refuse to process a senior's trade request or transaction for up to 10 days. New York is considering a similar bill for banks.
Financial institutions have begun training personnel to identify and report signs of elder fraud. Wells Fargo Advisors, the megabank's brokerage arm, now trains all of its employees to be mandated reporters. Businesses have sprung up with products to help prevent the abuse. (Read "Build Your Own Safety Net.")
Improved coordination with foreign countries has helped. Jamaica, a known hotbed for lottery scams, passed a law in March 2013 to make it easier to prosecute scammers. Shortly after, Sanjay Ashani Williams, 25, a "lead list" seller from Montego Bay, Jamaica, flew to Charlotte, N.C. There was an arrest warrant out for him, and he was apprehended. One of his victims was Edna Schmeets.
The Power of Speaking Out
A powerful tool in the arsenal of elder-abuse prevention is awareness.
Publicity—such as the 2009 conviction of Anthony Marshall for stealing millions from the estate of his mother, philanthropist Brooke Astor—is making elder fraud more visible. Numerous government agencies and not-for-profits offer educational websites and literature. But seniors themselves may be the most powerful teachers. When they bravely tell their stories, peers listen. (Learn about the Stop Senior Scams Acting Program.)
In late April, in federal court in Bismarck, Edna Schmeets took the stand to testify about suffering at the hands of the lottery schemers. She knew she would see Sanjay Williams face to face. "She was concerned about her safety," Lisa recalls. "But she was a champ."
Righting the Wrongs
Elder-fraud cases are sometimes resolved, but victims don't always get their due. In January 2014 Dennis Cline was convicted of defrauding $50,000 or more. He went to prison and was ordered to pay $94,442 in restitution to Phillip and Mary Jane Deeb. But the Florida Department of Corrections says Cline is behind in payments to the Deebs since his February release. To make ends meet, Phil Deeb—who had lost his life savings in the fraud—had to return to the Publix meat counter. Then he became too sick to work. "It breaks down your body," Deebs says of the experience. "You become sicker than you were."
Edna Schmeets didn't get her money back, which leaves her bitter. But in May, she learned that Sanjay Williams had been found guilty of conspiracy to commit wire fraud or mail fraud, conspiracy to commit money laundering, and 35 counts of wire fraud. Sentencing is scheduled for early October. He faces a potential 40 years in prison.
Greenwood says the Beth Baker investigation is ongoing. Baker doesn't expect that she'll get her money back, and she's fortunate that her loss didn't jeopardize her retirement. Like Schmeets, she now has her children's names on her bank accounts and lets them periodically check her transactions. She says she's satisfied if her words help protect others.
"These people are willing to take the stand in a public forum and talk about something embarrassing in order to help bring people to justice and stop the fraud," says Assistant U.S. Attorney Clare Hochhalter, the lead prosecutor against Sanjay Williams in North Dakota. "They are heroes to us."
"I don't feel like a hero," Baker says. "But I'm thankful if I can keep somebody else from being fooled."
Ordinary People, Outsized Courage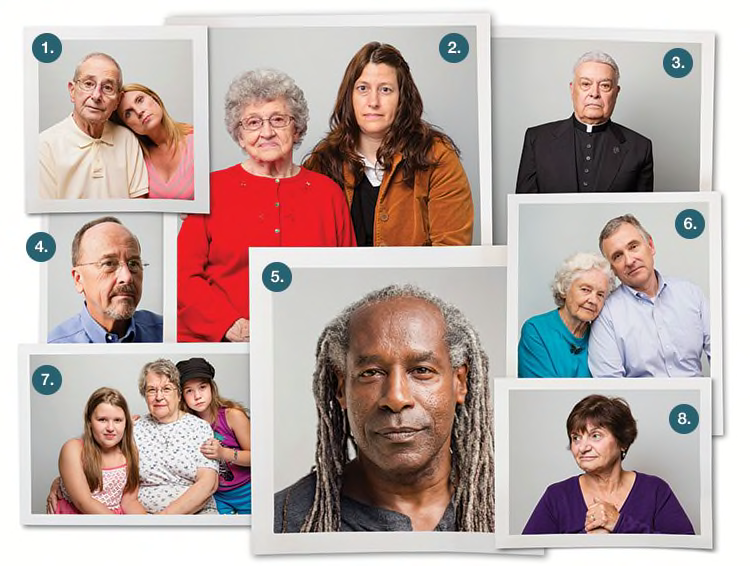 1. An unscrupulous financial adviser cheated Phillip Deeb, 77, of Bradenton, Fla. (pictured here with daughter Deneé), out of $186,000 before law enforcement stepped in.
2. In the hope of claiming a prize to share with family, Edna Schmeets, 86, of Harvey, N.D., lost $297,000 to swindlers. Here she poses with daughter Lisa.
3. A phony letter sent to Father Michael Ortiz, 86, of San Diego said he'd won a $1.6 million sweepstakes. The retired Roman Catholic army chaplain was directed to transfer advance taxes to a bank ­account in South Carolina. Ortiz paid $40,000 before he reported it to law enforcement. ­Apprehended, the crook ultimately pleaded guilty to felony elder financial abuse.
4. The Rev. Al Cadenhead, 68, of Matthews, N.C., relinquished almost $16,000 in one day to an IRS imposter. The Baptist minister was threatened with jail if he didn't settle a purported tax bill immediately, using Green Dot MoneyPak cards for payment and keeping quiet to avoid further trouble.
5. A letter to Wade Gardner, 62, of Los Angeles, announced he could earn money evaluating retailers' customer service. After Gardner responded by phone, he was sent a $3,000 bank check and told to deposit the check and send $1,200 personal checks to two strangers. Both $1,200 checks—and five of his other checks—bounced after the $3,000 deposit didn't clear. Gardner paid almost $250 in bounced-check fees but says he could have lost much more.
6. Thinking she was rescuing her grandson overseas, Beth Baker, 87, of National City, Calif. (pictured here with son Jim), lost $65,000 to fraudsters before realizing she'd been conned.
7. A contractor approached Marjorie DeGrace, 77 (here with grandaughters Avianna, left, and Amanda), in her Wakefield, R.I., front yard and offered to pave her driveway for $3 per square foot. The paver started without giving DeGrace time to vet him. She paid $1,000 in cash and charged $8,000 before her children called police. Her son later measured the driveway and determined an overcharge of $3,600. The paver entered into a consent order to stop operating in Rhode Island and provide restitution or remediation to those who'd filed complaints, but DeGrace hasn't seen a dime.
8. Louise Brown, 68, a retired nurse from Richmond, Vt., met a man through a dating site who charmed her through e-mails and texts. Over six months, he persuaded her to send $60,000 to cover business troubles abroad. The money hasn't been recovered.
More on Elder Abuse
Editor's Note: This article also appeared in the November 2015 issue of Consumer Reports magazine.