When you shop through retailer links on our site, we may earn affiliate commissions. 100% of the fees we collect are used to support our nonprofit mission.
Learn more.
Trying to quit smoking? Many people are now firing up e-cigarettes in the hopes the devices will help them kick the habit.
But whether e-cigs really help in that effort is still unknown, according to a new report from the U.S. Preventive Services Task Force (USPSTF), an independent panel of health experts that advises the government on health issues. "The current evidence is insufficient to recommend electronic nicotine delivery systems for tobacco cessation in adults, including pregnant women," the report concludes.
In August, Britain's health advisory group, Public Health England, reached the opposite conclusion—though it has since been criticized, not least for relying on studies funded by organizations with ties to e-cigarette makers.
The task force says that the studies done so far on e-cigarettes and smoking cessation have found that the devices are of no benefit in helping people break their addiction.
For example, the task force highlights a New Zealand study published in 2013. It found that e-cigs with nicotine were about as effective as nicotine patches in helping people stop smoking after six months, and slightly more effective than placebo e-cigs, which contained no nicotine. The task force notes that, "Smoking cessation was generally low in all three groups."

Other studies also show that e-cigs don't help smokers quit: researchers at the University of California in San Francisco parsed data from 75,643 teenagers in South Korea. They found that those who were trying to quit smoking were less likely to succeed if they also smoked e-cigs. Even worse, many of the teens actually ended up smoking more traditional cigarettes.
What's more, a study from the Center for Environmental Health relased earlier this month suggests that e-cigarettes may expose users to harmful chemicals, such as formaldehyde.
"At this point we just don't have enough proof that e-cigarettes are safe, and that they are a useful tool for those who want to break their smoking addiction," says Consumer Reports chief medical adviser Marvin M. Lipman, M.D.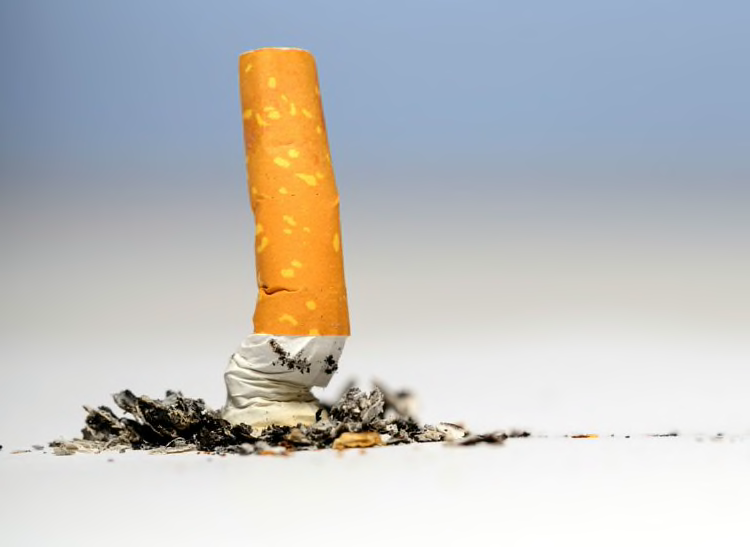 What Should You Do If You Want to Stop Smoking?
For now, stick with proven methods.
Most people—particularly those who smoke a pack or more per day—should start with counseling. Your doctor can direct you to a counselor or therapist who specializes in smoking cessation. Your doctor can also help you decide whether you need drug therapy.
There are several FDA-approved products that can help, including over-the-counter nicotine patches, chewing gums, and lozenges, which can ease nicotine withdrawal symptoms.

Other FDA-approved methods, including the prescription drugs bupropion (Wellbutrin SR, Zyban, and generic), nortriptyline (Pamelor and generic), and varenicline (Chantix) may also help. But both bupropion and varenicline carry black-box warnings, the most serious caution, because of reports that they may increase suicidal thoughts, so should be used only under the careful supervision of your doctor.