When you shop through retailer links on our site, we may earn affiliate commissions. 100% of the fees we collect are used to support our nonprofit mission.
Learn more.
Thanks at least in part to the Affordable Care Act, the rate of uninsured people in the U.S. has dropped to new lows: less than 12 percent, down from 17 percent at the end of 2013. But many of us now pay a higher share of our health insurance costs, even if we get coverage through an employer. Even choosing the right Medicare plan can be confusing—and making the wrong choice can cost you. Here's how to make smart decisions whether you get insurance through work, buy it via a health insurance marketplace, or are enrolled in Medicare.
If Get Your Insurance Through Your Job
DO know what providers are in your network. If you're considering a health maintenance organization (HMO) or an exclusive provider organization (EPO), you must stick with in-network doctors and hospitals except for emergencies.
Preferred provider organizations (PPOs) have larger networks and more flexible rules for out-of-network care. But see whether the plan has "preferred" providers who charge less to plan members. If you go outside that list, you may have to cover the difference between what providers bill the insurance company and what the insurance company pays.
TIP: Online directories of in-network providers can be wrong or outdated. Instead, call the plan and the doctor to confirm.
DON'T rush to the cheapest plan.Your employer may tempt you with one that has a low monthly premium, the amount that's regularly deducted from your paycheck. But those plans can cost more in the long run.
For one thing, they often come with high deductibles, the amount you have to pay before insurance kicks in. And you'll probably have other costs, too, including co-pays (a flat amount, say $30, that you pay every time you go to a doctor, hospital, or other health care provider) and coinsurance (the percentage of the bill that you have to pay for surgery or other treatments). Those costs can really add up. The maximum allowed by law for 2016 is $6,850 for individuals and $13,700 for families.
Those plans can be a risky option if you have a chronic disease like diabetes or take expensive medications. Also be wary of the plans if you think you might put off care just to avoid paying the deductible. But those plans can help you save you money if you're generally healthy and don't tend to need much beyond an occasional visit to the doctor or care for a minor illness. Still, make sure that you have enough in the bank to cover the deductible if you need a lot of expensive care at once, such as after a heart attack.
TIP: If you opt for a high-deductible plan, consider a health savings account (HSA). That allows you to cover out-of-pocket costs with money set aside in a tax-free account you set up with a bank or health insurance company.
If You Buy Your Own Insurance
DO go through the marketplace. If you don't get insurance through your job or Medicare, you can (and by law, now must) buy insurance on your own. You can bypass the federal- or state-run marketplaces established by the Affordable Care Act and go straight to an insurance company or broker. But if you do that, you may miss out on financial assistance in the form of tax credits that lower your premium.
Even if your income is above the cutoff for a subsidy ($46,680 for an individual, $62,920 for a couple), it's still prudent to buy through the marketplace. If your income ends up being lower than expected, you can claim the subsidy at tax time. And you may find that you even qualify for free health care through Medicaid or the Children's Health Insurance Program.

TIP: The same advice that applies to shopping for health plans from your employer applies to shopping in the marketplace: Don't rush to get the cheapest plan, and know who's in your network.
DON'T automatically renew last year's plan. If you don't take any action, your plan will probably be automatically renewed. But if your income has changed, your subsidy may be wrong. And you risk paying more than necessary if you auto-renew. So go back into your marketplace account, update your income information, get a new subsidy determination, look at your plan options, and select one.
November 1, 2015: Note that open enollment for state and federal marketplace plans starts on November 1, 2015 and runt till January 1, 2016. Buty you can start previewing plans the the third week of October, 2015.
TIP: This year you can find an online calculator for out-of-pocket costs at healthcare.gov, so that you can compare the true cost of plans.
If You Get Insurance Through Medicare
DO sign up at the right time. No, most people aren't automatically enrolled in Medicare when you turn 65. And missing the sign-up deadline can cost you. And missing the signup deadline can cost you.
Most people should enroll in Medicare Part A, which covers hospital inpatient care, in the month they turn 65 or the three months before or after that, because it has no premium for most beneficiaries.
That's true even if you're still working and get health insurance through your employer. Note that if you have an HSA and aren't receiving Social Security benefits, you might want to delay signing up so you can keep contributing to that tax-free account, though talk with a Medicare enrollment agent when you do enroll to avoid a possible tax penalty
You should enroll in Medicare Part A, which covers hospital inpatient care, in the month you turn 65 or the three months before or after that, because it has no premium. That's true even if you're still working and get health insurance through your employer.
When to enroll in Medicare Part B, which covers doctor services and outpatient hospital care, is trickier. Sign up at the wrong time and you face a permanent increase in your Part B premium of 10 percent for every year you should have been enrolled but weren't. The monthly premium for 2016 is $104.90 for most people.
If you're retired or will retire at 65, sign up for Part B when you enroll in Part A. If you or your spouse still work, when to sign up depends on the company's size. If it has 20 or more employees, you can delay Part B if you get insurance through your job or your spouse's. If not, sign up for Part B right away. Your employee plan becomes a secondary plan that covers you only after Medicare pays its share. And employers with less than 20 employees can kick you off the company plan when you turn 65 and become eligible for Medicare.

The open enrollment period for Medicare this year runs from October 15 to December 7.
TIP: Sign up for Medicare Part D, which covers prescription drugs, the same time you sign up for Part B. Delaying that can trigger another penalty.
DON'T overlook supplemental coverage. Regular Medicare allows you to go to any doctor or hospital in the U.S. that accepts Medicare. (That's almost all of them.) But you have to pay 20 percent of the cost of most outpatient care, including doctor's visits. To cover that 20 percent, you have two options: Medigap and Medicare Advantage.
Under Medigap, Medicare will pay its 80 percent of the bill, then forward the rest to your Medigap plan. You pay about $150 to $200 per month above your Part B premium for that coverage. But if you wait more than six months after you sign up for Part B, your Medigap insurer can charge you extra or turn you down.
Medicare Advantage is very different. Your coverage includes the services under Medicare Part A and Part B, and is administered by one private insurer rather than by the federal government. Depending on the plan, you may have to pay an additional premium, on top of your Part B premium, plus co-pays and deductibles. And you'll have access to a limited network of doctors and hospitals.
TIP: Get free counseling through the State Health Insurance Assistance Program (SHIP).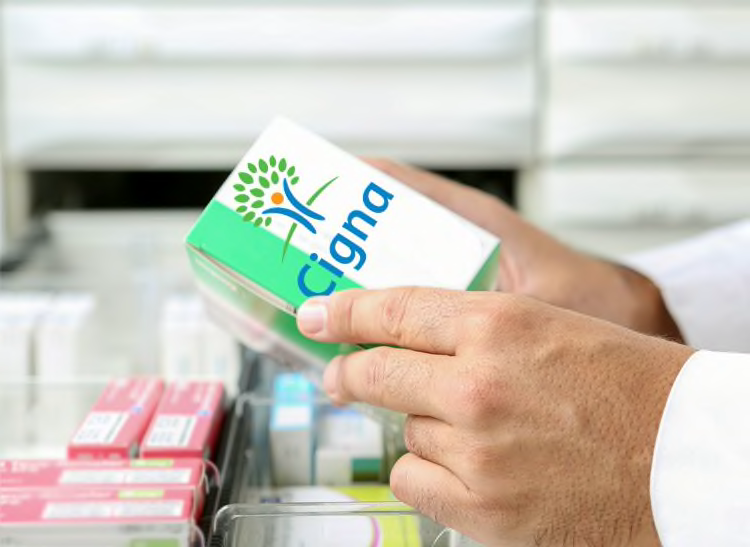 How to Compare Health Insurance Plans
Not all health insurance plans are created equal, but trying to compare the plans can be complicated.
To help with that, Consumer Reports teamed with the National Committee for Quality Assurance, a nonprofit organization that rates plans based on member satisfaction and overall quality, to identify the insurance companies that offer better plans—as well as those that aren't as good.
The charts below list insurers (those used by employers as well as those offering Medicare Advantage plans) by the percentage of their plans that got top scores in the NCQA ratings. See NCQA's Health Insurance Ratings to get details on specific plans. For Medicare Advantage plans, you can also go to medicare.gov, which gives the government's star ratings for health plan quality. Look for a plan with 4 stars or more.