When you shop through retailer links on our site, we may earn affiliate commissions. 100% of the fees we collect are used to support our nonprofit mission.
Learn more.
If you have hearing loss, like one in six adults in the U.S., you probably haven't done anything about it: Less than half have gone to a doctor or audiologist about the problem in the last five years, perhaps because they don't want to wear a hearing aid or try a different technology. But that may be changing.
A new report on hearing trouble in adults released last week by the Centers for Disease Control and Prevention shows that people age 18 to 39 with hearing loss are more likely than people age 40 and up to use some sort of assistive technology to cope with the problem, such as headsets, FM microphone systems, text messages, amplified telephones, or live video streaming.
ADULTS WHO REPORTED HEARING LOSS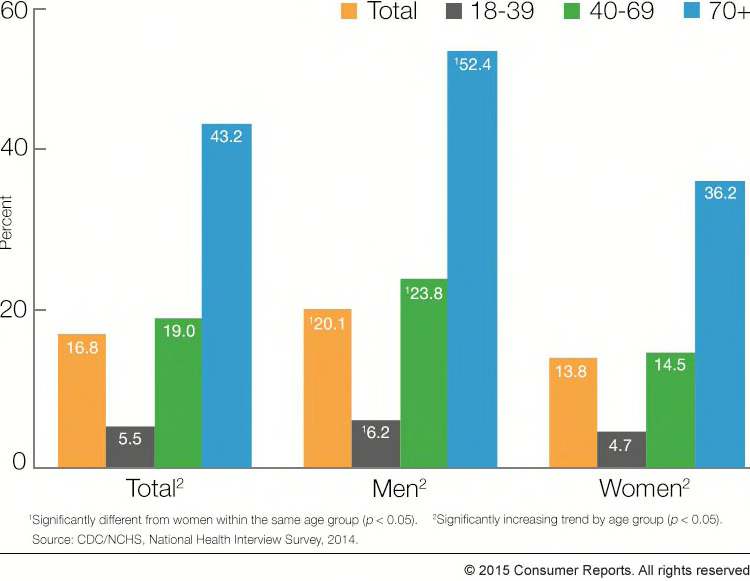 Room for Improvement
"There's a lot of untreated hearing loss in this country," says Carla Zelaya, Ph.D., a survey statistician for the CDC's National Center for Health Statistics and lead author of the report, which surveyed more than 36,000 U.S. adults.
"We found that people of middle age were the least likely to use assistive technology, perhaps because their hearing loss is not that bad yet and they are uncomfortable with using the newer devices. But the younger adults seem to recognize their hearing limitation and are using new technology to help themselves."
Middle-agers were also not wild about addressing the issue with a health professional: People 70 and up with hearing loss were much more likely (57 percent) than those age 40 to 69 (42 percent) to see a doctor or audiologist.
And that's a problem, since nearly 20 percent of people age 40 to 69 say they have some level of hearing loss. (Just 5 percent of the youngest U.S. adults reported hearing trouble, but that rises to 43 percent of those 70 and up.) Hearing loss can wreak havoc with your social life, causing you to avoid activities such as going to restaurants or parties. And it can increase your risk of falls and make driving dangerous. A recent study at Johns Hopkins University even linked untreated hearing loss to a higher risk of developing dementia.
The good news is that most people reported mild hearing loss, though men were more likely to say it was moderate to severe. Men were also more likely to blame it on long-term noise exposure, while women were more likely to say that getting older was responsible for their hearing trouble.