Featured Products
We rigorously test products and services—check out our product reviews and ratings and make the smart choice.
Latest From Consumer Reports
Inside the Sept. 2017 Issue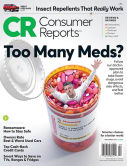 From Our President: Marta L. Tellado
In our special report, "Too Many Meds? America's Love Affair With Prescription Medication," we spotlight the questions to ask your provider about whether a prescription is truly necessary, offer guidance about how common ingredients interact with one another, and provide insight on treatments and lifestyle changes that can sometimes effectively supplant prescribed medications.
More