When you shop through retailer links on our site, we may earn affiliate commissions. 100% of the fees we collect are used to support our nonprofit mission.
Learn more.
Pet owners will probably incur at least one $2,000 to $4,000 bill for emergency pet care at some point during their pet's lifetime, says Louise Murray, D.V.M., a veterinarian and vice president of the ASPCA's Bergh Memorial Animal Hospital in New York City. Pet insurance might help owners avoid having to choose "economic euthanasia"—letting a beloved animal go because they can't afford that big a bill. The plans can help offset some or most of the costs of paying a veterinarian to diagnose, treat, and manage a pet's illness or injury. Providers include the ASPCA, Healthy Paws, PetFirst, Petplan, Trupanion, and VPI Pet. Most plans cover cats and dogs, but a few also insure birds and other animals.
An injury can happen at any time. Pet owners Mark Bobrow and Isabelle Duvernois knew their cat Roscoe was badly injured when they noticed that the lower part of his left hind leg was hanging at an odd angle. "He and our other cat, Woogie, were jumping in and out of a hole below our box-spring mattress," Bobrow says. "We think he caught his leg in a spring, panicked, and yanked his leg out." Roscoe, who had just turned 6, broke his leg in two places and tore ligaments in his ankle. His surgery, which included placing pins in the fractures and mesh around the ligaments, and his hospital stay, pain meds, and other costs totaled about $6,500, which the couple paid out of pocket.
Is Pet Insurance The Answer?
Like human insurance, pet plans include deductibles, co-pays, and monthly premiums, and have coverage limitations. You foot the bills yourself and wait for reimbursement. The average accident and illness monthly premiums start at $22 per month for a dog and $16 per month for a cat, but the costs rise depending on your pet's breed (purebreds cost more to insure because they are more susceptible to some hereditary conditions), age (plans usually cost more annually as your pet ages), ZIP code (the higher cost of vet care in some areas is factored into your premium), and the coverage you choose. Medical treatment for dogs costs more than for cats. Some plans, like ones from the ASPCA, limit coverage to "usual and customary costs" based on veterinary pricing in your area. VPI posts a long schedule on its website outlining the maximum payouts for each illness or injury.
If you're considering a policy, look for free quotes, terms and conditions, and a sample policy on insurers' websites. Consider coverage with simple, percentage-based payouts and no reliance on judgments of what's "reasonable," to avoid your own future headaches. Find out how your premiums might increase as your pet ages.
For example, one plan that Healthy Paws says is popular includes a $250 annual deductible and reimburses plan holders 80 percent of covered expenses. It has no annual limit on claims, and coverage includes accidents, diagnostic treatment, emergency care, hospitalization, prescriptions, and surgery, but it does not cover pre-existing conditions, annual checkups, vaccinations, spay or neutering, or dental care.
For a 1-year-old mixed-breed cat in the Yonkers, N.Y., area, the plan will cost just over $240 the first year. By the time your cat is 7 (assuming prices don't rise further in the meantime), the coverage will be $327 that year. If you have a dog, you'll pay $372 the first year to buy the plan for a 1-year-old mixed breed; it's $461 if that young pooch is a golden retriever.
If you're unlucky enough to have a pet with a costly chronic condition or an illness, or a relatively young animal like Roscoe in need of major care, you might get a positive payout from a plan. If the Healthy Paws plan mentioned above was purchased for Roscoe when he was 1, for example, it would have cost his owners $1,409.61 by the time of his accident, assuming one monthly payment was made when he turned 6, and it would have covered $5,000 of his bills. But it's a roll of the dice; many policies may not be worth the cost over many years for a generally healthy animal.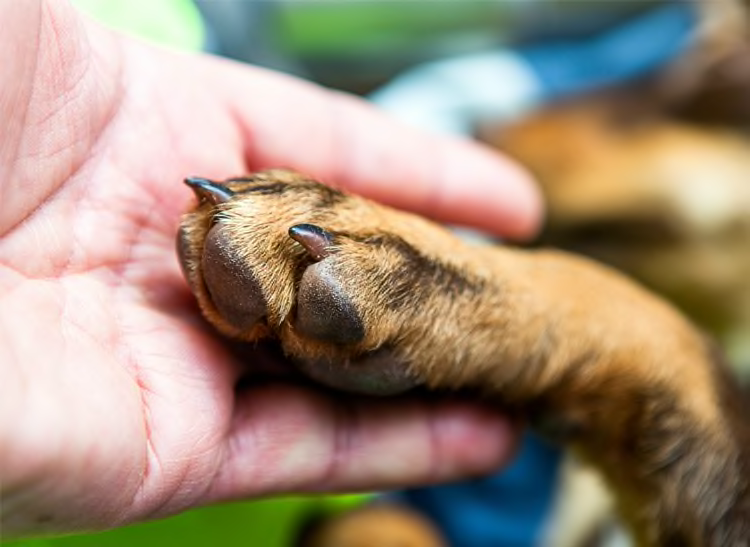 Another Alternative
If the idea of paying for pet insurance doesn't appeal to you, set up a dedicated savings account for unanticipated health care costs. Dog owners spent an average of $235 last year on routine vet visits and $551 on surgical visits; for cats, the averages were $196 and $398, respectively. You can add enough money each year to the fund to roughly cover those costs, just in case.
Additional Ways To Save
Ask your vet what vaccines you can skip. Some protect against serious disease, but ringworm is a mild condition and its vaccine isn't that effective, Murray says.
Guard against parasites. Flea and tick infestations can cause life-threatening anemia. An inexpensive topical flea and tick solution can keep the critters at bay.
Spay or neuter your pet. Doing so can prevent health problems, including uterine, ovarian, and testicular cancers. Many local shelters or chapters of the ASPCA provide low-cost or no-cost spay or neuter surgeries.