When you shop through retailer links on our site, we may earn affiliate commissions. 100% of the fees we collect are used to support our nonprofit mission.
Learn more.
Features that save time, make cooking and clean-up easier, or add style often start on higher-end appliances, and over time, may wind up on mid-priced models. Here's a look at five features that grabbed our attention in the test labs of Consumer Reports.
Front Controls
Freestanding ranges are the most popular type, have finished sides, are easy to install, and typically cost less than slide-ins and drop-ins. And they've finally gotten a make-over. The controls have been moved up front, eliminating the back panel. The look is sleek and stylish and similar to slide-in ranges.
Ranges with this features. Among the recently tested front-control freestanding ranges, none made our top picks. The best was the $2,200 electric smoothtop Kenmore 41313, although its oven is small. The $1,600 Whirlpool WEE760H0DS has a large oven and was superb at broiling. Simmering and fast range-top heat were excellent too. Baking, however, was just good and self-cleaning was poor. And here's an odd mix of old and new: The Whirlpool WEC530H0DS, $1,100, is an electric coil-top range with front controls. It scored 51 out of 100. The gas ranges were unimpressive. The $1,700 Whirlpool WEG760H0DS earned an overall score of 48; the Kenmore 32363 is at the bottom of our range Ratings, with a score of 28, and it's $2,300.
Virtual Flames
One of the reasons people like cooking with gas is the visual cue of the flame, and fans of electric ranges depend on the glow of the electric coils. But with induction range-tops and cooktops the electromagnetic field doesn't create that glow. That's why Samsung has added virtual flames—LEDs that shine light onto pots and pans to remind you that the elements are in use.
Range with this feature. You'll see virtual flames on the high-end Samsung Chef Collection ranges, including the Samsung NE58H9970WS. This slide-in induction range scored excellent overall and is $3,600.
Cooking Sensors
The idea is to put an end to runny eggs, burnt food, and worse, burnt food that's raw in the middle. Bosch claims its AutoChef sensor measures the temperature of the bottom of a special aluminum pan and then provides the right amount of energy to the element, delivering precise results.
Cooktop with this feature. We tested the Bosch NETP066SUC electric smoothtop cooktop. It made our top picks and is $1,200. AutoChef, with its nine cooking programs and four temperature settings, took the guesswork out of cooking small steaks and we didn't have to adjust settings when cooking three omelets consecutively. Pancakes and bone-in fried chicken turned out okay, but not ideal. Our testers look forward to seeing where Bosch will take this feature.
Hinged Cast Iron Grates
Cooking can be fun, but clean-up? Whirlpool's EZ-2-Lift cast iron grates are hinged at the back of the gas cooktops, making it easy to lift the entire grate and wipe clean.
Cooktop with this feature. The $900 Whirlpool WCG97US0DS gas cooktop has this feature. It's top rated among 30-inch gas cooktops and the least expensive of our recommended models.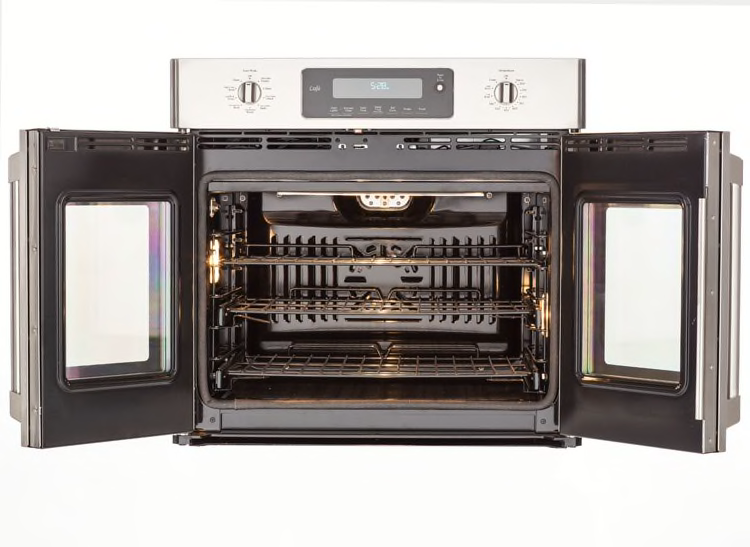 French Doors
Ovens with two side-by-side doors, known as French doors, are often used in restaurant kitchens, and GE has added them to wall ovens. The doors open to the side, rather than down, and pulling one handle opens both doors at the same time.
Wall oven with this feature. The stylish GE Café CT9070SHSS 30-inch electric wall oven has French doors and you can control the oven from your smart phone. Impressive at baking and broiling, it's all yours, for $3,900.
Full Ratings and Recommendations
Then take a look at our range Ratings and cooktop and wall oven Ratings. Use the filter to narrow choices by brand and type, and click the features and specs tab to learn more. Any questions? E-mail me at kjaneway@consumer.org.