Do You Really Need AWD in the Snow?
Automakers have long boasted that all-wheel drive is all you need to get your car through winter's fury. Our exclusive tests tell a different story.
Last updated: September 29, 2015 11:00 AM
 Forty-one percent of all weather-related car crashes on U.S. roads are due to conditions involving snow, sleet, ice, and slush. That's pretty sobering when you consider that those conditions usually exist during just a few months of the year. Accidents caused by winter weather result in 150,000 injuries and 2,000 deaths each year, on average, according to a study by the Federal Highway Administration.
Little wonder, then, that car manufacturers trumpet all-wheel drive as a safety shield against inclement conditions. Consumers are inundated with that marketing message, and all-wheel drive is perceived as a must-have for many car buyers. It's a key reason SUVs are now the top-selling segment of the auto market.
But can all-wheel drive really save you when the weather turns ugly? It provides some benefit, but it may be insufficient to get you through a grueling storm.
All-wheel drive is about getting your car moving from a dead stop—not about braking or steering­—and you should be aware of its limitations.
Through weeks of driving in snowy, unplowed conditions at Consumer Reports' 327-acre test center in Connecticut, we found that all-wheel drive didn't aid in braking or in certain cornering situations. Our evaluations conclusively showed that using winter tires matters more than having all-wheel drive in many situations, and that the difference on snow and ice can be significant.
We realize that swapping and storing tires twice per year is a nuisance. And in places where street plowing is thorough, you can probably get by with all-season tires that are in good condition.
Do you rely on AWD for winter driving?
All-wheel drive is far better than two-wheel drive when it comes to driving on slick surfaces where you need serious traction to get going, such as a snowy uphill driveway. But our tests found that all-wheel drive by itself won't help if you're heading too fast toward a sudden sharp curve on a snowy night.
That's an important point for people who overestimate the capability of their all-wheel-drive vehicle. We've all seen them, zipping past us in blizzards with their illusory cloak of invincibility.
Don't be one of those guys—unless you want to risk a crash or find yourself stranded far from civilization.
Our test-track observations lead us to advise that using snow tires provides the best grip and assurance for going, stopping, and cornering no matter what you drive: all-wheel drive, front-drive, or rear-drive. And buying winter tires for a front-drive car will cost far less than the several-thousand-dollar premium you'll pay for all-wheel drive.
Enhancements like electronic stability control—standard on every new car since 2012—also help two-wheel-drive vehicles maintain control, at least up to a point.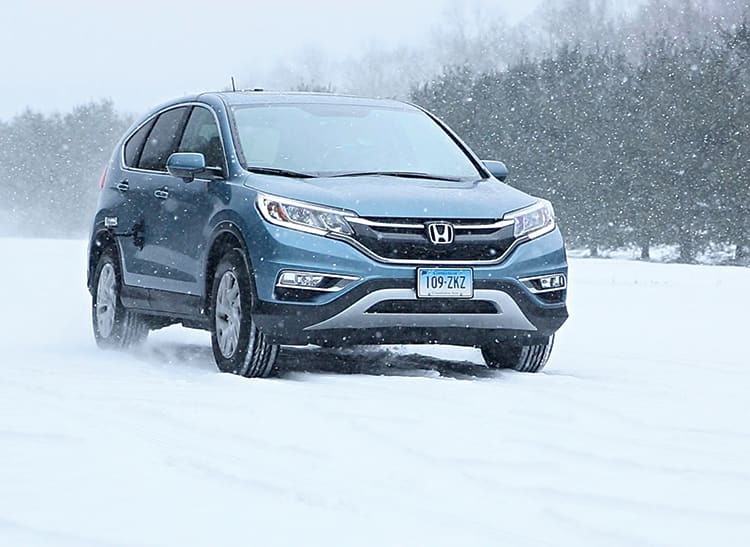 What did our tests show?
We conducted braking tests in an all-wheel-drive 2015 Honda CR-V, the best-selling compact crossover, with its original all-season tires, then with winter tires. The differences in stopping distances were considerable.
On a different day under different snow conditions, we did braking tests pitting the CR-V against a Toyota Camry, both rolling on new winter tires. The front-drive Camry did just as well as the AWD Honda, both stopping from 60 mph in about 300 feet.
As for handling, we found that some of the all-wheel-drive vehicles in our fleet struggled to stay on course when equipped with all-season tires—even in the hands of our professional drivers. A couple of the vehicles even plowed straight through corners and off the track.
If you live in a place that gets frequent snow storms, an all-wheel-drive vehicle with winter tires will be very capable. And some AWD systems function better than others in terms of helping drivers get traction.
But most AWD drivers don't think of adding winter tires. According to our survey of 54,295 subscribers who drove AWD or 4WD vehicles in the snow for more than six days last winter, less than 15 percent equipped their vehicles with winter tires. The rest kept rolling on their all-season tires and took their chances.
At Consumer Reports, we strongly recommend buying four winter tires for whatever vehicle you drive.
See our complete tire buying guide and ratings.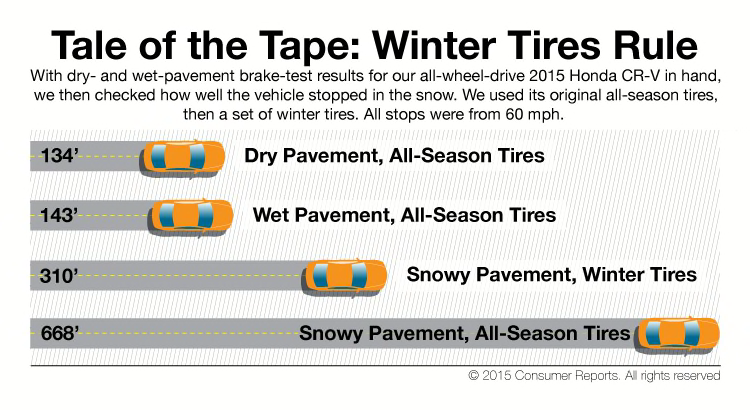 What's the Difference Among Drive Systems?
There's a clear distinction between all-wheel drive and four-wheel drive, although the terms are mistakenly used interchangeably. Follow this guide to understand how all of the systems work.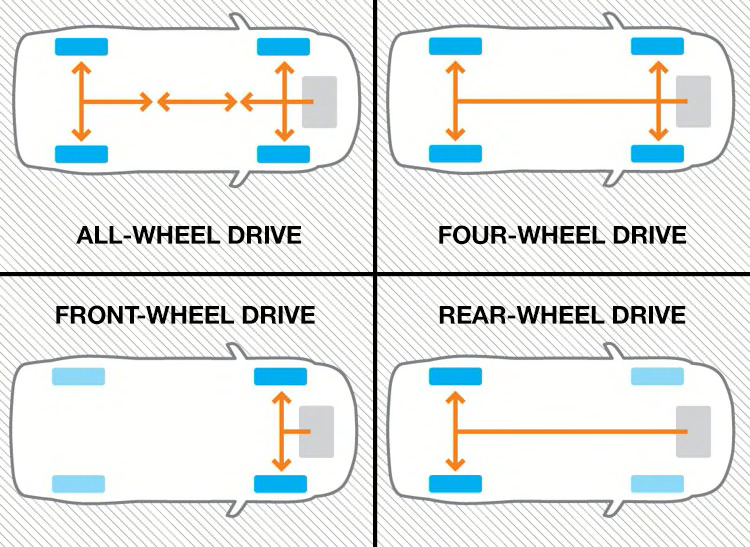 All-Wheel Drive
All-wheel drive is a lighter-duty system used for cars and car-based SUVs. AWD systems operate continuously, and they automatically vary power delivery to the front and rear wheels when needed. Some systems remain in front- or rear-wheel-drive mode until slip is detected, then power is routed to all four wheels. Other systems send power to all four wheels continuously.

Good for: Seamless acceleration in slippery conditions. Needs no driver intervention to engage.


Drawbacks: Can't improve braking or cornering performance in snow; lacks heavy-towing ability; lacks a low range for slow-crawl situations; fuel economy suffers; and there's a price premium compared with front-drive cars.
Four-Wheel Drive
This refers to the heavy-duty drivetrain components found in pickup trucks and truck-based SUVs. The truck usually sends power to the rear wheels, and the driver engages four-wheel drive with a dashboard knob or button, which sends power in equal proportion to the front and rear axles. Most current SUVs and some pickups have a permanent or "auto" 4WD mode.
Good for: Grunt work like hauling a boat trailer up a launch ramp. Most systems have a low range and locking differentials for extreme terrain.
Drawbacks: Can't improve braking or cornering performance in snow; driving in locked 4WD mode on clear roads can damage the driveline; and there's a wider turning circle in 4WD mode.
Front-Wheel Drive
Used in most cars, minivans, and wagons, front-wheel-drive systems send engine power to the two front wheels. The drive shaft doesn't extend to the rear of the car, leaving more room for rear-seat and trunk space. Traction control limits wheel spin in certain inclement conditions.
Good for: Good traction in most driving situations. And it doesn't carry the price premium of all-wheel drive. It's also better than rear-wheel drive on slippery roads because there's more weight on the front wheels, which propel and steer the car.
Drawbacks: If the road is too snowy or icy, the front wheels will slip and you'll be stuck. Winter tires are recommended for snowy conditions.
Rear-Wheel Drive
This system places less demand on the front wheels, freeing them to be used primarily for steering. It's often used in basic pickups and traditional truck-based SUVs that are designed to handle towing and other chores. Traction control can help improve the performance of those vehicles as well. Rear-wheel drive is also the preferred setup for sports cars and high-performance sedans because of its con­tribution to ideal weight distribution, which aids in handling.

Good for: Handling balance and cornering in dry conditions.

Drawbacks: If the road is too snowy or icy, the rear wheels will slip and you'll get stuck. Rear-drive cars tend to spin out in snowy or icy conditions. Winter tires are recommended.