Best sedans over the past 20 years
The Chevrolet Impala is the first domestic car to make this elite list
Published: July 29, 2013 09:30 AM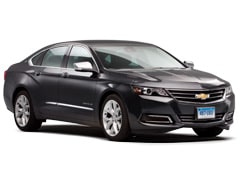 With a tremendous 95-points overall, the 2014 Chevrolet Impala stands as the highest-scoring sedan in Consumer Reports' current ratings. An impressive feat, especially considering the previous Impala scored a meager 63 points—too low to be recommended. Digging through our archives, we find that this chart-topping accomplishment is truly historic.
Since 1992, Consumer Reports has published car ratings in its annual auto issue. In thumbing through past magazines, we found that no domestic-branded model could claim the title as top sedan for a given year—until now.
As the list below conveys, precious few models could claim this accolade, with almost all being upscale and luxury cars. Once they made the list, they tended to claim the coveted spot for more than a year. For perspective, we included the top domestic sedan for each year.
| Year | Top sedan | Top domestic sedan |
| --- | --- | --- |
| 2013 | Chevrolet Impala | Chevrolet Impala |
| 2012 | Lexus LS 460L | Cadillac CTS Premium, Ford Fusion Hybrid |
| 2011 | Lexus LS 460L | Cadillac CTS Premium, Ford Fusion Hybrid |
| 2010 | Lexus LS 460L | Cadillac CTS Premium, Ford Fusion Hybrid, Mercury Milan Hybrid |
| 2009 | Lexus LS 460L | Cadillac CTS |
| 2008 | Lexus LS 460L | Cadillac CTS |
| 2007 | Infiniti M35x | Cadillac STS V6 |
| 2006 | Infiniti M35x | Cadillac STS V6 |
| 2005 | Lexus LS 430 | Cadillac DeVille DHS |
| 2004 | Lexus LS 430 | Cadillac DeVille DHS |
| 2003 | BMW 530i | Cadillac DeVille DHS |
| 2002 | BMW 530i | Cadillac DeVille DHS |
| 2001 | Volkswagen Passat GLS | Lincoln LS V6 |
| 2000 | Audi A6 Quattro V6. 2.8 | Lincoln LS V6 |
| 1999 | Mercedes-Benz E320 | Cadillac Catera |
| 1998 | Mercedes-Benz E320 | Cadillac Catera |
| 1997 | Mercedes-Benz E320 | Cadillac Catera |
| 1996 | BMW 530i | Chrysler LHS |
| 1995 | Mercedes-Benz E-Class | Chrysler LHS New Yorker |
| 1994 | Lexus LS 400 | Chrysler Concorde, Dodge Intrepid, Eagle Vision |