Sony Alpha A3000 makes advanced cameras more affordable
This interchangeable-lens camera costs only $400 with a kit lens
Published: August 27, 2013 11:45 AM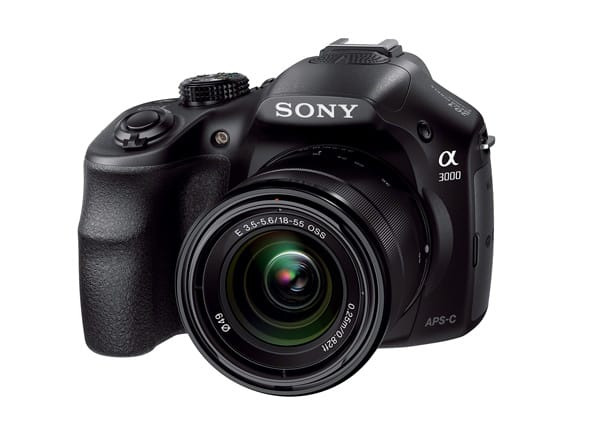 If you've been longing for an advanced camera that accepts interchangeable lenses but leery of high prices, you're in luck: Today Sony announced two new advanced mirrorless or SLR-like digital cameras, one of which, the 20-megapixel Sony Alpha A3000, will cost only $400. And that's with an 18-55mm f/3.5-5.6 kit lens. It's a $100 to $200 drop in price from most entry-level advanced models and is even cheaper than some basic models.
Like most Alpha series cameras, the Sony Alpha A3000 has a high-quality electronic viewfinder, a large 3-inch LCD, and a hot shoe (to use an external flash), and it can capture full HD video. The Alpha A3000 also has a very wide ISO range for photos: 100-16,000 ISO, which may make it very sensitive when shooting in low light.
Unlike other Alpha models, the A3000 can use Sony's E-mount series of interchangeable lenses, which are generally geared for NEX SLR-likes. You'll need to buy a lens adapter to use Sony's Alpha A-mount series lenses, which are larger and heavier than the E-mount series.
In addition to the Alpha model, Sony introduced a slightly more expensive, more compact NEX series camera, the 16-megapixel NEX-5T, $700 (with a 16-50mm f/3.5-5.6 E-mount kit lens). It's not only wireless but also includes NFC (near-field communication) for wirelessly synching with mobile devices. It also has a swiveling 3-inch LCD touchscreen and an even wider ISO range than the A3000 for photos: 100-25,600 ISO.
Both cameras will be available in early September.
Sony also announced three E-mount-series lenses, which can be used with both new cameras:
50mm f/1.8 prime or non-zoom lens, $300
18-105mm f/4 lens (with a power zoom switch), $600
16-70mm f/4 Zeiss lens, $1,000
—Terry Sullivan