Redesigned Chevrolet Tahoe, Suburban, and GMC Yukon and Yukon XL coming soon
More refinement, convenience, and features. Same giant size.
Published: September 12, 2013 05:15 PM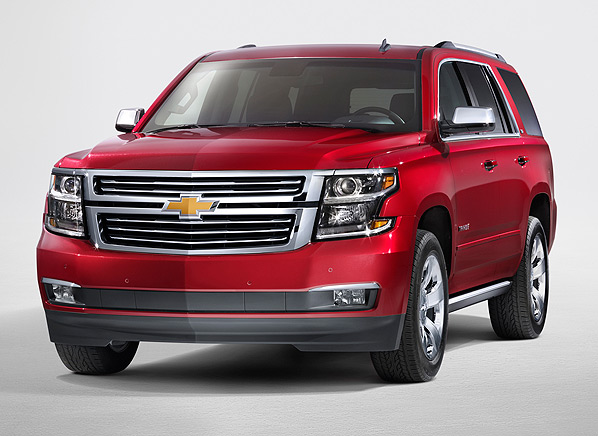 General Motors is aiming to make living large more comfortable, connected, and fuel-efficient with the arrival of its redesigned full-sized SUVs.
The Chevrolet Tahoe and Suburban, and closely related GMC Yukon and Yukon XL, look similar to the models they replace, but are all-new from the ground up. GM is promising best-in-class fuel economy (a term that every manufacturer touts for every new car introduction) from the more powerful—and new—355-hp, 5.3-liter V8 that powers the Chevrolets and base GMC models. As in the past, buyers looking for even more oomph must step up to the top-trim GMC Yukon Denali with its 420-hp, 6.2-liter V8. All engines are matched with a six-speed automatic transmission (not new).
Upgraded materials and easier access promise to make the roomy interior a nicer place to be. The new dashboard features an available eight-inch touch-screen radio, and a console bin large enough to swallow up a laptop. Rear-seat passengers get an extra two inches of leg room. An optional dual-screen rear DVD system is available, along with up to a dozen USB and 12-volt power outlets to keep the whole family connected and entertained. And they'll enjoy their audio and visual experiences that much more in a quieter cabin, according to GM. Second and third rows now fold flat for easier cargo loading.
Sporty handling isn't normally high on the list of priorities for large SUV buyers, but GM is promising better body control and improved brake and steering feel. Standard and available safety features include forward collision alert, park assist, lane-departure warning, lane-change assist, rear cross-traffic alert, and adaptive cruise control.
The new Tahoe, Suburban, Denali, and Denali XL are all due to arrive in showrooms in early 2014. Prices have not been announced, but we'll be among the first buyers when we add one (or more) to our test program.
—Jim Travers