Hamilton Beach BrewStation adds flavor options
Coffeemaker comes with a built-in syrup dispenser
Published: September 09, 2013 04:30 PM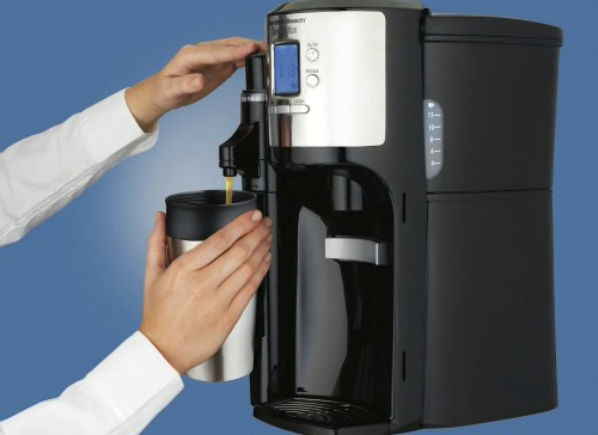 With coffee houses on nearly every block and single-serve coffeemakers that offer more than 100 varieties of coffee, you'd think there could be nothing new in brews. But Hamilton Beach has a new drip coffeemaker that promises to give coffee drinkers the coffee house experience at home by adding a pump-action syrup dispenser that makes it easy to flavor your own. But the question for the coffeemaker testers at Consumer Reports was does it make good coffee?

The Hamilton Beach BrewStation 49150 is a 12-cup "brew-and-dispense" model that keeps brewed coffee hot in the machine until you want a cup. The extra twist is a detachable syrup dispenser. Included in the $60 price is a starter bottle of Torani sugarless vanilla syrup. But in Consumer Reports coffeemaker tests, that wasn't enough to sweeten the deal.

The programmable model, one of nine drip models we've just added to our coffeemaker Ratings, doesn't want for features. You can make iced coffee as well as hot (the internal heater stays off for iced), and you get both a small-batch setting and brew-strength control. You can even fit a tall travel mug beneath the coffee dispenser and the removable coffee tank serves as a container for filling the reservoir prior to brewing.

Despite these niceties, we found the unit cumbersome to use, with a lot of fuss in setting up the machine for brewing and cleaning it up afterwards. And because this model fell short of industry guidelines for proper brewing temperature and duration—holding a temperature of 195°F or more for five or six minutes—it didn't make a particularly good cup of coffee. In fact, you might want to add syrup, milk and more to boost the flavor.

For a brew-and-dispense model, there are better choices even if you're partial to adding extras. The Hamilton Beach BrewStation 47454, $80, and Mr. Coffee BVMC-ZH1B, $50, are priced most similarly to the BrewStation 49150 and made our list of top coffeemaker picks for their superior brew performance and relatively easy setup, operation, and cleanup. Neither offers a syrup dispenser but last time we checked it wasn't a hassle to just pour from the bottle.

—Ed Perratore