Join Consumer Reports at the New York World Maker Faire 2014
At this DIY celebration, we display some of our hand-made and high-tech testing gear
Published: September 19, 2014 10:00 AM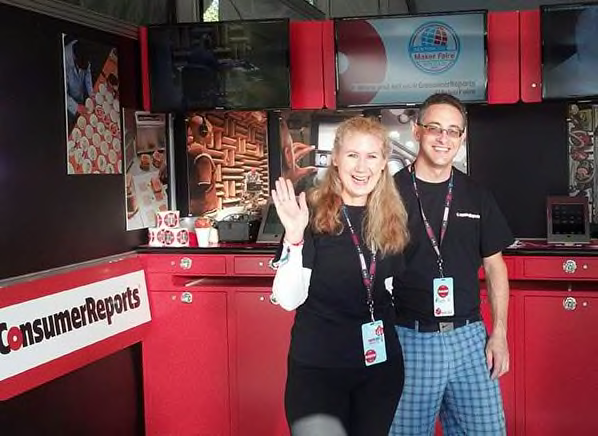 On Sept. 20 and 21—that's this weekend!—the World Maker Faire descends on New York City. It's a festival featuring all things made by hand, from handcrafts to sophisticated science projects, a real treat for DIYers. And Consumer Reports is joining the exhibitors again this year.
Consumer Reports has a lot in common with the so-called maker movement, and our collective DIY mindset melds well with the spirit of Maker Faire. We test all sorts of products in our labs—vacuum cleaners, smart phones, baby strollers, you name it—and frequently our project leaders and technicians have to build their own testing devices. You'll see some of those devices at the Faire this year. (Take a look at the time-lapse video below to see how we test TVs.)

When we started testing treadmills, for example, we needed a way to test their durability. So we built a machine we dubbed Johnny Walker (shown). It's a spinning aluminum drum with "feet" attached that's propelled by the running belt of the treadmill, simulating a 170-pound runner.
We've also built machines to test dental floss, pedometers, tablet battery life, and much more. We even purchased a 3D printer to create custom pieces for our testing fixtures.
If you plan to attend the Maker Faire, stop by our booth to see videos of our labs and meet some of our testing experts, who love to meet real people once in a while! And you'll have a chance to help us out with some actual testing, too. See you there!
—Carol Mangis