Deals on the best American cars for tailgating
Kick off the football season with discounted models that earn our recommendation
Published: October 04, 2013 05:00 PM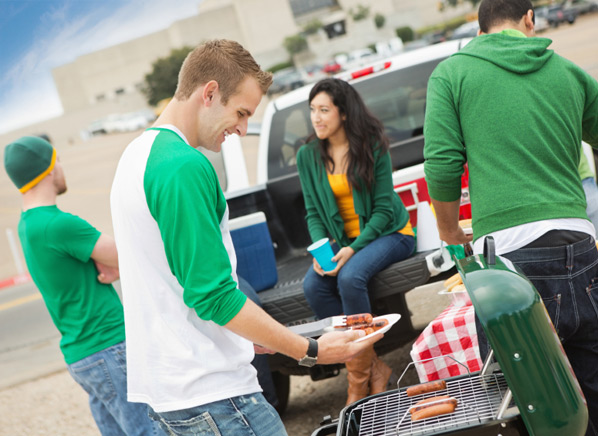 With football season kicked off, are you ready for some tailgating? For those pigskin-enraptured car shoppers looking for a good all-around vehicle that is also well-suited to weekend fun, including parking lot barbeques, we have some picks for you.

To ensure these models are good cars, as with all our Best New Car Deals, each meets Consumer Reports' criteria to be recommended. These vehicles scored well in our testing, have average or better reliability in our latest subscriber survey, and performed well in government or insurance-industry safety tests, if evaluated.

Each vehicle highlighted below offers at least a 10-percent discount off the retail price in national incentives. These may also carry regional incentives, enabling further savings for informed negotiators. The SUVs are ranked by potential savings. (Get the latest new- and used-car pricing.)

We focused the list on just those models that are made in the United States, regardless of brand. These vehicles are standouts at having tempting combinations of overall road test scores, significant discounts, abundant cargo space for tailgating essentials, and the obligatory liftgate for easy access and potential shelter from the elements. So whether you want a Chevrolet Traverse to cheer on the Titans or a Toyota Sequoia while you're rooting for the Seahawks, there's a vehicle here to fulfill your fantasy team. But, there are no Jaguars on the list for Jaguar fans.

When buying in the fall, it is important to know that a 2013 model is essentially a one-year-old car, despite being relatively fresh off the showroom floor. This means the car will take an initial (admittedly painful) depreciation hit. However, the equity impact will balance out over time, should you hold on to the car for several years, and especially if you log more than 12,000 miles a year.

| | Expires | MSRP | Invoice price | Customer rebate | Dealer incentive | Potential savings below MSRP |
| --- | --- | --- | --- | --- | --- | --- |
| 2013 Chevrolet Equinox AWD 1LT | 10/31 | $28,480 | $27,099 | Yes | No | 10%+ |
| 2013 Chevrolet Equinox AWD 2LT | 10/31 | $30,350 | $28,876 | Yes | No | 10%+ |
| 2013 Chevrolet Suburban LT 4WD | 10/31 | $51,470 | $47,937 | Yes | No | 10%+ |
| 2013 GMC Acadia AWD SLT-1 | 10/31 | $42,675 | $40,586 | Yes | No | 10%+ |
| 2014 Buick Enclave Convenience AWD | 10/31 | $41,665 | $39,628 | Yes | No | 10%+ |
| 2014 Chevrolet Suburban 4WD LT | 10/31 | $52,055 | $48,481 | Yes | No | 10%+ |
To research these vehicles further, or to find the latest trim-level pricing on any model, visit the Consumer Reports car model pages (available to online subscribers).

To ease the buying process, Consumer Reports offers a Build & Buy Program to subscribers. For Build & Buy, a nationwide network of over 6,000 participating dealers have agreed to pass along discounts provided by any applicable manufacturer incentives for the vehicle you're buying. This includes unadvertised manufacturer-to-dealer incentives, for which it's typically up to the dealer whether to keep the savings or pass them on to the customer.

See all current Best New Car Deals or use our New Car Selector to create your own list of vehicles by sorting and filtering by the factors that matter most to you.

—Jeff Bartlett and Todd Young