How to make electric cars more useful
Lots of ideas to widen the appeal of EVs
Published: October 03, 2013 06:00 PM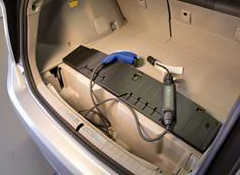 How can niche vehicles such as all-electrics and plug-in hybrids reach a wider audience? To find a market beyond early adopters, electric-car drivers need a safety net. And automakers at this week's Plug-in 2013 event in San Diego are trying lots of different approaches:
Tesla (who is not here) builds cars that go 200 miles between charges. A study of BMW Mini-E lessees showed that consumers say a range of 150 to 180 miles would be "ideal."
Nissan is joining several states and public-private partnerships (as well as Tesla) in building fast chargers across the country. These may have the advantage of expanding the market for electric cars to those living in apartments and condominiums and don't always have access to outlets outside of their dwelling. And automakers believe that this may help create a market for used electric cars.
The BMW i3 and Cadillac ELR will soon join the ranks of the Chevrolet Volt and the Toyota Prius Plug-In in the family of plug-in hybrids with range extenders, or gas engines that work as generators to provide more electricity for longer trips.
But there may be another possibility: Show attendees were struck by data showing just how little electric cars cost to run. Beyond costing as little as three cents a mile for the Nissan Leaf in our tests, electric cars never need oil changes, belts or hoses. And brakes, even in conventional hybrids, have been known to last 80,000 miles. With tax incentives of up to $12,000 in some states, bringing the price of a Leaf down to less than $18,000, maybe some consumers could be persuaded that an 80-mile range car that handles most local trips and charges overnight could be worth its weight in gold.
–Eric Evarts