Kids need the flu vaccine—and there are options for those afraid of needles
The disease poses special risks to children
Published: October 31, 2013 02:30 PM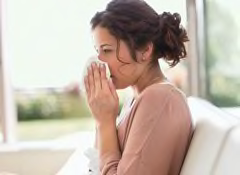 Has your child been vaccinated against the flu yet? If not, a new study from researchers at the Centers for Disease Control and Prevention might motivate you. It found that flu complications often strike kids fast and hard.
The study, published this week in the journal Pediatrics, looked at 830 children who died from the flu over the last eight seasons. More than 40 percent were previously healthy 5-year olds. In fact, healthy kids were more likely than those with high-risk medical conditions such as asthma to die within 3 days of their first flu symptoms and before being admitted to a hospital.
The researchers aren't sure why healthy children seem to face bigger risks. But they said their findings highlight the importance of annual influenza vaccination and early antiviral treatment to fight its complications.

Flu season usually peaks in February, so there's still time to get your children (and yourself) vaccinated. And there are several new choices this year besides the standard flu vaccine that may be good for some people, including those afraid of needles.
For example, FluMist and Fluzone Intradermal: Both can be good choices for people afraid of needles.

FluMist is a nasal spray. It's approved for people ages 2 to 49. It uses a weakened but still active virus, so it's not recommended for pregnant women, people with suppressed immune systems, and those caring for those high-risk people.

Fluzone Intradermal uses a tiny needle to inject vaccine just under the skin, not deep into the muscle as is required for standard flu shots. It's approved for people ages 18 to 64. Fluzone Intradermal shots can cause temporary redness and swelling at the injection site.

— Doug Podolsky