Dos and don'ts of holiday car travel
How to stay safe and avoid road trip headaches
Published: November 21, 2013 09:00 AM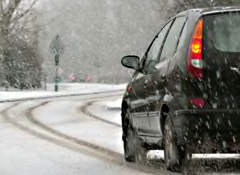 Millions of travelers will hit the road this holiday season, but before you jump in the car and head over the river and through the woods, follow these tips to make your trip safe and hassle-free.
Do:
Fill up. It may seem like a no-brainer, but fill up your gas tank before you leave and try to keep it half full, just in case you get stuck in brutal traffic (or snow storms). With potential inclement weather, accidents, or construction, having extra gas on hand can remove stress and create options in an emergency. Further, it can prove vital to keep you warm during an extended delay or help take a long detour.
Bring your car in to a mechanic. Get it checked out before a big trip. Look for signs of uneven or excessive tire tread wear and have them replaced if necessary. Consider changing to winter tires if your travels will lead you to a snowy place.
Pack up an emergency kit. Bring water, flashlight with extra batteries, shovel, ice scraper, first-aid kit, and some nonperishable food items just in case. You may also want to pack warm clothing, blankets, and a sleeping bag if you have the space. Always have on-hand a car-operated cell-phone charger.
Map out directions. Whether you go with old-fashioned print maps, a portable GPS, or a smart phone app, make sure you are familiar with the path you will take to your destination and have the tools to route around trouble.
Check the laws. If you are traveling out of state, check out laws pertaining to child seats and cell phone use as they vary. Be aware of changing speed limits as you cross state lines.
Buckle up. It saves lives and sets a good example for younger passengers. 'Nuff said.
Don't
Overpack your car. Items that are not secure could be dangerous projectiles in a crash. Pack smartly, putting heavy items low and fastening cargo that could move forward in an impact.
Travel during rush hour. To avoid traffic, try to choose off-peak times to travel. This can save time, gas money, and stress. Plus, your passengers will be happier it doesn't take 10 hours to go 300 miles.
Get a ticket. Follow the traffic laws, don't speed, and especially don't drink and drive. Police are more vigilant during the holiday season, and accidents are more tragic and annoying to other motorists.
Rely on coffee to keep you awake. If you are feeling tired, pull over at a rest stop and take a 10 minute snooze. Or change drivers.
Text or use a handheld phone. Arrive alive. Hang up and drive. Just don't do it.
For more on winter driving, see our special section. Safe travels!
—Liza Barth