Most holiday shoppers stress-free as holiday nears, Consumer Reports poll shows
But they won't appreciate getting an impersonal holiday greeting
Published: December 17, 2013 06:00 AM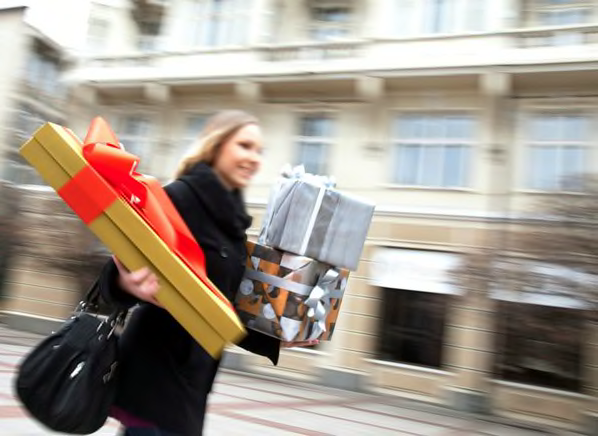 With Thanksgiving in the rearview mirror and Christmas coming fast, nearly one-third of Americans who plan to give gifts had yet to begin their shopping as of early December, according to the latest Consumer Reports Holiday Poll*. Forty-nine percent were less than halfway finished.
But even with that procrastination, 64 percent said they have things under control and will be ready for the holiday. The remaining 36 percent said that preparing for the holiday had them at least somewhat stressed, including 6 percent who were so overwhelmed that they were unsure whether they'd be ready in time, and 3 percent who said they almost certainly wouldn't be prepared for Christmas.

Most Americans—64 percent—said they have holiday spending under control, but the rest expressed concern about going over budget.

Saving money remains a priority, and the three most common tactics to economize this year were clipping coupons, a strategy used by 35 percent of respondents. Thirty percent of those surveyed used coupons distributed via e-mail, and 24 percent relied on discounts available through store credit cards.

Thirty percent said they'd do most of their shopping at walk-in stores of mass merchants such as Walmart and Target; 12 percent would do most of their shopping at department stores including Macy's and Nordstrom; and 7 percent would give the bulk of their business to local independent retailers.
Thirty-three percent of respondents said most of their shopping would be online this season. Twenty percent expected to shop online more than they did in 2012, and 9 percent said they'd shop online less. Three out of four consumers surveyed said they didn't expect to buy any gifts online this year.
This year's top gifts
As in past years, apparel, shoes, and fashion accessories remained the most-popular gift category, on the list of 62 percent of shoppers. Gift cards were second,with 45 percent expecting to give them, followed by toys (41 percent), books (34 percent), cash or check (28 percent), food or wine (27 percent), and jewelry (24 percent).

Eighty-two percent of respondents said they would rather receive practical gifts than luxury gifts (18 percent), and 60 percent would prefer cash to a gift card (40 percent).

Who are the toughest people to shop for? Thirty percent cited a spouse, partner, or significant other, 25 percent identified parents as the most difficult, and 12 percent said kids are the toughest to please. Ironically, the hardest people to shop for are also those who can expect to be treated the most generously. Children, not surprisingly, should make out the best. Thirty-nine percent of those surveyed said they expect to spend more on children than anyone else. (If you need a gift for a tech-savvy child, check our review of the best tablets for kids.)
Holiday jeers
When it comes to etiquette, one of the worst ways to spread holiday wishes to friends and family is via an impersonal text message blasted to a multiple recipients; nearly seven in 10 surveyed said such a greeting was in at least somewhat poor taste. Others tactics to earn a high percentage of "inappropriates" include:
A one-size-fits-all greeting on a blog, website, or social media page (cited as being in poor taste by 65 percent of respondents).
A form-letter greeting emailed to multiple recipients (57 percent).
Personal text message (42 percent).
A form letter year-end update on family doings (39 percent).
An e-greeting card (31 percent).
E-mail (24 percent).
—Tod Marks
* Editor's Note:
The Consumer Reports Holiday Poll, designed by the Consumer Reports National Research Center, is a nationally representative survey of more than 1,500 randomly selected adult U.S. residents who said they plan to shop for the holidays. It was conducted in December 2013.