Best ways to keep kids happy and safe during holiday travel
Ideas and products to keep travelers content
Published: December 20, 2013 12:00 PM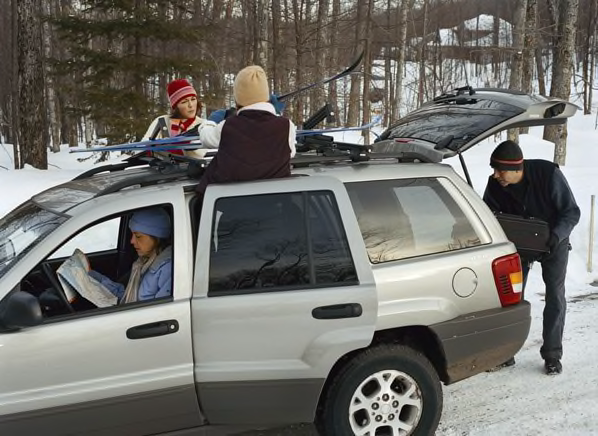 Let's face it, holiday travel can be especially long and stressful when you add variables such as weather, traffic, or cancellations. It's bad enough for us as adults, but to a kid who is anxiously anticipating a visit with family, touring a wonderful location, or tearing into a pile of gifts, that time can move at a snail's pace.
To help keeps kids happy on the road this holiday season, we compiled some tips.
Some ideas are fairly commonsense and straightforward:
Plan ahead and being sure to leave enough travel time.
Travel around nap times and schedules that work best for them.
Anticipate delays and be ready for them, including bathroom breaks.
When traveling by car, be sure to include plenty of "pit stops," including kid-friendly venues such as parks, museums, or interesting landmarks.
Include the children in the packing and planning for the trip.
Be sure to pack plenty of their favorite snacks.
Other ideas shared among my coworkers and gleaned online are things that I admit I hadn't thought of, but felt they are good for keeping kids content but also for keeping everyone safe.
For fun:
Buy some good old-fashioned maps and let the kids keep track of progress.
Pack kids outfits into closable plastic bags. Once an outfit has been worn, the bags become a great place for dirty clothes.
Stash away some entertaining "gifts" that can be delivered during the trip. Nothing like something new and different to entertain for a couple of hours, such as a small toy, activity book, or even a joke book.
Make use of technology to keep kids engaged. See our ratings of tablets, digital cameras, MP3 players, and e-book readers.
There are also many fun, educational apps that can be downloaded to tablets and smart phones. Just be sure to have a car charger handy.
For safety:
When visiting someone else's home who doesn't have kids, keep in mind that your destination may need some childproofing. Your host may not have realized that things such as delicate decorations and candles are within reach.
Prep your car, especially if travel includes a cold weather destination.
Include an emergency kit in your car. just in case.
Be sure tires have plenty of tread for getting through unpredictable winter weather and are at the correct inflation pressure.
Recognize that for kids takeoff and landing on a plane can be uncomfortable and scary. For smaller babies, a bottle during these times can help equalize ear pressure by swallowing. Preparation and distraction can help for older kids, as can some chewing gum.
Dress in layers if air travel is involved. The change in temperatures between the airport, plane, and your destination can vary widely. Even temperatures on the plane alone can be significant between cycles of the cabin. Layers can help everyone be comfortable throughout the trip.
If you're renting a car at your destination, we think its best to bring along your own child seats as you're familiar with their installation and most airlines do not charge to "check" child seats as baggage.
Above all don't get grumpy and don't allow the travel to be more exhausting than staying at home. Make this stressful time as nonstressful as you can, even if you have to pursuade yourself a bit. Focus on the fun and being together. And plan in some recuperation time, perhaps even a few days at home before everyone has to get back to the regular routine.
May you enjoy happy, safe holidays and a healthy new year.
—Jennifer Stockburger