Cameras and camcorders that let you go beyond basic black
Bold colors grace the exteriors of models debuting at CES 2014
Published: January 09, 2014 06:00 PM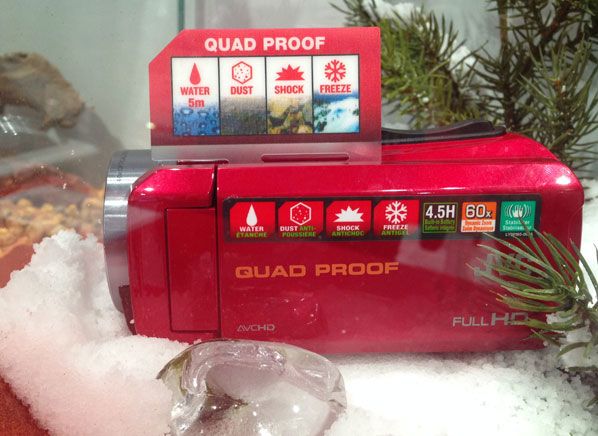 Once upon a time, a new camera or camcorder came in the same choice of colors as the Ford Model T: black or black. If you were really lucky, you might be able to get one in silver.
Fast-forward to CES 2014: Cameras in a dazzling variety of colors have been on display all over. And not just basic, low-end models. There were more-advanced cameras, such as SLRs and SLR-like mirrorless models, than I'd ever seen before with brightly colored exteriors.
The most dramatic example: Different colored Pentax K-50 SLRs and Q-7 SLR-like mirrorless models covered an entire wall of the Ricoh booth (the company owns the Pentax brand). You can customize either model by choosing two colors—one for the grip and the other for the body. It'll take four to six weeks to get one of these spiffed-up cameras delivered.
Pentax wasn't the only camera brand adding color to its advanced models. Nikon 1 S1 SLR-like models in white and red, as well as the usual black, greet you at the Nikon booth.
Color camcorders also got into the act: JVC unveiled two new rugged, waterproof full-sized camcorders at the show. Besides being shockproof, too, one of the models, the GZ-R10B (shown), is available in red or blue.
—Terry Sullivan