T-Mobile wants to buy out your phone contract, up to $650 from the no-contract carrier
If you're an AT&T, Sprint, or Verizon customer, you can get up to $650 from the no-contract carrier
Last updated: January 17, 2014 11:15 PM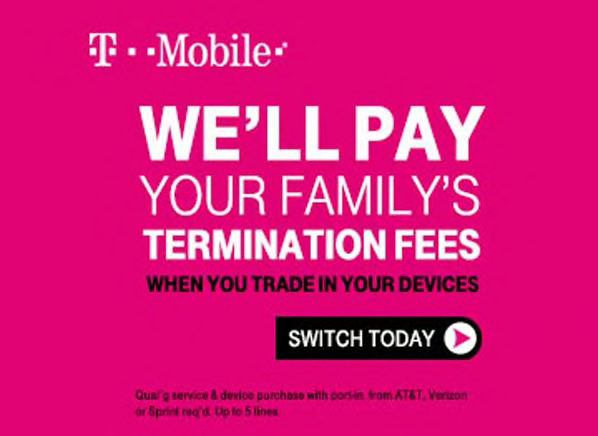 Just a few days after AT&T offered to lure T-Mobile customers by paying off some of their early-termination fees, T-Mobile today returned the favor at its "Un-carrier 4.0" event at CES 2014. Starting on Jan. 9, 2014, if you turn in your in-contract AT&T, Sprint, or Verizon device at any participating T-Mobile location and switch to a postpaid Simple Choice Plan, you'll will receive an instant credit, based on the value of the phone, of up to $300. At the same time, the contract-free carrier announced that all of its phones will cost nothing up front—plus 24 monthly device payments—for well-qualified customers.
(Jan. 17 update: According to re/code, a mobile-industry trade journal, T-Mobile plans to extend the offer to U.S. Cellular subscribers, as well as to "more than a dozen small carriers" requiring contracts. The carrier will also increase the number of handsets that customers can trade in, which is currently limited to five, even if they're damaged. The damaged phones will likely qualify for less credit.)
T-Mobile also promises to send you an additional payment equal to those fees, up to $350 per line. To qualify you need to trade in your old phone, buy a new T-Mobile phone, and port your mobile number to T-Mobile. Before you get any green from T-Mobile, you'll first have to mail the carrier your final bill showing your early-termination fees; you can also upload it.
This offer seems more generous than the one from AT&T, which offers defecting T-Mobile customers a promotion card of up to $250 to be used toward AT&T products and services. T-Mobile customers can receive an additional $200 credit per line when they transfer their wireless service to AT&T and choose an AT&T Next plan, buy a device at full retail price, or activate a device they currently own.
You'll likely face some penalty to leave any carrier; most early-termination fees exceed $350. We'll also have to see what the actual payouts are for the phones—the T-Mobile and AT&T offers use the words "up to" in reference to the payouts.
—Mike Gikas