Winter Olympic exercises for nearly everyone
Take to the trails or ellipticals and get a great workout
Published: February 07, 2014 06:00 AM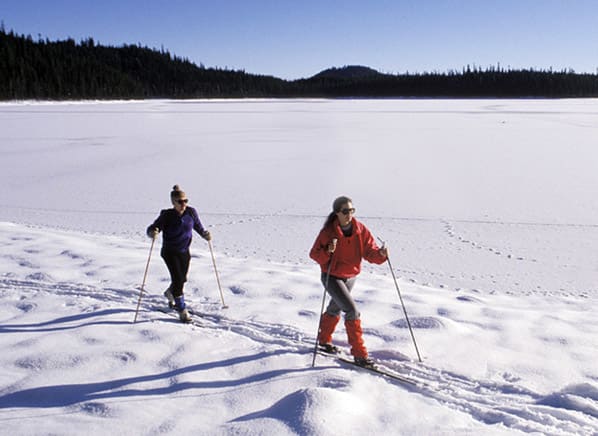 If all the snow we've had around the U.S., along with the coming Winter Olympics, has you craving outdoor exercise, cross-country skiing and snowshoeing are two good options. Hate the idea of cold weather workouts? Elliptical exercisers give you the feel of cross-country skiing indoors.

If there's enough snow where you live, you might be able to cross-country ski and snowshoe around your neighborhood. You can also find contact information for more than 150 cross-country ski resorts and snowshoe trails in 25 states from the nonprofit Cross Country Ski Areas Association. Ask for their prices of daily trail passes, cross-country ski and snowshoe rentals, and instruction.

Wear layers when you go. Start with long underwear and socks made of a synthetic fabric that wicks moisture away from the skin. Wear a wool or lightweight synthetic fleece as a middle layer. Add a wind- and water-resistant zippered jacket made of nylon or a breathable synthetic such as Gore-Tex. A vent flap across the back will help release excess heat and sweat. Put on a hat and gloves or mittens for protection. And be sure to use sunscreen and wear sunglasses that block 99 to 100 percent of UVA and UVB rays.

You can cross-country ski and snowshoe at a leisurely pace or push harder for a low impact, aerobic workout. But remember to stop before you become fatigued. Here are some basics about:
Cross-country skiing
You glide your skis across the terrain as if you were skating, using poles to push and stabilize your stride. The Olympic Winter Games in Sochi will feature 12 cross-country events including 50-kilometer mass start races, and a 1.5-km sprint.
Snowshoeing
If you can walk, you can snowshoe. Just avoid stepping on your snowshoe frames when you do. Some ski areas have separate trails reserved for snowshoers. Choose trails that are flat, hilly, or steep, based on your ability and fitness level.

If you like the idea of skiing, but not exercising in the cold, there are indoor alternatives. You can always work out on a top-Rated exercise machine while watching the Winter Olympic Games. Read more about ellipticals, treadmills, spin bikes, rowing machines, and activity trackers, such as the Fitbit One.

—Doug Podolsky