New types of flooring make installation a snap
Forget the nails and float your new floor
Published: June 16, 2014 12:45 PM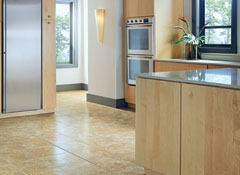 Some of the best flooring in Consumer Reports tests makes do-it-yourself installation a snap by clicking together and "floating" in place without glue or nails. Laminate, engineered wood, and several other types of flooring can easily be put in place over almost any surface. First, be sure that applies to the flooring you choose (check the specs on the model pages in our flooring Ratings). Then follow these steps:

Prep the site. Sand down high spots and fill in low areas on the subfloor (use wood filler as needed). Then sweep it clean. Measure the square feet needed. Multiply the room's length by its width. Measure odd areas separately and add to the total. Then add 10 percent to account for any surprises.

Let the flooring acclimate. Typically, you should leave wood flooring for two to four days in the room where it's going so that it can expand or contract as needed before it's installed.

Trim edges as needed. Remove wall moldings. Use a piece of flooring and the underlayment that goes beneath it to measure where to trim doorjambs to fit the new floor.

Decide where you'll put the short strips. Chances are that one edge of the room won't fit the whole width of a strip, tile, or plank. Measure and cut planks as needed using a circular saw with a fine-tooth blade.

Spread the underlayment. Some require overlapping; others should butt each other.

Put it down. Lay lengths parallel with the longest wall, and leave a gap between edges and where the wall molding will go. Lock pieces together, staggering the edge location for a neater look. Then replace the molding.

Leave room for carpeting. If you need to transition to a room with carpet, leave an inch between the floated floor and the carpet, and install a molding track with glue or nails.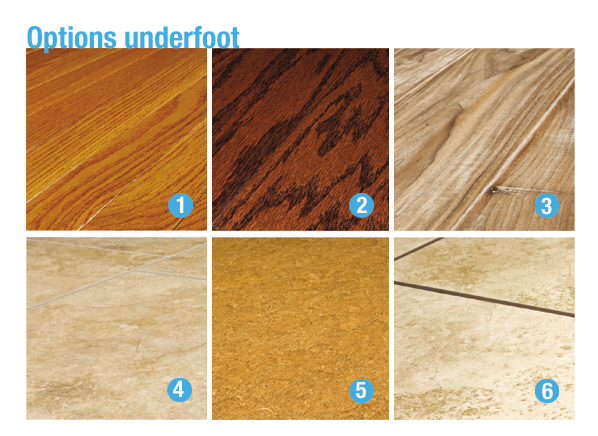 Types of flooring, clockwise from left:
1. Solid wood. Installed cost: $5 to $10 per square foot.
2. Engineered wood. Installed cost: $4 to $9 per square foot.
3. Laminate. Installed cost: $3 to $7 per square foot.
4. Vinyl. Installed cost: $2 to $6 per square foot.
5. Linoleum. Installed cost: $4 to $8 per square foot.
6. Ceramic tile. Installed cost: $8 to $15 per square foot; $5 to $8 for products that can float.