iPhone 6 and 6 Plus batteries improve but are not the best in the business
Samsung and LG models still outperform Apple's phones in Consumer Reports' tests
Published: September 30, 2014 05:45 PM
Apple made bold claims about significantly improved battery life when it unveiled the iPhone 6 and 6 Plus earlier this month. Consumer Reports lab tests have confirmed these new models do indeed have longer-lasting batteries than earlier iPhones.
In our preliminary tests, the "phablet sized" iPhone 6 Plus cranked out an impressive 17 or so hours of talk time on a single charge (that represents the average battery performance across multiple carriers). The smaller iPhone 6 ran for a respectable 10 hours. That's far short of Apple's claims of up to 24 hours of talk time for the 6 Plus and up to 14 hours for the iPhone 6—usually, when manufacturers claim "up to" in a product spec sheet, assume that value only applies under optimal conditions.
That's a leap in performance—especially for the 6 Plus—compared with the iPhone 5s, which has talk times in the 8-hour range. But both new iPhones still fall short of top smart phones such as the LG G3 and Samsung Galaxy S 5, which provide 19 and 20 hours of talk time, respectively.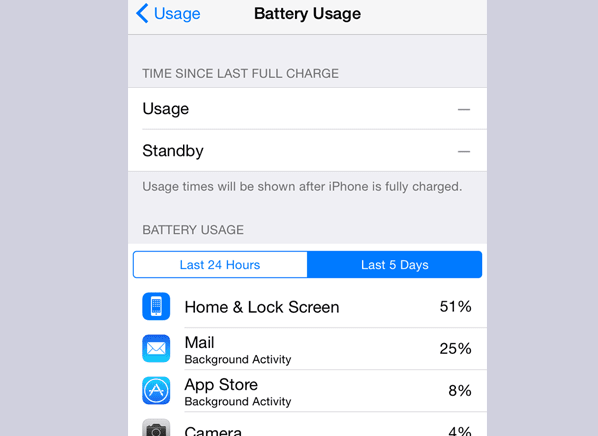 So what is a cell battery's biggest burden?
You should expect a full day's charge from any smart phone, but these two factors can drain a battery prematurely.
Cellular signal strength. Unlike devices that rely entirely on Bluetooth and Wi-Fi, a smart phone (and laptops and tablets with cellular data service) must continually maintain contact with the carrier's cell tower. When that connection weakens because of distance, weather, or physical obstructions, the phone diverts more battery power to its radios to compensate.
To illustrate, in our tests we've seen phones from Samsung and LG, for instance, that delivered more than 24 hours of talk time under optimal conditions (as in 5-bar meter reading), and died in less than 6 hours when the signals were weak (one or zero bars), a tremendous variation.
Expert tip
When you're in an area where you know there's no signal or you won't be using your phone for a while, turn it off or set it to airplane mode. Otherwise it will keep making futile, power-eating attempts to connect to the carrier's network. Also turn off Wi-Fi, Bluetooth, and other radios when you're out of range or won't be using those features.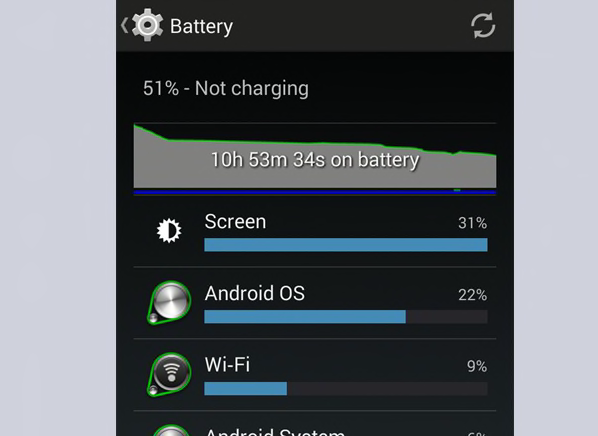 The display. A touch-screen display remains one of the biggest battery killers on your phone. Don't believe me? Check it out for yourself. If you have an iPhone running iOS 8, check out the "Home & Lock Screen" reading in the Battery Usage section of the Usage submenu in General settings. On an Android, tap "Battery" in the settings menu. You'll see the list of phone resources eating away at your phone's battery, in descending order.
Expert tip
Set the display brightness to Auto, which makes the screen only as bright as needed for the light conditions. (If the phone has no Auto setting, lower screen brightness yourself.) Setting the screen to shut off after the shortest period of inactivity might help.