4 things to know about medical billing
Here's what your doctor can (and can't) charge extra for
Published: January 15, 2015 01:00 PM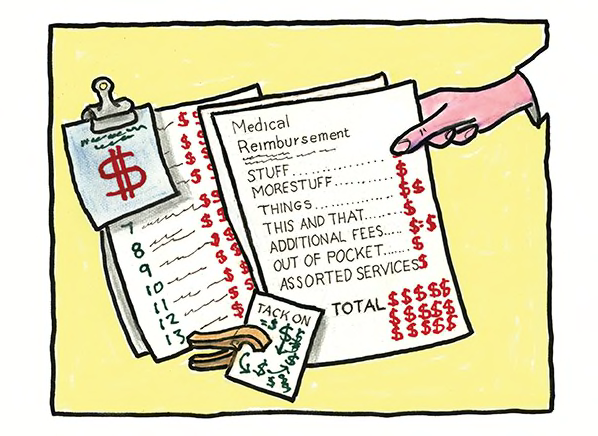 Because of the economic pressures of the past several years, a host of bus­inesses, such as banks and airlines, have begun tacking on fees for services that were once free. Now medical practices, hospitals, radiology facilities, and other health care providers are also getting into the act regarding medical billing.
Health-insurance plans usually have reimbursement guidelines (referred to as evaluation and management codes) for all covered services, such as office visits. But most plans also allow doctors to charge patients for certain nonmedical services, such as administrative fees, that aren't covered.
Because they entail out-of-pocket costs for patients, most insurers require doctors to notify you of such charges ahead of time. Indeed, some com­pan­­ies insist on your written acknowledgment that the additional fees are your responsibility.
So which of those extras can doctors charge for? To get the legal lowdown, I consulted Daniel B. Brown, a health care attorney in Atlanta. Here are four common questions answered about medical billing.
1. Can my doctor charge me for copies of my health records?
Yes. Federal law and laws in most states allows doctors to charge reasonable fees for photocopying. The Health Insurance Portability and Accountability Act also allows all providers covered by it to charge a "reasonable, cost-based fee" for making protected health information available to a patient or her representatives.
The charges may include costs for photocopying and the labor it requires, supplies, postage, and preparing a summary—rather than a full record—of a patient's history. Ditto fees for pulling charts and filling out forms for camp and school physicals, and forms relating to disability, returning to work, gym releases, and family medical leave. One caveat: It's unethical for a doctor to withhold a patient's medical records because of an unpaid balance.
2. Can I be charged for telephone calls and e-mail from my doctor?
No, not as a general rule. When insurance, including Medicare, pays for a visit or a service, follow-up by phone or e-mail is considered part of the original face-to-face service and therefore isn't reimbursed to your doctor.
On the other hand, if you were to phone your doctor several months after your last visit about an unrelated issue, he could charge you for the call as an independent covered service. Under those circumstances, you might be billed directly. So Med­icare suggests that doctors advise patients of those charges in advance.
3. What if my doctor spends extra time on my care? Can she bill for that?
No. In fact, we doctors often spend as much as 20 hours per week responding to requests from health-insurance companies for authorization of certain medications we've prescribed, as well as many other kinds of documentation. Even so, Medicare and private payers strictly prohibit us from charging for those services or for extra time spent doing research or caring for patients. Doing so is considered double-dipping.
4. Can my doctor charge me if I don't show up for an appointment?
Yes. Rates for no-shows around the U.S. range from 5 percent to 55 percent, an inconvenience that has prompted many practices—with the blessing of Medicare and other insurance plans—to set policies that allow us to charge a patient who fails to cancel a scheduled appointment within a specified period of time (usually 24 hours in advance).
In fact, many doctors I know now request credit-card information before the first visit and notify new patients of that policy, encour­aging them to call, send an e-mail message, or go online to cancel if they're unable to keep the appointment. Medi­­care specifically states that the fee is meant to cover a doctor's missed business opportunities, but we can charge it only if the policy applies to all patients, Medicare and non-Medicare alike.