Best digital-imaging products at CES 2015
There was no glut of new cameras or camcorders, but we still saw some intriguing digital-imaging products
Published: January 11, 2015 01:00 PM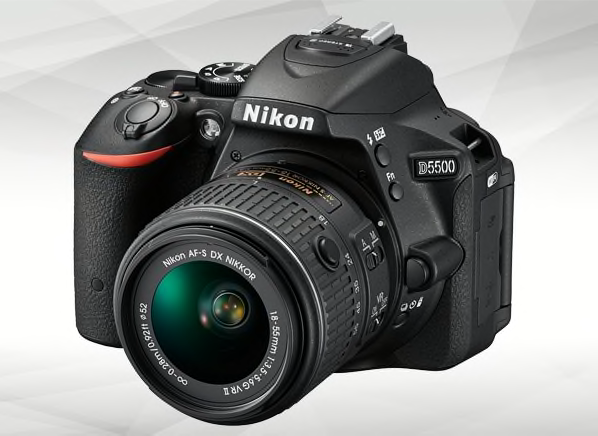 Manufacturers unveiled fewer cameras and camcorders at CES 2015 than in previous years—more substantial introductions are planned for the CP+ Camera and Photo Imaging Show next month in Japan. But there were still some very enticing models on view here in Las Vegas. We also checked out some emerging types of cameras, such as ultra-panoramoic models and drones with 4K capabililty built right in, along with innovative accessories.
Here are some of our favorite finds.
Nikon's lightweight, mid-level SLR: The D5500 is Nikon's latest consumer-targeted SLR, and it's crammed with features, including a 24-megapixel APS-C-sized sensor, a 3.2-inch swiveling touchscreen LCD, a wide ISO range (from 100-25,600 ISO) and built-in wireless. It also can capture video in full HD-resolution (1080p) at 60 frames per second, and fire off full-res still photos at 5 fps. Yet it's very lightweight for its class: a little less than 15 ounces (without a lens). That can save your back when traveling—or walking around enormous consumer electronics trade shows. It'll be available in February in a three configurations: body-only ($900), with an 18-55mm kit lens ($1000), and with an 18-140mm kit lens ($1,200).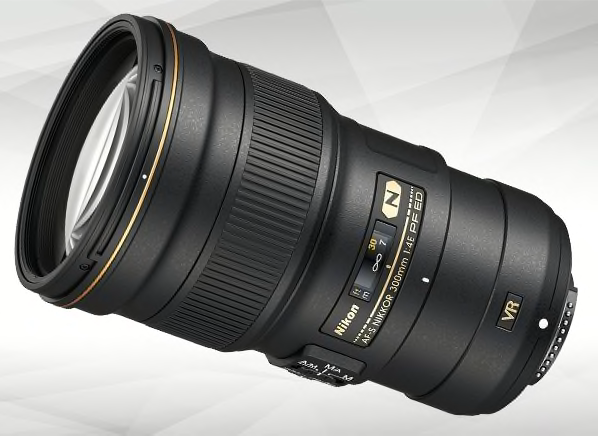 Long telephoto lens, smaller in size: Nikon's D5500 wasn't the company's only announcement, and in some ways, Nikon's new enthusiast-level, image-stabilized telephoto lens—the 300mm AF-S f/4E PF ED VR, $2000—is a more impressive product. (It's also much more pricey.) What sets it apart is that it's the world's lightest 300mm full-frame lens of its kind. In fact, it's 30 percent shorter and 1.5 pounds lighter than Nikon's 300mm predecessor. Nikon told us that to reduce the size and weight, engineers used a lens element called Phase Fresnel (PF) optical technology, which helps minimize distortion and other aberrations, while still allowing the design to be somewhat small and compact. Like the D5500, the lens should be great for travel shooting.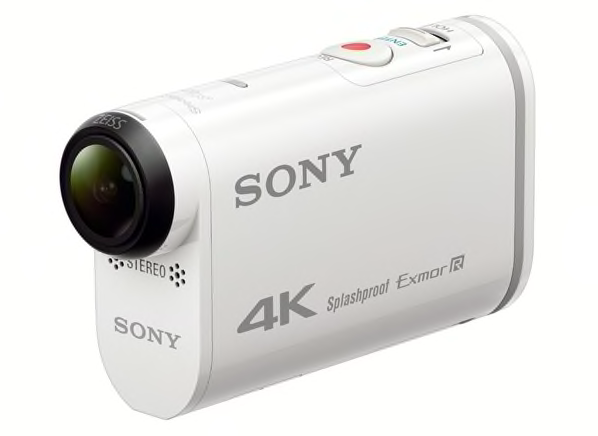 Shooting stabilized 4K video: GoPro had a large booth at CES, but had no new action cams to show off. However, a number of other camcorder manufacturers did unveil new models. Among them, Sony's new $500 FDR-X1000V generated the most buzz because it not only can capture ultra high-definition or 4K-resolution video, but it includes on-board image-stabilization (which GoPro models lack). The new Sony also includes a lot of other impressive features, such as wind-noise reduction, Wi-Fi, and NFC (near-field communication).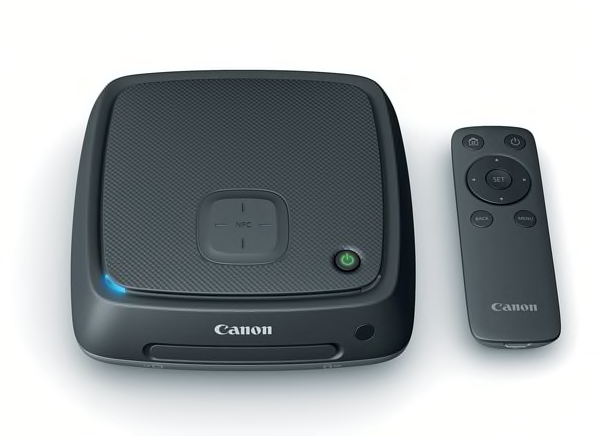 Help for organizing your digitized life: Although Canon unveiled a few point-and-shoots and camcorders at the show, the company's most interesting product wasn't a camera at all. It was the Connect Station CS100, a $300 device available in April, which is a 1-terabyte, network-storage device that the company says can help you organize your photos and videos. The station lets you transfer images to it via USB ports (which can be hooked up to a computer or external hard drive) or memory-card ports (using CF or SD memory cards). But what's really convenient is that it has built-in Wi-Fi and NFC, which lets you connect with compatible wireless Canon PowerShot cameras and Pixma all-in-one printers, to quickly transfer, store and print photos.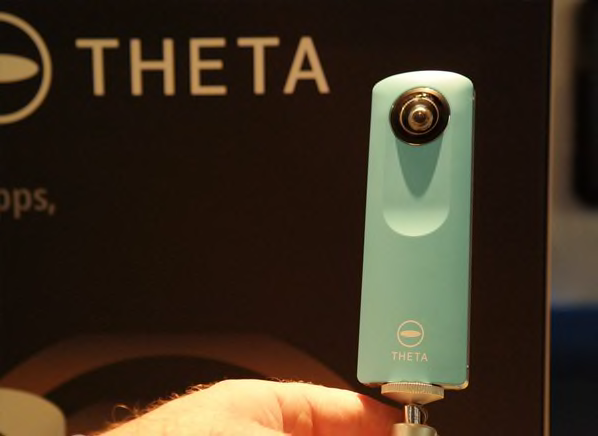 For capturing ultra-panoramic vistas: The Ricoh Theta ($300) uses two lenses, one on the front and one on the back of the camera body, to produce 360-degree photos and videos (up to three minutes). In addition to the elegant camera-body design, Ricoh has both a mobile app (for iPhone or Android devices) and a Windows- or Mac-based software application.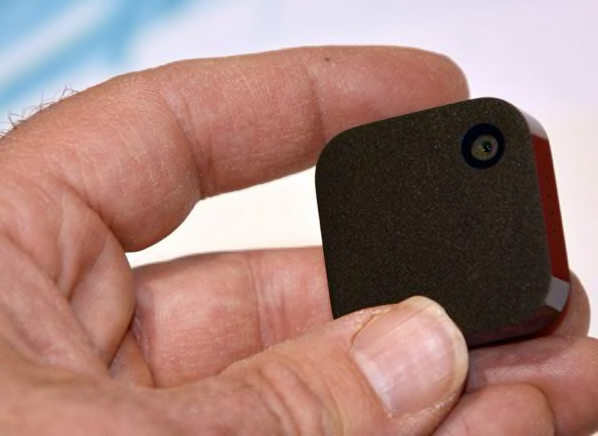 Your life in photos, 24/7: The Narrative Clip 2 is a tiny, super lightweight, wearable camera that is designed to be worn on the collar of your shirt, sweater or jacket, or clipped to a briefcase or pocketbook. Once you're wearing it or carrying it around, it'll shoot a new image every 30 seconds, constructing a continuous photographic record of your life. The new model has Wi-Fi and Bluetooth connectivity for transferring photos. It also captures higher-resolution photos than its predecessor (the new model captures 8-megapixels, instead of 5) and the company claims it's better in low light. Images can be stored on the company's servers.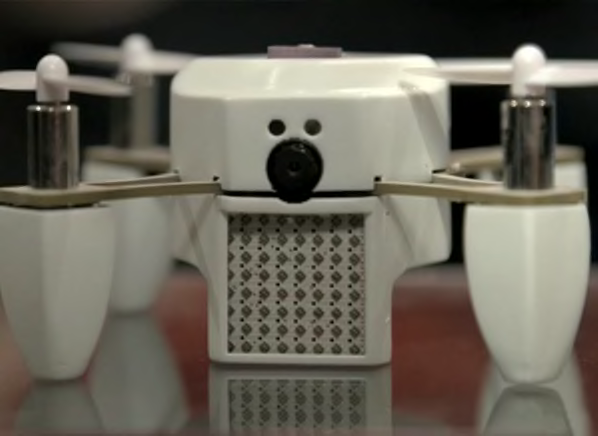 Drones for a different point of view: There were many flying drones at the show, and they all had their pros and cons. We were very impressed with the Zano drone, which has a special selfie mode that lets it follow you (via your phone or tablet's GPS) everywhere you go. Creepy? Perhaps, but perhaps this is a case of where one person's paranoia-inducing machine is another person's perfect tool for shining on camera.
—Terry Sullivan

Click on the image above to find all of Consumer Reports' coverage from CES 2015.