How to keep your countertops in tip-top shape
A few simple steps can keep your counters looking better, longer
Published: January 16, 2015 05:00 PM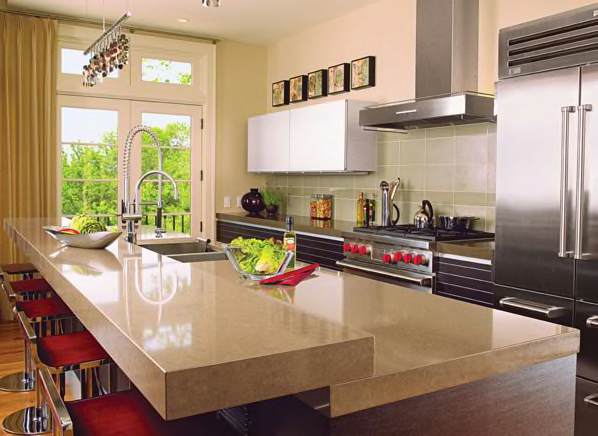 Of course you want a countertop that looks good on the day it's installed. But it should look just as good five years later. Not all countertop surfaces can stand up to the wear and tear of a busy kitchen. To find the toughest, Consumer Reports stained, sliced, scratched, scorched, and nicked 14 materials from leading brands. The best are both durable and beautiful. Here are a few simple steps to keep your counters looking better, longer.

Pick the right professional. To be sure your contractor's countertops will stand the test of time, check references from jobs that were completed at least a year or two ago. That's especially critical for concrete counters, because most are made from scratch, and cracking can be a problem. To guarantee installation according to warranty standards, select a manufacturer-certified installer. Otherwise, the manufacturer might not cover the work if problems arise.

Seal the surface. Stone, concrete, butcher block, and the grout between tiles require sealing and periodic resealing to resist stains. There's an easy way to test the seal: Put a few drops of water on stone that's near the sink or another high-use area and let it stand for 15 minutes. If the water doesn't stay in a bead, it's time for resealing

Act fast. Clean stains as they happen, before they have a chance to set—even on supposedly stain-resistant materials. Follow the manufacturer's or installer's care instructions; not doing so could void the warranty. Cut only on cutting boards. Taking a little extra time can keep your counters looking good.

We found little difference among competing brands of each type of countertop material. That's why we rate materials, not brands.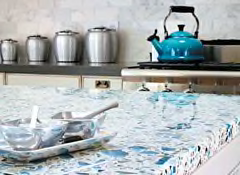 Quartz
Best for: Busy kitchens and bathrooms. It's stain- and heat-resistant and low maintenance. It doesn't need sealing and is available in vibrant colors and in styles that look like natural stone.
But: Edges and corners can chip; rounded edges help. And stone finishes can appear more uniform than natural.
Price: $40 to $100 per square foot; $2,240 to $5,600 for a typical kitchen.

Granite
Best for: A natural stone look. It can with stand heavy use, and polished and matte finishes resist stains when properly sealed. It also resists heat and scratches.
But: It can chip and needs resealing to protect it from stains. And it can look different from samples, so it's best to choose it yourself at a stone yard.
Price: $40 to $100 per square foot; $2,240 to $5,600 for a typical kitchen.

Recycled glass
Best for: A contemporary look when it's made with large shards, or it can resemble solid surfacing when it's finely ground. It's resistant to heat, cuts, and scratches.
But: Chips and stains can be a problem. One brand developed a thin crack during our heat tests.
Price: $60 to $120 per square foot; $3,360 to $6,720 for a typical kitchen.

Laminate
Best for: A wide variety of colors and patterns at a budget-friendly price. It's excellent at resisting stains and heat damage, and is simple to install.
But: It's easily scratched by knives and can't be repaired. And most laminates have visible seams, though more seamless options are now available.
Price: $10 to $40 per square foot; $560 to $2,240 for a typical kitchen.

Tile (ceramic or porcelain)
Best for: Use near stoves because it's heat-resistant. It comes in many colors, sizes, and patterns.
But: It chips. The grout between tiles can stain even when it's sealed, and it can mildew. Poor installation can increase those problems. Thinner grout lines and darker grout might help somewhat.
Price: $5 to $30 per square foot; $280 to $1,680 for a typical kitchen.
—Adapted from The Best for Your Kitchen + Home