Sleep monitor keeps track of your restless nights
Company claims Sleepace RestOn can diagnose sleep apnea
Published: January 05, 2015 12:00 PM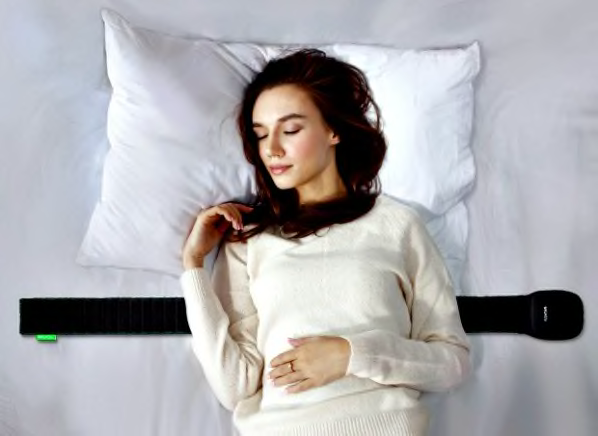 Not everyone with sleep issues needs to go for a professional sleep study. But for at least some of the 56 percent of Americans who report they don't sleep well, a new app-assisted sleep monitor from Sleepace could provide enough information to help them tell for sure.

Shown at CES 2015 in Las Vegas for the first time, RestOn has a console that attaches to the side of your bed. An attached strap stretches across the mattress, beneath the fitted sheet. Once you turn the device on through the app at bedtime, it measures sleep time, heart rate, respiratory rate, body movement, and sleep cycles. The device collects this data during the night and automatically syncs it via Bluetooth to the app, which runs on an iOS or Android phone.

From the information it collects and analyzes, the app will give you personalized daily reminders that help you form better sleep habits. You also get weekly and monthly reports on your sleep quality, which identify trends in your sleep habits and even warn of potential health issues. Another plus is that the device can store the data it collects, helpful if your phone is off during the night, and sync only when it can. The device's lithium-ion battery lasts about a month on a charge.

The company claims that the sensor isn't deterred by thick sheets or heavy pajamas, even sweats. Still, it's not failsafe. RestOn is intended for only a single user, so if sleep partners switch places on the bed the sensor will collect false data. (Sorry, pets need to stay off that side of the bed, too.) And while the sensor can detect sleep apnea—the number, frequency, and duration of apneic episodes—it cannot, like a formal sleep study, advise you on which sleep positions might be better or worse for minimizing apnea.

The project's launch comes through an Indiegogo funding drive, which will also go toward efforts to reach out to sleep centers. The company claims, however, that it has already compared RestOn's readings of heart and respiratory rate with medical-grade sleep monitors and found no inaccuracies.

One minor caveat: Since the device's strap extends a bit longer than 34½ inches, it falls a few inches short of the 38 inches that marks half of a king-size bed. But if your bed is narrower—say, a full-size—you can wrap the excess beneath the working part of the strap without interfering with the device's operation.

The product will cost $149 when it begins shipping in February (Indiegogo backers get $50 off), and will initially be sold through Sleepace's website—with additional sellers perhaps in place by the end of CES.

The product might not answer your every question about your sleep issues, but between the analysis and subsequent tips it offers, you might get close enough that you don't need to look further. If your mattress is several years old, however, that might be affecting how you sleep and feel when you get up in the morning. See our free mattress buying guide for information on how to shop for a replacement, and check out our test-based Ratings of more than 20 mattresses, along with our survey results on the best mattress brands and retailers.

—Ed Perratore (@EdPerratore on Twitter)