Is phased retirement for you?
Before you go half-and-half, know the benefits and risks
Published: March 10, 2015 01:00 PM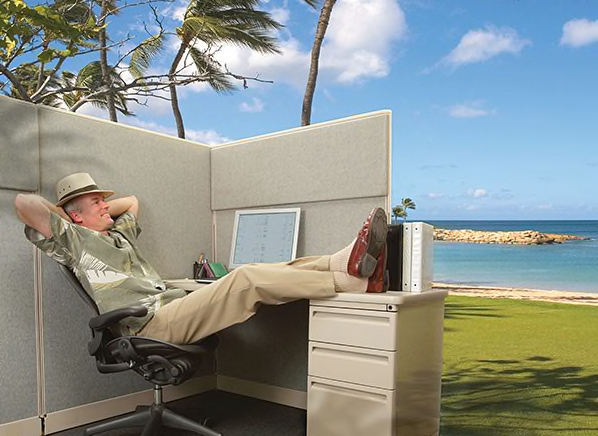 Over the next year, many older workers may have the chance to experiment with a cutting-edge workplace innovation: phased retirement.
The federal government recently initiated a program to help pension-eligible federal workers ease their way out of longtime careers while preparing new workers to fill their positions. Full-time federal employees who meet eligibility requirements now will be able to work half-time while collecting half of their retirement annuity. Participants must spend 20 percent of their work time training co-workers. They'll still get health insurance coverage as if they were working full-time.
As with some other federal initiatives—Obamacare rollout, anyone?—this one is feeling growing pains. Each agency must publish its own criteria for applicants, and as of this writing most have not. So, the Washington Post has reported, potential participants are sitting tight.
In the private sector, phased-retirement programs are few. A 2014 report by the Society of Human Resource Management says that 11 percent of organizations offer some form of phased retirement, and only 4 percent have formal programs. But a window of opportunity may be opening. The SHRM's survey shows a healthy rise in informal phased-retirement programs, from 5 percent in 2012 to 9 percent in 2014.
Consider the factors
If you're a candidate for a phased retirement in any industry, here are some likely factors you'll need to consider:
Type of pension. The better the pension formula, the more you'll earn under a phased retirement that pays an annuity. The U.S. Office of Personnel Management has estimated, for example, that a federal worker with 35 years, nine months' service and a $68,275 annual income would earn $56,785 in phased retirement if she participated in the Civil Service Retirement System (CSRS) vs. $46,071 through the less generous Federal Employees Retirement System (FERS).
Cash flow and taxes. Determine your new cash flow to figure out whether you can manage on less. Keep in mind that both a partial salary and a pension income are taxed as ordinary income, notes Cal Brown, a financial adviser at Savant Capital Management in McLean, Va.
Health insurance. "Benefits should be examined closely," Brown says. Typically, large private employers provide group health insurance for employees who work a minimum of 20 to 30 hours per week and group disability coverage for those working a minimum of 28 hours per week, according to the benefits consulting company Aon Hewitt.
Social Security. If you claim Social Security to supplement income before your full retirement age, your benefit will be permanently reduced. And if you earn more than $15,720, Social Security also will temporarily withhold part of your benefit. To determine the optimal way to claim your benefit, consult a financial planner, use a paid website such as socialsecuritychoices.com, or check out free Social Security claiming calculators on AARP's website and at socialsecurity.gov.
Create your own plan
If your employer doesn't have a phased retirement program, try initiating one. Dorian Mintzer, a retirement transition coach based in Boston, recommends evaluating your strengths and work preferences, and presenting a plan to your supervisor. Show how you'll handle tasks you're best at and enjoy most, while shifting some work to others. It helps, of course, if you're viewed as a worker who can't easily be replaced. "Couch it in a diplomatic way, as in, 'I want to explore the options,' " Mintzer advises.
But if you do so, understand the risks. A 63-year-old colleague at Consumer Reports recently arranged a reduced schedule of 25 hours per week. He maintains most responsibilities but has trained a junior worker to take on some tasks. The schedule affords him more time for outside activities but has cost him some ease at work. "I used to sit in the cafeteria and chat at lunchtime," he says. "Now if I'm under time pressure, I'll eat in my office. Work time is more concentrated."
Sean Donald Wilson, a wealth management adviser with TIAA-CREF who is based in New York City, says some partly retired clients find that they're now doing a similar amount of work but for less pay. "If you're considering phased retirement," he warns, "there must be a clear discussion about what the work entails."
—Tobie Stanger (@TobieStanger on Twitter)