New tax fraud: Preparers collecting Obamacare penalty payments
The IRS says some are even collecting from taxpayers who don't owe
Published: March 17, 2015 11:45 AM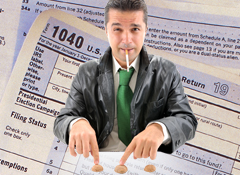 The IRS is warning of the latest scam: tax preparers pocketing the Obamacare shared-responsibility tax payments that some taxpayers owe to the IRS.
The agency says some preparers are telling clients that they should give the payments—required of some taxpayers who didn't have health-insurance coverage in 2014—directly to them. In some cases, the unscrupulous preparers are targeting individuals who don't speak English well, telling them they need to make the direct payments because of their immigration status. Other versions of the scam:
Promising a lower payment if it's made directly to the preparer
Requiring payment from those who don't owe it. As we've reported, many people who weren't covered by health insurance in 2014 may nonetheless be exempt from the payments.
What to know about the shared-responsibility payment
The IRS reminded taxpayers about these aspects of the shared-responsibility payment:
Individuals who are not U.S. citizens or nationals, and are not lawfully present in the United States, are exempt from the individual shared responsibility provision and do not need to make a payment. For this purpose, an immigrant with Deferred Action for Childhood Arrivals status is considered not lawfully present and therefore is exempt. An individual may qualify for this exemption even if he or she has a Social Security number.
Taxpayers either pay the shared-responsibility payment with their tax return or in response to a letter from the IRS requesting payment. They should not make the payment directly to any individual or return preparer. If a shared responsibility payment is due, taxpayers should pay it to the United States Treasury. In most cases, the shared responsibility payment reduces a taxpayer's refund. If there is no refund, the payment will increase the amount a taxpayer owes on the tax return.
The agency acknowledged that most tax preparers are trustworthy. Consumers should follow certain guidelines, however, to ensure they
find a preparer
who is both trustworthy and qualified. The IRS now offers a public
directory of preparers
to help in that search. And, they can take steps to avoid
other types of tax scams
.