Tire care is a year-long commitment
Check tire wear and air pressure as part of routine car maintenance
Published: May 29, 2015 04:45 PM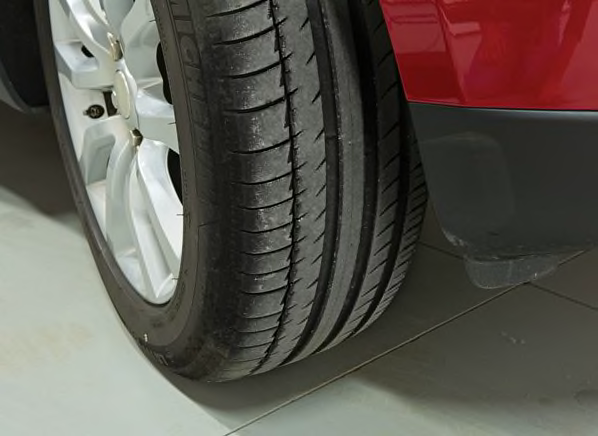 As part of its annual tire-care awareness program, the Rubber Manufacturers Association publishes some stark statistics on tires, most of which highlight consumers' need to maintain their cars' tires.
It's good timing, given the number of road-trips planned for summer vacations.

The RMA's acronym slogan "Be Tire Smart—Play Your PART," stands for "Pressure-Alignment-Rotation-Tread." Download a free copy of the program brochure at RMA.
Here's the crib sheet: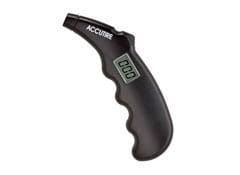 Pressure
Check your tire pressure monthly, and do it when the rubber is cold. To do this, you will need to buy a tire gauge. Check our tire-pressure gauge buying guide and Ratings.
Set the pressure to the specifications detailed by the vehicle manufacturer. The correct pressures for your vehicle are found on the driver's doorjamb placard—not on the tire. Don't forget to check the pressure in the spare tire while you're at it.
You may want to consider getting a portable compressor that plugs into your vehicle's power outlet. This means you don't have to hunt for a gas station to top off a low tire. Keep in mind that tires naturally lose air over time and their pressure decreases further in cold weather.
Alignment
Have your vehicle's alignment checked when you are buying new tires, and as recommended by your vehicle owner's manual. After a tough winter of traversing pothole-strewn roads, your wheels may be out of whack.
Misalignment can cause vibrations and make the car pull to one side of the road. Don't ignore these signs, as they could be a hint of a more serious problem. In addition, poor alignment can cause your tires to wear out prematurely.
Rotation
Want to get the most life out of your tires? Make a point of rotating them routinely, as suggested by your vehicle owner's manual. Typical intervals are every 5,000 to 8,000 miles.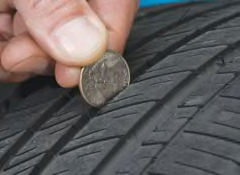 Tread
Tires have tread depth "bars" in the major tread grooves. If you see any (or all) of them, it indicates they are worn, and it's time to buy new tires. Worn tires have inferior wet grip and hydroplaning resistance, so new rubber is essential to safe driving.
You can also check tread depth with your pocket change:
The quarter method: We prefer this way. Put a quarter with George Washington's head downward into the groove. The top of George's head to the edge of the coin is 1/8th of an inch. If you see all of his head, you know it's time to start shopping for new tires before they are completely worn out.

The penny method: Like the quarter method, put a penny with Abraham Lincoln's head downward into the groove. The top of Honest Abe's head to the edge of the penny is about 1/16th of an inch. If you can see all of his head, then your tire is worn out and needs immediate replacement.
—Gene Petersen