Safety standards for window blinds and shades need to be tougher
The number of injuries and deaths related to window coverings continues to grow
Published: June 05, 2015 04:55 PM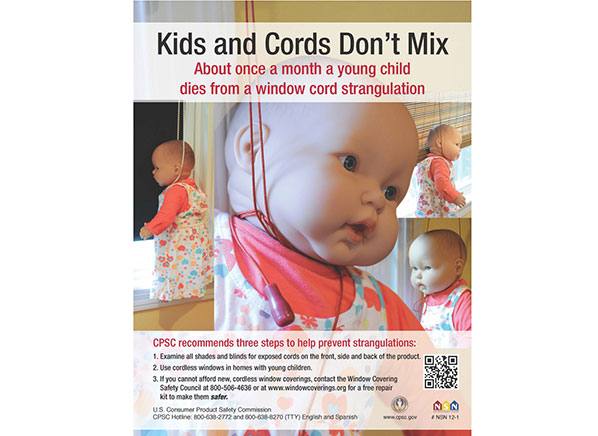 About once a month a young child dies from strangulation in the cords of a window blind or shade, according to the Consumer Product Safety Commission.

The CPSC has recalled millions of window coverings with cords in recent years, and it has repeatedly pressed manufacturers to make their products safer. But the industry has resisted making the changes needed to meaningfully reduce the risk to children, and right now, the only safety standards for window coverings are voluntary.

At Consumers Union, the policy and advocacy arm of Consumer Reports, we believe these voluntary standards are not enough. Decades after the risks were first identified, companies have not significantly reduced the serious hazards that these cords pose to infants and young kids. The number of injuries and deaths continues to grow.

Child strangulation in window covering cords can happen quickly and silently, and it can happen to any family, no matter how vigilant a parent or caregiver might be.
That's why we've pushed hard for mandatory safety standards. A coalition of public-interest organizations filed a petition at the CPSC to put strong standards in place. The commission voted to move forward on our petition, but industry continues to lobby for delays.

We recently joined 30 groups, including the Consumer Federation of America, in writing the CPSC to thank the agency for addressing this issue in an effective way and to urge it to issue a mandatory standard as soon as possible.

"There are [window covering] products on the market that do not pose strangulation risks to children," the groups wrote. "This means that the research and technology already exists to design products without strangulation risks. Manufacturers know how to do this. If the CPSC enacts a mandatory rule, it will ensure that this minimum level of safety is applied to all products for sale in the market."

We encourage you to make your voice heard on this important public-health issue by sending your comments to the CPSC here. We will keep working to make blinds and shades safer by advocating for better standards for the marketplace.

This feature is part of a regular series by Consumers Union, the policy and advocacy arm of Consumer Reports. The nonprofit organization advocates for product safety, financial reform, safer food, health reform, and other consumer issues in Washington, D.C., the states, and in the marketplace.
Read past installments of our Policy & Action feature.