When you shop through retailer links on our site, we may earn affiliate commissions. 100% of the fees we collect are used to support our nonprofit mission.
Learn more.
Robotic mowers offer the same promise of effortless work as robotic vacuums. But while the greatest challenge for a robotic vacuum is such obstacles as electrical cords, chair legs, and the nearest stairway, robotic mowers have a world of wonders to derail them in the great outdoors. That makes them more demanding of your attention than you might expect, considering that these mowers start at about $1,000. And it may make you wonder whether hiring a lawn service is a better option.

Better With Robotics?
In Consumer Reports' lawn mower tests, the best robotic mowers we've seen so far came from the Worx Landroid WG794, which was the easiest to use and had the best quality of cut of the four models we're testing. To define the mower's range, all robotic mowers require a perimeter wire to be laid and staked. For optimal performance, the lawn being maintained should also be relatively flat, with few depressions.
But: The machines are pricey compared to any other mowers. And you don't get out of maintenance altogether: Cutting blades need to be changed or sharpened during the year to keep up cut quality, though even at their best, robotic mowers fall short of cutting provided by a typical walk-behind mower. Get behind in your mowing and you'll need to use a regular mower to bring the grass down to a height the robotic can handle. And most models were hard to set up; their perimeter wires tended to catch on passing feet and break.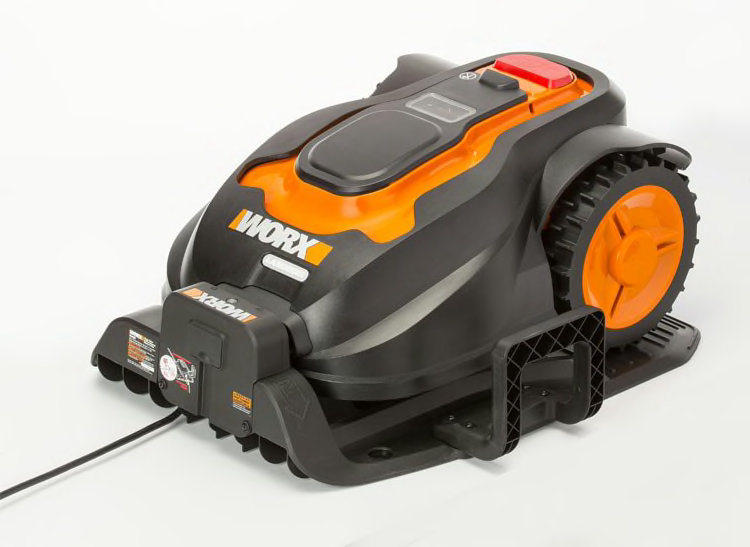 Lawn Service Options
Whether they're one-man shops or larger companies, these services typically do much more than cut grass. They'll aerate your lawn, treat it for weeds, pests, and disease, and sometimes clear it of leaves come the fall. A few smaller outfits also plow snow in the off-season. Another plus: They're not limited by the size of your property, as are robotics. And you can stay in your lawn chair.
But: Although lawn service prices vary by region and the size of the company, it's a safe bet that in two seasons, you'll have paid more than the cost of a robotic even if all you're paying for is mowing. Lawn services work on a tight schedule, so getting your property done matters more than delivering stellar cutting. As a result, some services will show up to cut even when the lawn is wet (an ill-advised practice), and they can bring in diseases from other lawns.
Other Alternatives
You might be surprised to know that the robotic mowers we've tested (we'll post the Ratings soon) can handle up to a half-acre of grass. If your lawn is that large, any of our recommended lawn tractors would do; think about a zero-turn-radius rider if your lawn is flat and you want to finish quickly. But if your lawn is on the small side, any walk-behind mower can handle the job for far less money. The Honda HRR2169VLA, $500, is one of our top-ranked self-propelled gas mowers; the Yard Machines 11A-B96N, $240, is a gas push model that should suffice for a small, flat lawn. But if the point is also being green, consider the EGO LM2000, $400, which wasn't tops at cutting but was ergonomically excellent. The Black & Decker CM1936, also $400, performed less well overall but delivered better mulching. Both are battery-powered push mowers. Need more guidance? See our lawn mower buying guide.