When you shop through retailer links on our site, we may earn affiliate commissions. 100% of the fees we collect are used to support our nonprofit mission.
Learn more.
The new Samsung Galaxy S6 edge+ and Galaxy Note5 are good examples of how much variety a phone maker can squeeze out of two devices that share the same chassis. These sleek glass-and-aluminum phablets, which have 5.7-inch Quad HD displays and measure about 6 inches x 3 inches x 0.3 inches, have nearly identical specs and capabilities, but they each offer something unique. Both will be available later this month on AT&T, Sprint, T-Mobile, U.S. Cellular and Verizon Wireless (and smaller carriers are likely to follow).
The Note5 looks very much like earlier Notes, except for its sleeker, slightly thinner unibody construction. The display of the S6 edge+, on the other hand, curves away from the viewer on the right and left, which makes it look like a giant Galaxy S6 edge. That's one reason Samsung dropped "Note" from its name. The other reason is that it lacks one of the most defining features of a Note phone: the S Pen stylus. S6 edge+ owners will just have to learn to do more with their fingers. As compensation for not having a stylus, Samsung lets S6 edge+ users pull up their five most-important contacts with the sweep of a finger from either side of the display. A second sweep summons the five most-used apps.
Like the Galaxy S6 models that launched this spring, these new Samsungs support both Qi and Powermat wireless charging pads out of the box. They can also be rapidly charged. Samsung says you can fully resurrect a near-dead battery in just 2 hours (compared with 3 on the Galaxy S6). And you'll need that advantage because these models don't have removable batteries.
Also, there are no memory-card slots, so if you need more storage, you'll have to find it in the cloud or buy another—more expensive—phone. For now, there are just two storage-capacity options: 32GB (roughly $700 to $800 without contract) or 64GB (about $800 to $900). We suspect Samsung dropped the 128GB storage option because the price would have caused a riot.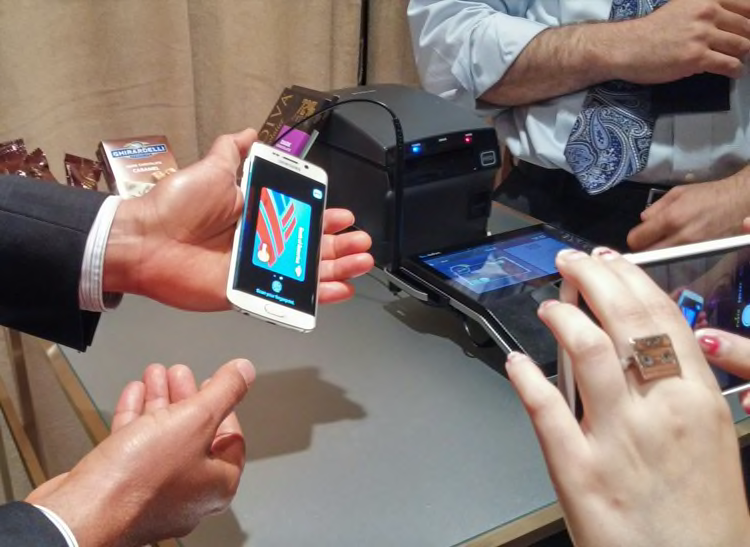 The Highlights
Show me the money. At its New York headquarters last week, Samsung also demoed its new tap-to-pay system, which launches in September. Samsung Pay is like most NFC-base payment systems in that it will let you purchase things in stores by tapping your phone against a terminal near the register. An app on the phone, which holds links to one or more of your credit or debit cards, communicates with the terminals via a short-range wireless technology called NFC (near-field communication).
Samsung Pay, however, is much like Apple Pay in two important respects: Thanks to a scanner built into the phones' home button, you'll be able to authorize transactions with your fingerprint. And a secure element chip in the phone will allow you to authorize a limited number of transactions (five to 10) even when that phone can't connect with your financial institution—something you can't yet do with Google Wallet or Android Pay.
You may think a fledging payment system like Samsung Pay doesn't have a chance when even Apple Pay and Google Wallet terminals seem so rare. But Samsung says its payment system will work at millions of registers—even the old-style mag-stripe readers already installed in your favorite store. That's because Magnetic Secure Transmission (MST) technology is embedded in even the creakiest card readers. MST was developed by a company called LoopPay, which Samsung bought in 2014. The downside: Samsung Pay does not support loyalty cards, which means you still have to whip out your CVS card to get that discount.
Smile, you're on YouTube Live. If you have a solid Internet connection, you can beam your camcorder videos up to YouTube in real time. When you're done, you have an instant link to share with friends on any social-network platform. Just one hitch: If your broadcast gets interrupted at any point during the recording process, you have to start over.
Sign on the dotted line. If your lawyer sends you a contract in pdf form, you'll be able to sign it right on the phone with the S-Pen or a finger. Unlike other apps, which just let you scribble notes on the jpeg copy on your screen, the pdf editing tool will enter your edits into the actual document, making your input official.
Making sweet sounds from sour notes. Samsung says its ultra-high-quality audio app (UHQA) can help even sketchy music files sound better by filling in whatever it thinks is missing. We've seen these apps before, and some do a decent job, but Samsung sweetened this app by making it compatible with music from YouTube, which other apps have trouble handling.
The big picture. Screen grabs aren't new, but these models can capture shots that go on for several pages—with just one tap.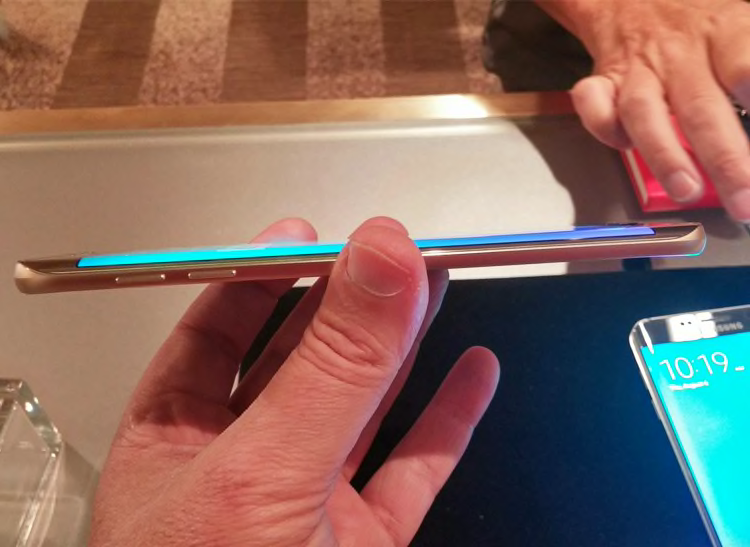 Samsung also promised better low-light performances from its main and front-facing cameras, as well as faster, more efficient performances from other hardware. But our engineers will confirm those claims when we get these phones into our labs within the next two weeks. In the meantime, check out the other cool phones in our Ratings.