When you shop through retailer links on our site, we may earn affiliate commissions. 100% of the fees we collect are used to support our nonprofit mission.
Learn more.
The streaming media market has heated up in the past two weeks, with new players from Amazon Fire TV, Apple TV, and Chromecast. Joining the hypercompetitive field is the Roku 4, a 4K-enabled player due to arrive later this month; the $130 device is available for preorder at Roku.com and leading retailers.
The skinnier, flatter Roku 4 boasts a new OS7 operating system with an expanded "My Feed" feature that lets you track theatrical releases and receive notifications when they become available for streaming. The improved universal search—which supports voice commands—now works across 20 different channels, and unlike rivals from other players, it doesn't prioritize content from one service over another's.
Also new is a finder feature that will help you locate a misplaced remote control with customizable audio alerts. And "Hotel and Dorm Connect" lets you tap into Wi-Fi networks that require login credentials.
Unlike the new Amazon Fire TV, whose HDMI 1.4 output won't support 60-frames-per-second video or high dynamic range content, the Roku 4, is equipped with an HDMI 2.0 connection, so 60-frames-per-second video is no problem. Roku believes—but can't yet confirm—that the standard can be updated to HDMI 2.0a for HDR. For UHD TV owners, there's a 4K UHD channel in Roku's store, and the Roku 4 has an exclusive, curated 4K Spotlight channel populated with 4K movies and TV shows.
We've always liked Roku's vast assortment of content and the fact that its universal search function doesn't favor one service over another the way other players do. The new OS7 expands on the Roku Feed feature, which was initially limited to movies. Now you can also follow TV shows, actors, and directors across services and receive updates when a show involving one of those actors or directors becomes available on a streaming service or drops in price. Roku says current-generation players—and Roku TVs—will get this same feature via OS7 software updates later this month.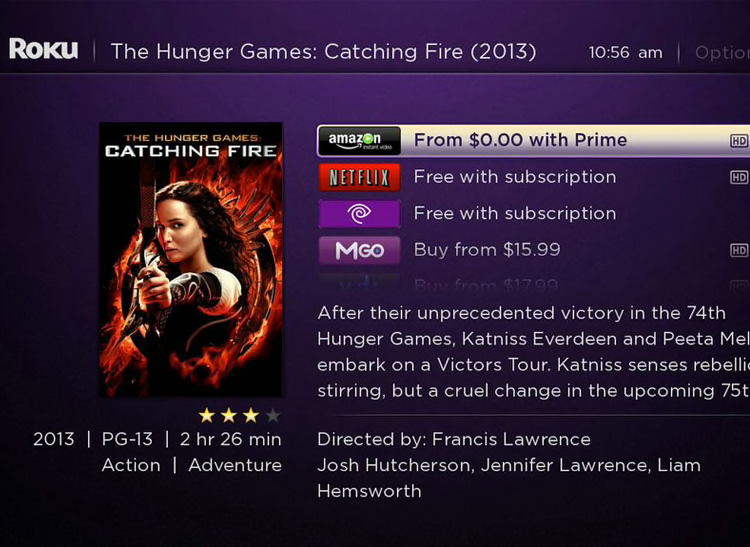 The company says the Roku 4's thinner, wider new design can dissipate heat more effectively. Under the hood, there's a quad-core processor and 802.11ac MIMO Wi-Fi. Back-panel connections include the HDMI output, a wired Ethernet jack, and an optical audio output. Like the Roku 3, the Roku 4 comes with a remote control equipped with a microphone for voice search and a headphone jack for private listening.
Roku has updated its free mobile app to give Android and iOS phones and tablets better control of the player, while also making it easier to access key features such as voice search and Roku Feed. You can now use your phone or tablet to transfer photos to the TV and create screen savers that display when the player is idle.
We'll continue to cover all of the latest streaming media players, starting with a hands-on first look at the Amazon Fire TV later this week. As we wrap up testing, all of the new models will be added to our streaming media player Ratings.