When you shop through retailer links on our site, we may earn affiliate commissions. 100% of the fees we collect are used to support our nonprofit mission.
Learn more.
After a year of testing and analysis, Consumer Reports has released new car tire ratings on 47 all-season and performance all-season tires models and 21 snow tires. The results? Michelin, Continental, and Pirelli claim top honors for all-season tires, and Michelin and Nokian lead with top-scoring winter/snow tires.
To identify the best tires for your vehicle, consider more than just how the tires rank, but how they perform in the specific areas that matter most to you. Consult our tire buying guide and check the complete tire Ratings.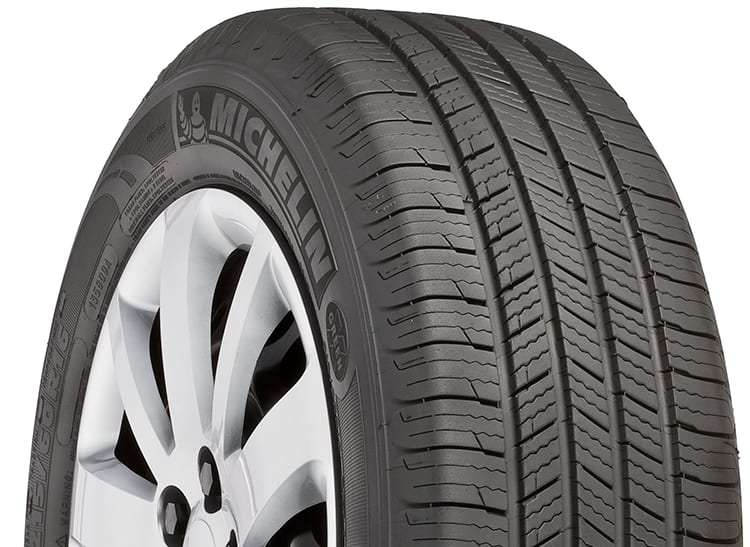 All-Season Tires
Popular on many cars and minivans, standard all-season tires typically carry a T-speed rating (118 mph). They are designed to provide good grip on dry, wet, and snow covered roads, along with long wear and a smooth quiet ride.
The Michelin Defender is the top-rated all-season tire, with impressive all-weather grip, crisp handling, and very long treadwear. In fact, Consumer Report's extensive vehicle treadwear test confirms Michelin's 90,000-mile warranty. However, the Pirelli P4 Four Seasons Plus with the same warranty achieved the highest mileage of any all-season tire tested with a staggering 100,000-mile wear projection. The Pirelli ranked fourth behind the Continental TrueContact and the General Altimax RT43, with all three offering mostly strong all-weather grip. Despite the impressive showing, the Continental and General do have lower estimated tread lifespans.
Performance All-Season Tires
There is a three-way tie for top score between the Continental PureContact, Michelin Premier A/S, and the Pirelli Cinturato P7 All Season Plus. Continental gets to the top of the heap for its strong performance in dry and wet grip, handling, snow traction and a quiet, comfortable ride. Both the Michelin and Pirelli models share many of the same qualities, along with longer tread life. Performance all-season tires come on many newer cars with speed ratings of H (130) and V (149) mph.
All-Season or Performance All-Season Tires?
Consumer Reports test results show there is a lot of overlap in price and performance between T-, H-, and V-speed rated tires. For example, performance all-season tires generally have better handling than standard all-season tires, but the Michelin Defender all-season tire had the best handling agility of all tires tested. Whether your car takes all-season or performance all-season tires, the good news is there are plenty of choices offering long wear, comfort, and all-weather grip.
Winter Tires
A mountain and snowflake symbol signify that snow tires are designed for severe winter weather and that they meet an industry standard for snow traction. This year we tested a record number for Consumer Reports. The sheer volume of cold-weather models highlights consumers are very interested in the added peace of mind, and traction, that winter tires can deliver over all-season and summer tires. The Michelin X-Ice XI3 and Nokian Hakkapeliitta R2 are top rated, but the Bridgestone Blizzak WS80 is a strong performer that offers excellent winter traction.
In all categories, it pays to check the detail ratings to see how tires compare in the performance areas that matter most to you.
You'll find Ratings for these tires, plus those designed for trucks and sports cars, at ConsumerReports.org/tires.