Best Amazon Prime Day Deals on Pet Products
From pet cams to GPS trackers, these are the best sales
When you shop through retailer links on our site, we may earn affiliate commissions. 100% of the fees we collect are used to support our nonprofit mission. Learn more.
Keeping our furry friends safe is always top of mind. Whether you have an explorer with a penchant for running off during walks or an anxious pup who could use a check-in when you're out, there are lots of products to help. Finding a high-quality one is key, and that's where we come in, with items like lab-tested GPS trackers and pet cameras evaluated by editors in their very own homes.
The best part? You can snag our recommended products on sale right now, during Amazon's Prime Day. Just hurry—these deals won't last!
Get discounts, product recommendations, and buying advice from the shopping experts at CR. Sign up for our ShopSmart newsletter.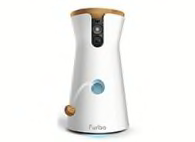 The Furbo dog camera was our editors' top choice in our evaluations of the best pet cameras, thanks to its aesthetically pleasing design and camera with a wide viewing angle. The ability to choose a voice prompt for the treat toss is a bonus. The device's basic app features include live view, toss treats, talk to and hear your pet, and get barking alerts. The Nanny Cam subscription features cloud recording, an advanced barking alert, a Doggie Diary (a video summary of the day that you can choose to save to your device), an activity alert, a selfie alert, and a person alert. In early December Furbo also added new eating, running, and potty alerts. And yes, you can still use the Furbo even if you have a cat. 
Learn more about the Furbo dog camera. 
In evaluating the best pet cameras, our editors found the Arlo Essential Indoor to be a close second to the Furbo dog camera. And even though the Arlo is technically a home security camera, which means it lacks functionalities like tossing treats, it still provides the necessary technology for checking in on your pets. Our editors found the device's video angle and video quality to be great, and its corresponding app was easy to use. While the setup was a bit tricky—and the privacy shield makes a noise that could alert your pet when it comes on—it did impress as far as sound. 
CR's test results: Arlo Essential Indoor
While the Cube GPS Real Time isn't specifically intended for pet tracking (it's meant to help people keep track of cars, luggage, and backpacks) it can still be used for that purpose. That puts the Cube at a disadvantage as a pet tracker, despite its competent core tracking abilities. The device is relatively large and heavy, but most dog collars won't fit through its thin slots, so you need to purchase an add-on collar clip for $25. More significantly, the app lacks pet-specific features like fitness and activity tracking, and a light beacon for spotting your dog at night. On the other hand, it does let you set a home "safe zone" and virtual fence, and it does emit a fairly loud alert. It's also very solidly constructed, creates detailed and easy-to-read location histories, and is capable of delivering high-temperature alerts.
Learn more about Cube GPS Real Time.
The Whistle Go Explore is lightweight yet solidly constructed. It has a claimed battery life of up to 20 days and a strong light for spotting your dog at night. In lost pet mode, it geolocates every 15 seconds, but despite the name doesn't emit any sound. One small knock: It can't be charged without removing it from the collar, an extra step that might lead you to accidentally head out for a walk without your tracker. The Whistle app stands out for the level of activity and health data available. It graphs activity levels throughout the day, creates a daily timeline of activities, and breaks out time spent on various behaviors, including negative ones like scratching and licking that, if excessive, might signal a problem. 
CR's test results: Whistle Go Explore
The Tractive GPS Dog LTE is the top-scoring model in our testing and was especially easy to set up and use. Light and compact yet sturdy, the slender unit easily attaches to any dog collar and will fit comfortably on most small dogs and even cats. The app is among the best of the bunch, with a clean and intuitive interface. In the live mode, which you activate if your pet goes AWOL, it geolocates every 2 to 3 seconds, and that makes for more precise tracking, showing you locations almost in real time.
CR's test results: Tractive GPS Dog LTE
The Tineco Pure One S11 cleans impressively in all our major tests and has many features to boot. An LED panel shows how much battery life you have left as well as the suction level, which varies when you switch from bare floors to carpet. A sensor detects the amount of debris and adapts the suction power accordingly. If you're so inclined, you can connect to a Tineco app that indicates cleaning performance, such as battery life, on your smartphone. In CR's tests, it ran for 22 minutes per charge when using both the high and low settings.
CR's test results: Tineco Pure One S11
If you have a pet that sheds, and hardwood or tile floors, the bagged Kenmore Pet Friendly 31140 will serve you well. And suction through the hose is impressive, so if you use the attachments to clean curtains or upholstery, you won't be disappointed. Emissions are clean, meaning this bagged vacuum retains what it sucks up. It comes with a HEPA filter, which is designed to capture more dirt particles, and a light that indicates when the bag is full so that you know when it's time to change it, two pluses if you're sensitive to dust.
CR's test results: Kenmore Pet Friendly 31140