Great Online Deals for Holiday Photos
Here's where to find deep discounts on photo printing and photo books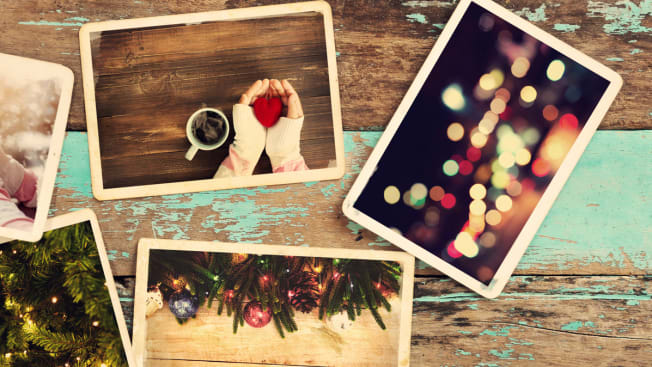 At this time of year, you'll often find me on websites such as Shutterfly and Snapfish looking for ways to turn favorite holiday photos into greeting cards, calendars, books, and other novelty items.
I find that they make great gifts for family and friends. And right about now is when the photo-printing services start rolling out special offers and promotions, many of which I will share with you below.
Unlike the days of old, you don't need to trudge to the drugstore to pick up your prints. You simply upload your photo, place your order, and wait for it to arrive in the mail.

Look for deals when you open an account. Most services provide some sort of promotion. When you join Shutterfly, for example, you get 50 free 4x6 prints, a magnet, and a set of address labels.
Review your discounts. Many services tally up offers in a particular order. Sometimes they can be combined. Other times they cannot. I recently ordered a Christmas card from one service, and when I checked out, the site automatically determined which discount was best. (The one that included free shipping.) I had a $20 off coupon that indicated it could be combined with other offers, so I added that. But when I input the coupon code, the site increased the total price. Before checking out, I contacted customer service to resolve the problem.

Don't be afraid to use customer service. These days, most major photo-printing sites provide various ways to contact them. When I ran into the problem above with my Christmas card order, I used online chat, which allowed me to text with a rep in real time. In the end, I had a record of our full conversation.
Try out the app. It often lets you order prints straight from the photo archive on your mobile device. Blurb even lets you create entire photo books using its app. And once the project is complete, you can share it with others via Facebook and Twitter.

Take advantage of the shipping offers. If you act soon, you can choose the economy option, which is sometimes free. But if you're in a rush, you can request expedited or even same-day delivery. Some sites offer easy-to-use calendars to help you see when your order is likely to arrive.
Discounts and Special Offers
Here are a few deals available right now. Be sure to keep checking the websites, though, because photo-printing services are continually updating their offers:
Amazon: The online retailer just entered the photo-printing business this year. So it's worth checking out. The product selection isn't quite as diverse as what you find on Shutterfly and Snapfish, but Amazon is offering a 60 percent discount on cards, calendars, and books. And Amazon Prime members get expedited delivery free on orders of $15 or more. Promotion code: HOLIDAY
Blurb: Although the service doesn't handle prints or cards, it does offer a wide variety of templates for creating and printing photo books. Through Dec. 8 you'll get 40 percent off photo-book orders. Promotion code: THRILL40
CVS Photo: The following discounts are available through Dec. 10: 40 percent off on cards (promotion code: MERRY40), photo books (MERRYBOOK), canvas prints (MERRYCANVAS), and calendars (MERRYCAL); 30 percent off on photo ornaments (MERRYTREE); and if you order 100 or more 4x6 prints, you only have to pay 11 cents each (PICK11).
MPix: Through Dec. 7 you get 30 percent off holiday photo cards. Promotion code: 2016CARDS
Shutterfly: If you use the promotion code at checkout, you get free economy shipping on printed orders of $49 or more, plus two $20 off coupons (one for you and one for a friend) on orders of $50 or more. And those can be combined with other site offers. If you like to design and create your own photo books, Shutterfly is also offering one free 8x8 hardcover volume or a $30 discount on a larger-sized option. All discounts are good through Dec. 15. Promotion code: SHIP49
Snapfish: When you use the promotion code 29FS1116 through Dec. 15, you get free shipping on orders of $29 or more. There are also a few specials available through Dec. 31: an 8.5x11 wall calendar for about $8 (BESTCAL), an 8x11 hardcover photo book for about $10 (BESTBOOK), and premium card sets for sale at 60 percent off (CARDSET).
Walgreens: Through Dec. 7, you'll get 50 percent off everything on the site when you use the promotion code PHOTODEAL50. You can also save on photo orders of $50 or more (FSORDER50) and get 40 percent off on canvas prints (CANVASTV40).