When you shop through retailer links on our site, we may earn affiliate commissions. 100% of the fees we collect are used to support our nonprofit mission.
Learn more.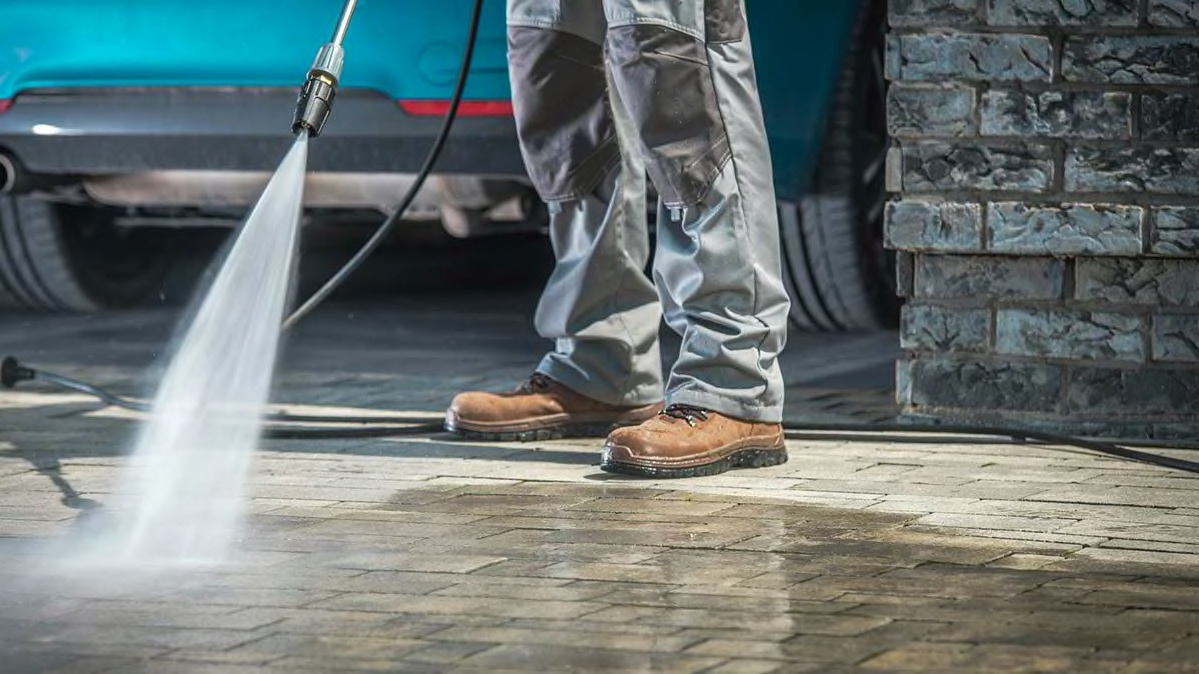 The official start of summer means an opportunity to work outside, whether you're focused on improving your home or yourself. And there are plenty of bargains to support both goals.
This month you'll find deals on pressure washers and string trimmers to let you boost your home's curb appeal, and on smartwatches that can help you track all that exercise you're getting outdoors, among many other things.
Pressure Washers
If you want to get rid of the built-up gunk on your driveway or the exterior of your home as quickly as possible, a pressure washer may be the most effective approach. Bear in mind that they're powerful tools, capable of causing serious injury or damage, so if you use one, do so carefully.
Shopping tips:
• Avoid the zero-degree nozzle. A zero-degree spray, which condenses the full force of the water into a pinpoint, is an unnecessary safety risk. Spending a bit more time with a wider-angle setting is a much safer way to get the same cleaning effectiveness.
• Try before you buy. Buying a unit will pay for itself in a few years, but you'll be responsible for maintaining and storing it. Plus, you want to be sure you get the one that's right for you. Renting a pressure washer costs about $40 to $100 per day. Purchasing an electric one runs $100 to $200, and a gas model is about $300 to $600.
Consumer Reports' buying guide and recommendations can help you select the pressure washer that best suits your needs.
String Trimmers
Eliminate tall weeds and grass and maintain crisp edges on your lawn with a string trimmer. As always, you'll want to take safety into account, making sure you wear gloves, protective eyewear, boots, and long pants whenever you use one to prevent any injuries from flying debris.
Shopping tips:
• Consider your power source. If you need to trim an area that's more than 100 feet from an outlet, you'll have to decide between a gas or a battery-powered machine. Battery-powered models are quieter and often just as effective as gas models, but you'll get only about 30 minutes of use from a single charge.
• Height matters. If you're tall, go for a straight-shaft string trimmer, because it will allow you to trim without bending or kneeling. Shorter users, on the other hand, may want to opt for a curved shaft, which is easier for them to hold and maneuver.
For other considerations and advice to help you make an informed decision, check out our string trimmer buying guide. It has a checklist to help with your decision. And our ratings will help you choose a product that will give you the most value and reliability.
Smartwatches
Essentially a computer you strap to your wrist, a smartwatch can do practically everything, from notifying you about incoming texts and phone calls to facilitating in-store mobile payments. This wearable technology is also quickly evolving to incorporate even more capabilities while the design is getting smaller and more sophisticated.
Shopping tips
• Ensure compatibility. Many smartwatches work only with the specific operating system that matches the phone to which they're connected. If you're pairing with an Apple iPhone, for example, you'll want an Apple Watch; Android users should look for watches that run on the Android Wear operating system.
• Plan to charge. The battery life on smart watches can range from one day to more than a week, depending on the technology and how you use your watch. You can conveniently recharge some smartwatches wirelessly. Others require snap-on docks or a cable that plugs into the watch itself.
Consumer Reports' buying guide provides more information to consider when choosing a smart watch. Use our ratings to select a product that gives you the most value and reliability.
Dehumidifiers
As the temperature rises in many parts of the country, so does the humidity. That dampness can be unhealthy as well as uncomfortable when it invades your home.
Humidity levels over 50 percent can breed dust mites, mildew, and mold. New models of dehumidifiers usually hit the stores in the spring, so you're likely to find sales and in-store promotions this month.
Shopping tips
• Consider how and where you'll use it. If the dehumidifier will sit in a living area, look for one that has lower noise levels. For those you want to place in large or potentially wet spaces, such as a basement, capacity may be the more important factor, with larger-capacity options removing moisture more quickly and efficiently than other models.
• Look for a hose connection. If you keep your dehumidifier in a basement that has a floor drain or a sump pump, you can connect a hose to your humidifier to divert condensed water into the drain. Otherwise, you'll need to empty a bucket periodically or get a dehumidifier with a pump that can send water up through a window or a higher drain, such as a slop sink.
Go to our buying guide for dehumidifier recommendations.