How to Get the Best Deal on EpiPen and Alternatives
The lifesaving allergy medication is still expensive, but there are ways to save Despite a yearlong controversy over how EpiPen auto-injectors are priced, the lifesaving allergy medication is still far from cheap.
EpiPen was back in the news Thursday when drugmaker Mylan and the federal government finalized a $465 million settlement over allegations that Mylan overcharged Medicaid for the EpiPen as well as a generic version.
The settlement comes one year after Mylan suffered a firestorm of criticism from consumers and policymakers when it was revealed it had hiked—over the course of a decade—the price of a two-pack of EpiPen auto-injectors to more than $600.
Consumers won't see any of the settlement money, and the cost of an EpiPen remains high. Thankfully, there are other options, including a $60 generic version of Adrenaclick. Other retail prices vary from $400 for generic EpiPen to $4,500 for Auvi-Q—although what you actually pay will depend largely on what your health insurance covers and whether you qualify for any discounts.
Discount programs and coupons could reduce the amount you pay out of your pocket (known as your co-pay) if you're insured. Some of the deals work even if you're not insured or if you are among the almost 40 percent of Americans covered by a high-deductible health plan. These plans usually require you to shell out an average of $2,300 before your insurance kicks in, according to research by the Kaiser Family Foundation, which tracks health insurance changes in the marketplace.
If you're covered by Medicare, Medicaid, or other federal or state insurance programs, coupons won't work for you. But if the coupon is a better deal than your insurance coverage, ask your pharmacist to simply run the prescription through but not use your insurance. (Doing this won't count toward your plan's deductible or out-of-pocket maximums, though.)
Here's a breakdown of what's available and at what price:
EpiPen and Its Generic: $300 or $25 Off Your Co-Pay
Back in December, Mylan introduced its generic version of EpiPen, with a retail price of $300 for a two-pack. There is no difference between the branded and generic versions of EpiPen, although, based on other media reports, your insurance may cover only one or the other. In any case, go with the lowest price.
If you have insurance through your work, a $25 discount coupon could lower your co-pay for generic EpiPen to $0 for up to three two-packs. If your work's insurance covers only the branded version of EpiPen, you could apply for a manufacturer coupon that will knock up to $300 off your co-pay for up to six two-packs.
For those without insurance, use a coupon from GoodRx—this could lower your price for generic EpiPen to around $140 at CVS, $150 at Walgreens, and $160 at Rite Aid. And there are some who could get EpiPen free: Mylan offers them through its patient assistance program for uninsured and underinsured patients with a household income of less than $98,400 for a family of four.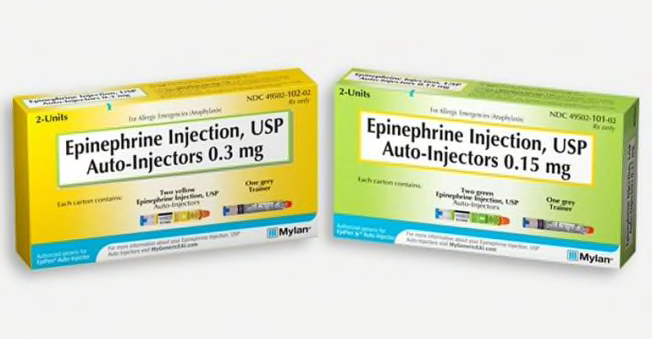 Adrenaclick (Generic): $60 at CVS With Coupon
In January, the manufacturer Impax announced a deal with CVS pharmacies to offer generic Adrenaclick for $110. If you apply the manufacturer's $50 coupon (PDF) at CVS, you can get a two-pack of auto-injectors for the even lower price of $60. Best of all, the coupon works whether you have insurance or not, and there's no limit on the number of times you can use it.
If there is no CVS near you, you can still use the $50 coupon to lower your co-pay at other pharmacies if you have insurance through your job. That could get your payment to zero.
If you aren't insured and don't live near a CVS, the $50 coupon can be applied to the full price of generic Adrenaclick, which we've seen hover around $158 at Walgreens and $200 at Kmart pharmacies, according to price-comparison website GoodRx.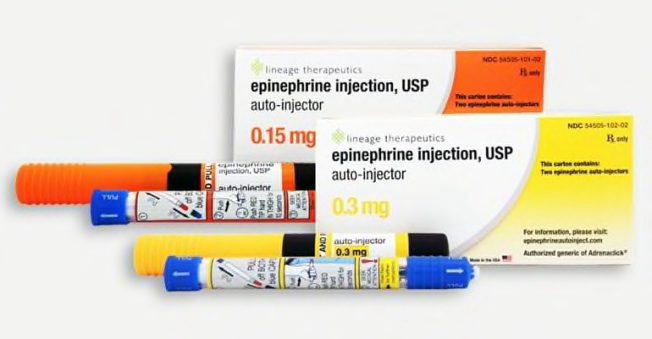 Recalled in 2015 because of a concern over inaccurate dosing problems, Auvi-Q is an auto-injector that uses voice prompts to guide a person in an emergency. It re-entered the market in February at a list price $4,500. But the drug's manufacturer, Kaleo, maintains that patients will pay a minuscule portion of that, if they pay anything at all.
If you have insurance through your employer, whether it covers Auvi-Q or not, it is available at $0 through Kaleo's direct delivery service. If you're uninsured and earn less than $100,000, you might be able to get it free through the company's patient assistance program.
If you're uninsured and your household income is more than $100,000, you'll pay $360 per two-pack.
Still, you're probably asking, with a list price far exceeding that of other options on the market, how is Kaleo able to offer Auvi-Q to patients free—and who's paying the $4,500? According to experts, it's still unclear.
"We don't know the price, and list price may not mean anything. No pharmaceutical products sell at that price," says Elliot Wilbur, a specialty pharmaceuticals analyst for financial services firm Raymond James. According to Wilbur, there's a wide variance between list price—the price before factoring in drug manufacturer rebates and other discounts, and net price—the price after—or what patients, insurers, and the benefit providers pay.
In the end, "we have no idea what Kaleo's net price really is," Wilbur says. "For all I know, it could be $250, but there is simply no way to know that based on the info that I have or you can get as an external observer."
Meanwhile, Kaleo has maintained that its pricing strategy for Auvi-Q puts patients first. "We are very aware of the affordability challenges confronting patients who rely on epinephrine," says Kaleo CEO Spencer Williamson. "And we believe the most important price is the price to the patient."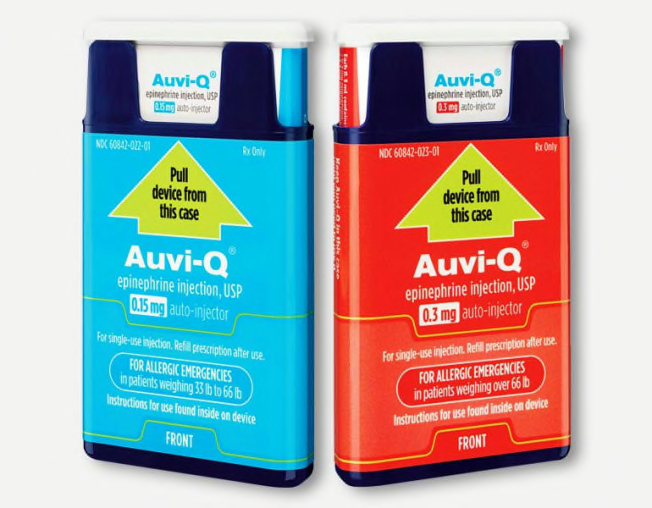 A new prefilled epinephrine syringe called Symjepi should hit the market before the end of the year after winning FDA approval in June. Although not an auto-injector the way EpiPen, Auvi-Q, and generic Adrenalick are, this syringe is smaller than an EpiPen and will be less expensive, says Mark Flather, a spokesperson for the manufacturer, Adamis Pharmaceuticals.
Though there's still no word yet on pricing, Flather says that Adamis is currently "exploring all of its commercialization options" and that the company "expects Symjepi to be the low-cost alternative to the other offerings in this space."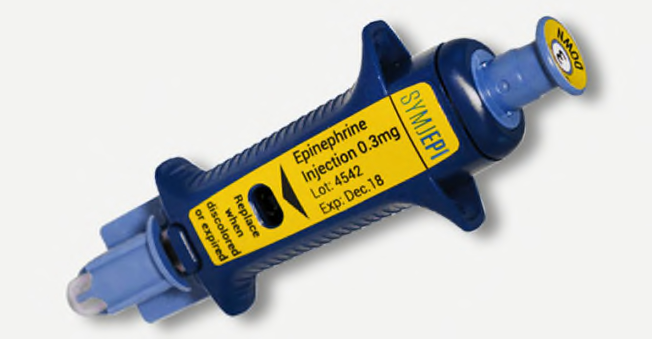 Have a New Auto-Injector? Get Trained.
Though each auto-injector contains the same drug in the same amount, there are differences in how the devices work that could trip you up during an emergency.
To avoid potentially deadly mistakes or injuries, our medical experts strongly recommend asking your doctor for a training session when he or she writes your prescription, or ask your pharmacist when you pick up the prescription from the pharmacy.
"Training is essential for all patients who are prescribed epinephrine injectors, or if used for children, this applies to their parents and all caregivers," says Barbara Young, Pharm.D., of the American Society of Health-System Pharmacists.
"As certain auto-injectors become available at a lower cost and insurance plans designate a preferred product, it is likely that consumers may need to switch auto-injectors." If that happens, Young adds, "ask your pharmacist for a demonstration before leaving the pharmacy."
You can also refer to the training video on the manufacturer's website. (It's here for generic Adrenaclick, here for Auvi-Q, and here for EpiPen and its generic.)
So you can be prepared, consider downloading and saving the training video on your smartphone so that you or someone else can refer to it in the event of an emergency.
Editor's Note: This article and related materials are made possible by a grant from the state Attorney General Consumer and Prescriber Education Grant Program, which is funded by the multistate settlement of consumer-fraud claims regarding the marketing of the prescription drug Neurontin (gabapentin).