When you shop through retailer links on our site, we may earn affiliate commissions. 100% of the fees we collect are used to support our nonprofit mission.
Learn more.
By now, many consumers are aware of the safety hazards associated with hoverboards, particularly the 40 fires currently under investigation by the U.S. Consumer Product Safety Commission. But, according to the CPSC, a new threat looms: the unauthorized use by some hoverboard makers of UL certification marks designed to protect people from dangerous products.
Underwriters Laboratories owns the UL marks, which vouch for the safety of everything from cordless drills to toaster ovens. Turn over the power strip under your desk, and you'll probably find the familiar logo: the letters UL in a circle. On January 15, the testing and certification company publicly rebuked a hoverboard maker called Swagway for using the marks without permission. And five days later, CPSC chairman Elliot Kaye warned shoppers not to view UL marks on hoverboards as a safety endorsement. "In fact," Kaye stated, "any such mark is at best misleading and may even be a sign of a counterfeit product."
But when we checked this week, Consumer Reports found two more hoverboards—from HoverTech and Genius Technologies—described as UL certified on Amazon.com. According to John Drengenberg, UL's consumer safety director, the organization has not yet certified any hoverboard for safety. The two companies haven't responded to e-mails requesting comment, but shortly after Consumer Reports contacted ElevateWorldwide, seller of the Genius Technologies board, the product was pulled off Amazon.
Consumer Reports reached out to Amazon to ask about the issue; the company had no comment.
(Update, February 2, 2016: Today, Underwriters Laboratories unveiled its first-ever certification program for hoverboards, saying that the organization "is now accepting product submittals of self-balancing scooters, also known as hoverboards, for construction evaluation, testing, and/or UL certification.")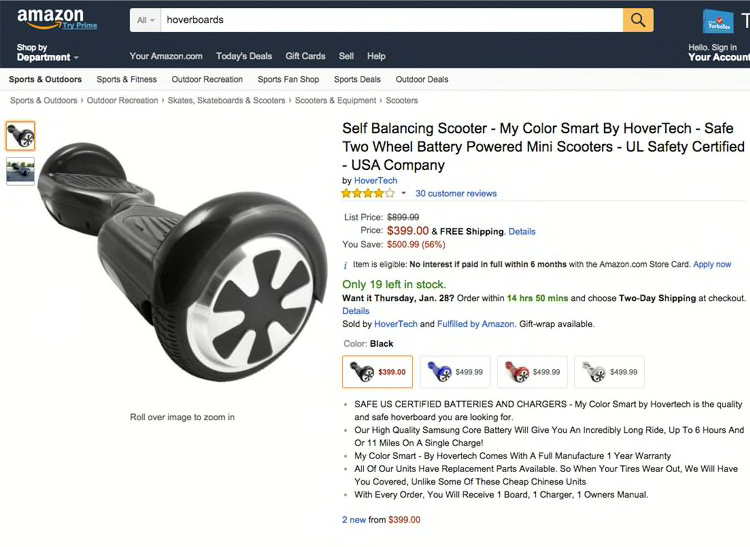 What Does UL-Certification Mean?
As evidence of Swagway's infraction, UL offered photos of a Swagway box with a UL symbol on the side and a Swagway hoverboard with a UL sticker on its undercarriage. "That's counterfeiting," says Drengenberg. "That's stealing from retailers, stealing from manufacturers, and endangering consumers."
In a statement of its own, Swagway conceded that its hoverboard has not been certified by UL, only the battery cells and adapters used inside the product. "Swagway is disappointed," the company wrote on its website, "that despite Swagway's continuing and good faith efforts to work with UL on this issue, UL chose to unilaterally issue its polarizing press release without discussing it with Swagway."
The dueling press statements highlight the fact that a product that is not UL-certified may actually be built with some UL-certified parts. In the case of a hoverboard, Drengerberg says, UL would evaluate not just components such as the lithium-ion battery and the charger, but also how those components interact in the finished product. What happens when the battery is fully charged, for example? Or fully drained? Any circuit with the potential to spark a flame would be assessed. The same goes for switches, motors, and even the plastics used in the shell. "We're looking at the fire hazards, shock hazards, and mechanical hazards that board would introduce," Drengenberg says.
Most manufacturers approach UL long before their products come to market. In early talks, they're advised to use UL-approved components—plugs, cords, switches, batteries, etc.—to simplify the certification process. The product's creator then pays for the testing required to receive full certification. It also agrees to unannounced factory inspections to guarantee that the manufacturing process proceeds as promised. If a UL inspector spies an untested component at a factory anywhere in the world, he or she can demand an immediate halt to the use of the UL symbol.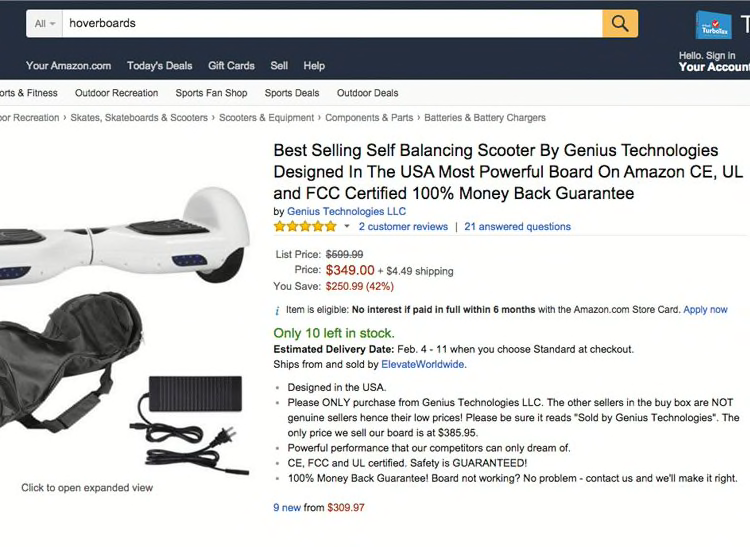 Drengenberg says UL moves quickly to safeguard the validity of its marks, to protect both consumers and the 75,000 manufacturers who pay the company to test and certify their products. "When we find a counterfeit product, we notify the public," he says. "We are very aggressive. We do not want that mark counterfeited. Retailers don't want it counterfeited."
To date, we have not learned of any fires or other mishaps related to a HoverTech or Genius Technologies hoverboard, but a New York man filed a lawsuit against Swagway in December claiming that a hoverboard purchased as a holiday gift burst into flames while charging and damaged his home. Incidents like that one have prompted the CPSC chairman to urge retailers to stop selling hoverboards until all safety questions have been addressed.
If you purchased a hoverboard from Amazon's website over the holidays, you can apply for a full refund through Jan. 31. And UL has a search engine where you can determine whether any product is UL certified.