My Basement Was Flooded by the Remnants of Hurricane Ida. Now What?
Here's how I navigated the murky waters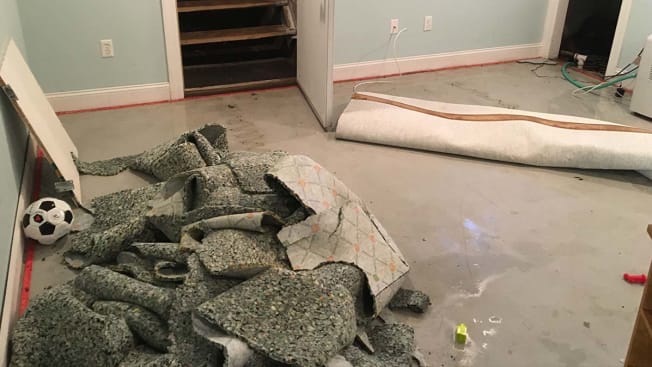 I knew what was left of Hurricane Ida was coming fast and fierce around us all in the Northeast last night, after leaving a path of destruction stretching all the way back to Louisiana. And yet, I still wasn't prepared for the sight I saw in my basement in suburban New Jersey just a few hours after the torrential rain had started.
Our carpeted recreation room was a literal sea of toys floating in water that was ankle-deep. Dozens of tiny plastic dolls and soppy stuffed animals were seemingly swimming for their lives as they made their way around brightly colored bins of books, circled underneath stored furniture, and bumped up against our new elliptical trainer.
How had the water accumulated so quickly? Why wasn't the room's in-ground sump pump working? And could I salvage any of my kids' beloved treasures?
Mercifully, today we awoke to a bright and sunny morning and found that most of the water in our basement had been absorbed by our carpeting in both the rec room and in Russ' home office. In other words, there was no more water to wade through. But we knew we still had a ton of heavy lifting to do.
Our main goal was to air out the rec room and the office (both of which were carpeted) to prevent mold from setting into our floors and walls. To do that we borrowed a wet vac and an extra fan from a generous neighbor and opened up all the basement windows to let fresh air in. We used the vac to get rid of remaining puddles and ran fans to begin drying it all out.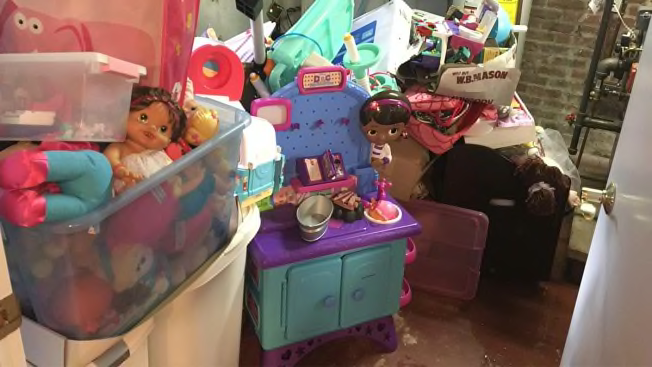 Then Russ ripped up the wet carpets while I got on the phone and called flood remediation companies (no one has called me back yet) and our home insurance provider to file a claim.
Let's just say I got the easier jobs. Russ figured out how to break through the carpet with scissors in a corner of the room and then pull it back ("It's like peeling an orange," he explained to me). And again, he worked for hours.
What I wish we had: A dehumidifier recommended by CR to help reduce the moisture in the basement. Though we have one dehumidifier running already, we need at least one more to make a dent in the problem on our hands. All of the stores in our area are sold out of dehumidifiers (we are far from the only people with flood damage from the storm) so we're crossing our fingers that we can get one delivered tomorrow.
And now, we wait. We think we've done all we can on our own to prevent mold until the professionals arrive to help, we hope, in the next day or two.
All in all, I know we're very lucky. No one got hurt, several neighbors were there to offer help when we needed it, our power never went out, and we're hoping our insurance company comes through to help us pay for repairing the damage. In the meantime, I'll be nursing several stuffed animals back to health in the dryer.